Thu 7/30 - Sun 8/2
San Antonio Film Festival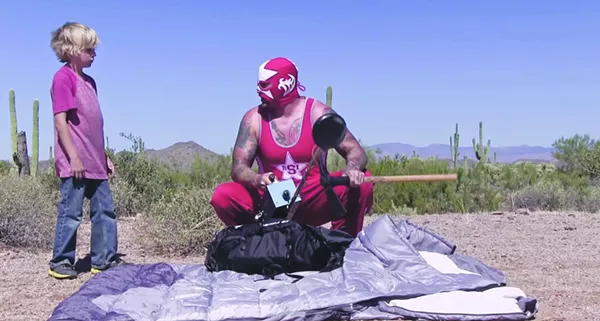 A wrestler searches for a lost treasure in Little Red and the Rhode Island Strangler (5pm Thursday).
San Antonians love their movies and it shows with the growing count of film festivals, contests, slams, series and special screenings that continually pop up all across the city during any given month. From Texas Public Radio's summer film programming to competitions like the San Antonio 48-Hour Film Project to the countless outdoor big-screen showings at places like Mission Marquee Plaza, Travis Park and Main Plaza (not to mention new players in the game like the inaugural Alamo City Film Festival later this year), one might think San Antonio has quite an appetite for cinema. "It's exciting," Adam Rocha, San Antonio Film Festival director, told the
San Antonio Current
last month in anticipation of the 21st annual San Antonio Film Festival, which runs through August 2. "Everyone needs a diversion from everyday life. In our industry, it comes in the form of filmmaking and festival-building." Find out what kind of lineup Rocha and his team have assembled this year as the SAFF takes place at the Tobin Center for the Performing Arts for the first time. For a full schedule, visit
safilm.com
.
$10-$15 per film, $99-$125 for a festival badge, Thu-Sun, Tobin Center for the Performing Arts, 100 Auditorium Circle, (210) 223-8624, safilm.com.
— Kiko Martínez
Click here for our full story on the San Antonio Film Festival.