Thu 3/17
International Artist-In-Residence Exhibition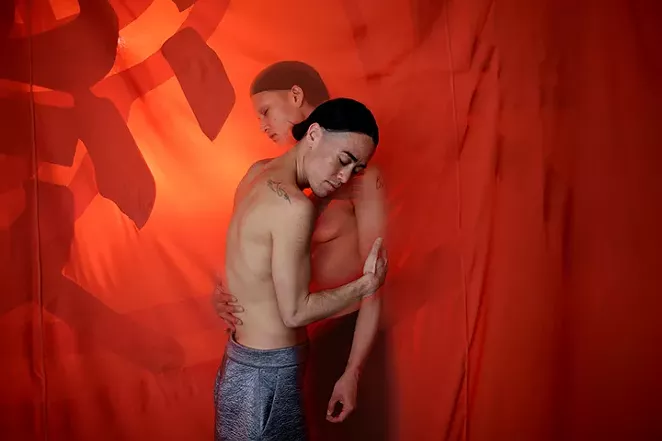 Selected by independent Spanish curator Juan de Nieves, Daniel García Andújar (Barcelona), Adriana Corral (San Antonio) and Wu Tsang (Los Angeles) took up residency at Artpace in January as part of its revered International Artist-In-Residence program. A recent recipient of an Emerging Artist Grant from the Joan Mitchell Foundation, El Paso native Corral has referenced disappearances and femicides in Juárez, Mexico, through installations incorporating rubbings of classified documents, ceramic body bag tags and earth collected along the U.S.-Mexico border. Often exploring a conceptual middle ground between real and virtual worlds, Andújar is known for interventions in urban spaces and his project
Technologies To The People
, an initiative that presents access to technology as a human right. Often collaborating with partner Tosh (aka boychild), Tsang has addressed queer and trans experience in the award-winning feature film
WILDNESS
, the 2012 Whitney Biennial installation
GREEN ROOM
and the ongoing project
Moved by the Motion
— which recently took shape in a performance inspired by Chinese revolutionary poet Qiu Jin and her relationship with calligrapher Wu Zhiying.
Free, 6-9pm (panel talk at 7pm) Thu, Artpace, 445 N. Main Ave., (210) 212-4900, artpace.org.
— Bryan Rindfuss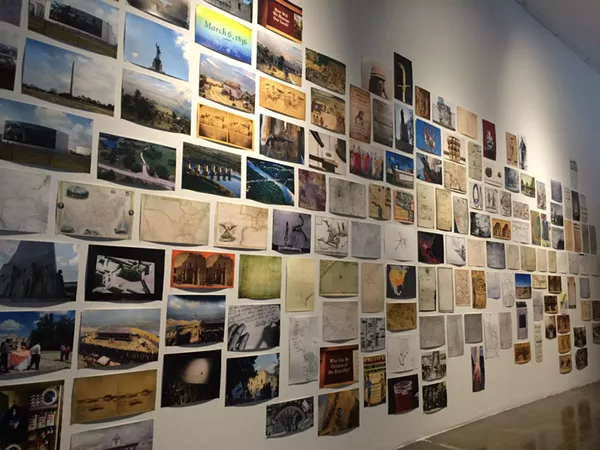 Thu 3/17 - Sat 3/19
Sex Tips for Straight Women from a Gay Man


Based on the best-selling book of the same title by Dan Anderson and Maggie Berman,
Sex Tips for Straight Women from a Gay Man
is a revealing and titillating look at sex and relationships from a gay man's perspective. Coming to the Tobin Center as part of its Edge Series, the three-character play takes place in a university auditorium where the English department is holding its monthly "meet the authors" event. Robyn (the prudish straight moderator of the event) tries hard to lead a scholarly discussion but her efforts are derailed by Dan, a visiting author who presents an over-the-top sex tip seminar featuring a hunky (and shirtless) stage assistant named Stefan. The most important tip given here: Learn to open up and listen — then perhaps you'll achieve the hot sex life you've been looking for. First published in 1997, the book championed the gay guy/straight girl dynamic later popularized in the mainstream by shows such as
Will and Grace
and
Sex and the City
. On a national tour since early 2015, the play has emerged as a modern cult classic and date-night favorite that attracts gay and straight audiences alike — not to mention its fair share of bachelorette parties.
$39.50, 7:30pm Thu, 7pm & 10pm Fri, 4pm & 8pm Sat, Tobin Center for the Performing Arts, 100 Auditorium Circle, (210) 223-8624, tobincenter.org.
— Marco Aquino

Fri 3/18
The Comedy Get Down


Considered by many fans as some of the best stand-up comedians working today, Cedric the Entertainer, Eddie Griffin, D.L. Hughley, George Lopez and Charlie Murphy will share the stage Friday for this world tour performance that's sure to get rowdier (and be way less racist) than a Donald Trump rally. Three of the five (Cedric, Griffin and Hughley) were named to Comedy Central's Top 100 Comedians of All Time list and a majority of them have something to plug for 2016. Hughley will be tending to patients in the new medical drama
Heartbeat
, which debuts next week on NBC; Lopez is playing a fictional version of himself again in a new TV Land comedy series, aptly named
Lopez
, at the end of the month; Cedric is in yet another
Barbershop
movie in April; Murphy has a role in Mike Epps' new flick
Meet the Blacks
, which also hits theaters next month; and Bill Cosby defender and conspiracy theorist Griffin will be busy giving more batshit crazy interviews and probably pitching a
Malcolm & Eddie
reunion to Netflix (hey, if those damn
Full House
kids can do it, why can't he?).
$49.75-$65.75, 8pm Fri, AT&T Center, One AT&T Center Pkwy., (210) 444-5000, attcenter.com.
– Kiko Martínez
Fri 3/18
Sunjammer, Sugar Candy Mountain, The Halfways


Boasting members of several great SA bands — including Wildblood (now defunct) and Flower Jesus Quintet — neo-psych jam band Sunjammer is a relative newcomer on the scene. Our prediction, however, is that their smooth, grassy, hippie grooves will catch on and they'll be playing their funky blend of American music for a long while. On this bill, Sunjammer joins Sugar Candy Mountain, a delicately dusty psych-pop act from Oakland, California, and The Halfways, a young Austin quartet that plays a hi-fi, indie rock-influenced take on lo-fi psychedelia. All of this at K23, the sonic paisley and patchouli mecca of SATX music.
$6, 9pm Fri, K23 Gallery, 704 Fredericksburg Road, (210) 776-5635, facebook.com/k23gallery.
— James Courtney

Fri 3/18
"Maybe It Was All a Dream"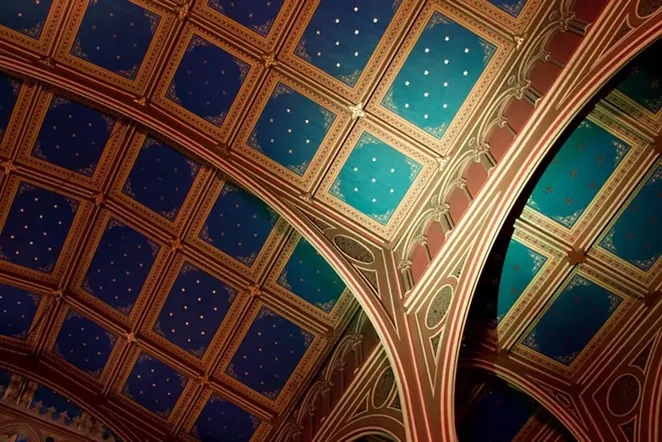 A California native now working as the exhibitions and programs manager at Blue Star Contemporary, Jack McGilvray takes a documentary approach to her art, which encompasses photography, video and creative non-fiction. With memory and family as underlying themes, McGilvray creates images that pose questions and function as clues in an ambiguous investigation. Stepping into the dreamworld, McGilvray's Contemporary Art Month offering takes shape in a "non-linear photographic narrative" that curiously asks viewers: "Have you ever felt lost in the haze of another world and looked back at the world you left behind?"
Free, 7pm Fri, Haus Collective, 108 Blue Star, hauscollectivesa.com.
— BR
Fri 3/18 - Sun 3/20

Reasons to Be Pretty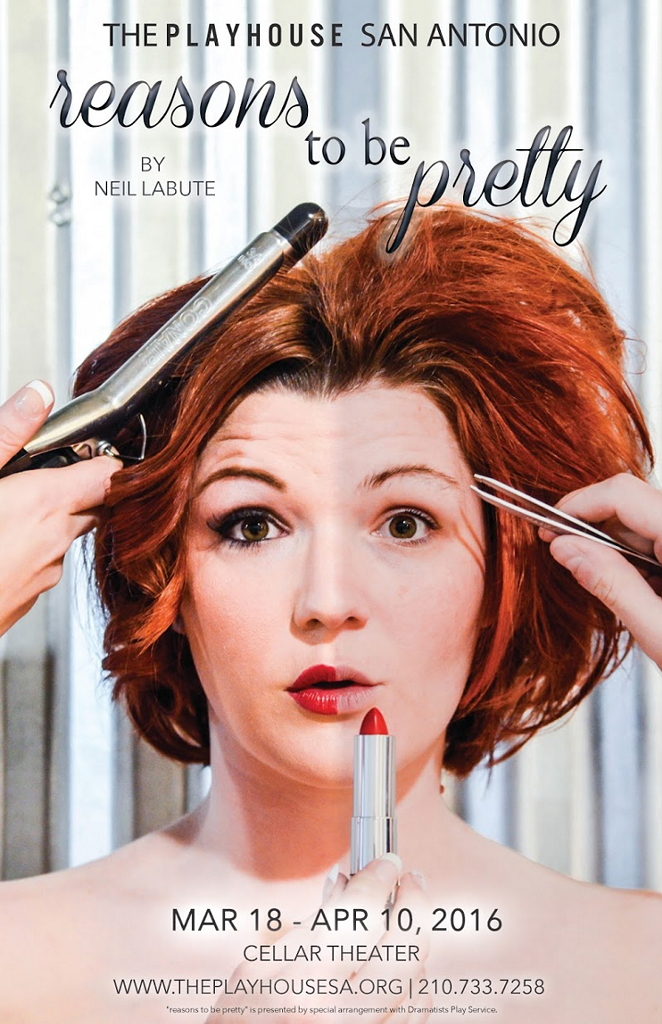 You can call a woman many things, but just don't call her regular. In this final installment of Neil Labute's trilogy of plays exploring obsession with physical appearance, the dead-end lives of four working-class friends unravel around a lover's passing remark about his girlfriend's face. In typical Labute fashion, language lies at the crux of this coming-of-age play. Expect plenty of F-bombs and variations on other four-letter insults in this piece that celebrates "the uncommonness in common speech." David Rinear directs The Playhouse's production.
$12-$30, 8pm Fri-Sat, 3pm Sun, The Playhouse, 800 W. Ashby Pl., (210) 733-7258, theplayhousesa.org.
— Murphi Cook

Sat 3/19
Fest of Tails


Presented by H-E-B and the San Antonio Parks Foundation in celebration of the arrival of spring, this 10th annual event invites guests of all ages to "bring along your choice of tail — kite, dog or both" for a day filled with live music, youth talent performances, a pooch parade and canine costume contest, a kite-building workshop and hot air balloon rides (
$5-$10 from 9-11:30am
).
Free, 9am-4pm Sat, McAllister Park, 13102 Jones Maltsberger Road, (210) 207-7275, facebook.com/festoftails.
— BR
Sun 3/20
Tootsie


The McNay's "Dressed to Kill" film series seems devoted to cross-dressing, which explains why it includes this romantic dramedy that earned Dustin Hoffman an Oscar nod while donning dowdy drag. Hailing from 1982,
Tootsie
follows Hoffman as an actor whose annoying personality keeps him out of work until he masquerades as a woman to land a job in a soap opera and finds himself navigating the double standards of gender roles. Sydney Pollack directed and appears in the film alongside Jessica Lange (winning an Oscar), Bill Murray, Geena Davis, Teri Garr and Charles Durning.
$15-$20, 2pm Sun, McNay Art Museum, 6000 N. New Braunfels Ave., (210) 824-5368, mcnayart.org.
— Michael Barrett

Sun 3/20
CAM Open Studios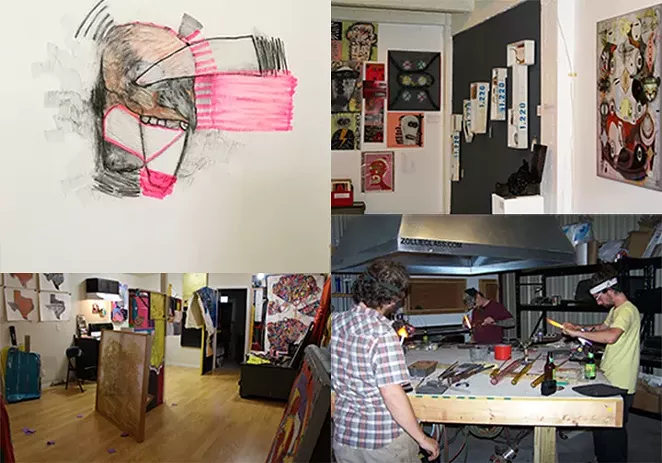 One of the best parts of CAM is that practically every gallery and studio has fresh work on display. This, along with a general, unspoken understanding that this is the time of year to put one's best foot forward, makes random gallery hopping one of CAM's true joys. Your best strategy: Set Sunday aside for visits to local galleries and studios otherwise not open to the public. In addition to providing an excellent opportunity to catch up on CAM, the annual tradition wraps up with an after party at Zollie Glass Studio complete with glass-blowing demos, food trucks, beer and wine (
4-8pm, 1428 S. Presa St.
).
Free, noon-4pm Sun, visit contemporaryartmonth.com for details.
— JC

Sun 3/20
Hangover Fest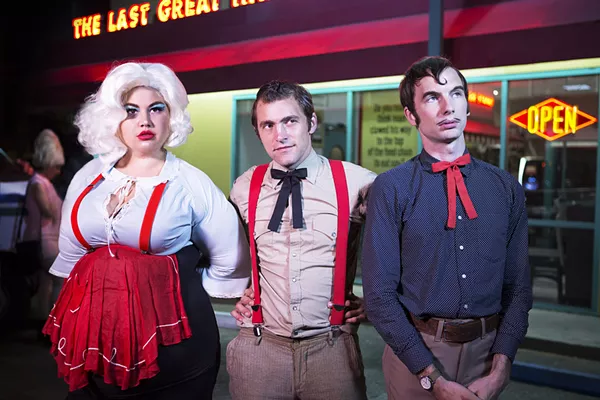 As a natural enemy of SXSW's swarms of PR people and false promises of exclusivity, I'm down to shell out $25 to see 35 of the festival's best garage and punk bands on their ride back to California, however hungover they may be.
Thrown by Fuzzland Productions and Do210, Burger Hangover Fest IV welcomes the acolytes of Fullerton, California's most prolific garage label. Since 2007, Burger has released over 700 cassettes of blown-out, fuzzed-out and fucked up rock 'n' roll. On Sunday, the Burger caravan — imagine a busted fleet of tour vans, farting out exhaust and bong clouds — rolls into town, ready to shred on a city that loves itself some rock 'n' roll. Among the standouts on the bill: Tracy Bryant, No Parents, Guantanamo Baywatch, Night Beats, White Lung, The Spits and Shannon and the Clams (pictured).
$25, noon Sun, Paper Tiger, 2410 N. St. Mary's St., papertigersa.com.
— Matt Stieb