By
Veronica Salinas
San Antonio Current Intern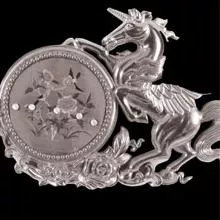 We often see words as simply text: small black shapes organized in predictable patterns floating against a white background. At the 100 Palabras exhibition at the Guadalupe Gallery the printed word — from elegiac prose to structured screenwriting – is used to create an inventive correspondence with a variety of visual art approaches. Patti Ortiz, has paired six local artists: (Andy Benavidez, Katherine Brown, Ana Fernandez, Cesar Martinez, Chris Sauter, Louis Vega Trevino) with six local writers (Grisel Y. Acosta, Anel Flores, Laurie Ann Guerrero, Ignacio Magaloni, Robert Talamantes Garcia, Ben Tremillo) and merged two often-divorced dialects for an inspired collaboration.
Andy Benavides incorporates the image of a mischievous pink cartoon bunny into his work, its face changing throughout the different pieces representing a frightened uncertainty of the future. In "El Bunny" the bunny character is blown up into a colossal balloon and the word "peligroso" is illuminated in pink fluorescent light. The text of Ben Tremillo's Imagine: A Bunny's Life compliments the piece as it sheds reality on the inevitable and worrisome heartbreaks in life, "I guess you'll be always be the one that hopped away."
Laurie Guerrero presents a haunting fourteen lines in Sonnet of the Self as she presents ghosts as memories and captures the caustic cycle of cancer.  Katherine Brown's works document her personal experience with cancer in an intimate study between the vulnerability and delicacy of female anatomy. Her photography acts like a record throughout the duration of her chemotherapy, but her sculptures present an almost playful surreal interplay between artistry and femininity.
Chris Sauter and Robert Garcia present existential encounter in "Thomas y el Muro que Construimos." Sauter's drywall microscope is assembled directly from the gallery wall Garicia's prose is scrawled upon, magnifying the larger question Garcia asks in the beginning of his prose, " What are we looking for if we are not looking for ourselves?" The question gives answer to the deep crevices of the ultimate question of what is art?
Ana Fernandez's paintings reflect Southside landscapes at a lingering quiet standstill. In "210" blackbirds flock around the house in a Hitchcock-like manner and in "11:50" crime-scene tape borders a small house with a pickup sitting suspiciously in front. The paintings are grimly unemotional and Acosta's POV: Almost Dead Culture Vulture Hears a Last Conversation is a humorous dialogue of the presence in the paintings, which creates mixed emotions when viewing the two pieces separately.
Cesar Martinez creates blurred painted landscapes in which vertical black lines run close together like wood grain except with "Guadalupe G," which is presented in a completely different style. The portrait is reminiscent of jazz paintings complete with bright colors and a sad demeanor and seems to work against the grain of the other pieces. In Para Guadalupe G. Anel Flores captures the beat portrayal "no me despido, porque se que regresare."
The colorful interconnected canvases of Louis Trevinio transform into oblique shapes on the gallery wall. The 12 harrowing panels of "Life and Death" shed light on the creation poem Feathered by Ignacio Magaloni, in which the laws of thermodynamics are applied "through white beards/offering horizon/death and life/rising again." Trevinio's vertical painted canvases blur the line between existence and the afterlife.
The show reveals two sides to art: the visual and the lingual. Together they develop an inventive culture, which becomes a community. Although they are able to stand as independent pieces, the collision of the image and word forges an emotional bond that ties the art to the words in more than a hundred ways.
100 Palabras
January 13 – March 19, 2011
Guadalupe Gallery 723 S Brazos St
Hours: Mon-Fri 10am-6pm; Sat 12pm-5pm
Guadalupeculturalarts.org