While compiling a holiday cookie list, I stumbled upon a few overly festive treats that would A) give me diabetes and b) stress me out if I dared making them myself. Take a look at some of the most joyful cookies on Pinterest.
1. Shirley Temple Kiss: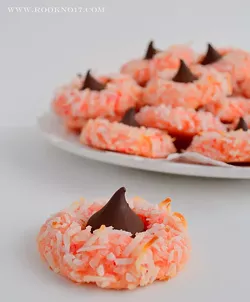 Via Rook No. 17
2. White Chocolate Cherry Shortbread: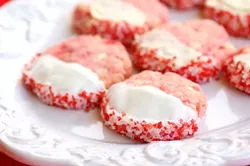 Via The Girl Who Ate Everything The longer the name the better
3. Christmas M&M Cake Mix Cookies:
Via The Frugal Girls Cake? Check. Cookies? Check. Christmas? Check. Check. Check.
4. Perfect Sugar Cookies:
Via Catch My Party MOAR SPRINKLES!
5. Melted Snowman Sugar Cookie: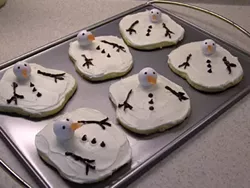 Via Elegant Art Form Bust out those art skillz
6. White Chocolate and Peppermint Christmas Wreaths Cookies:
Via Bustle Patience is a virtue. I would end up chucking these cookies against the wall
7. Nutterbutter art:
No recipes, just dip your NBs in some melted chocolate and get creative, I guess?
8. Chocolate Covered Pretzel Peanut Butter Bites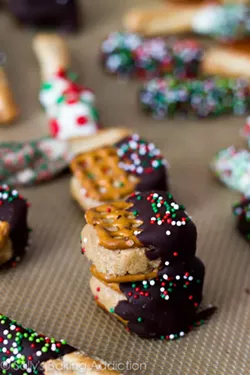 Via Sally's Baking Addiction All of the adjectives
9. Gingerbread Christmas Tree:
Via The Lady Thing Because one cookie is never enough
10. Snowball Trees:
Via Very Rosenberry 11 rolled balls per tree, not including frosting.