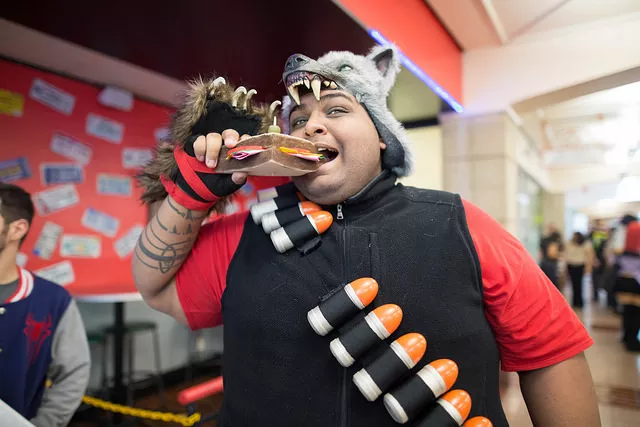 Linda Romero
Because you need to refuel if you're going to make it all weekend.
Going to San Japan but worried about where to get your munchies? Check out these 11 places in walking distance of the Henry B. Gonzalez Convention Center (the green square marker). Face it, you're going to have to eat, you can't get through this event on coffee and Pocky. Check out your options and make sure your outfit is walking-friendly in the unforgiving heat or take off that dalek costume before you go.
Bar Rojo
: 1-minute walk from convention center; casual while upscale, grab a refreshment after walking the grounds.
Rivercenter Mall
: 3-minute walk; Find the food court or load up on bourbon chicken samples.
Starbucks
: 3-minute walk; Get your coffee fix before convention time.
Denny's
: 3-minute walk; Breakfast all day, say no more.
The River's Edge Cafe + Patio Bar
: 4-minute walk; Split nachos between your group by the river.
Whataburger
: 6-minute walk; Your quick burger fix.
Casa Rio
: 6-minute walk; Recharge you batteries with a big heaping pile of Mexican food.
Guadalajara Grill
: 6-minute walk; Keep your Tex-Mex options open.
Zinc Bistro and Wine Bar
: 7-minute walk; Rest your aching feet and while sipping on your wine of choice. Don't miss the
Zinc Burger
.
Francesco's Gelato
: 7-minute walk; Cool off with a big bowl of gelato.
Rio de Gelato
; 11-minute walk; Coffee and ice cream, what's a better start or end to a day? Oh, yeah. Pizza.
Read more about San Japan and cosplaying in this week's article by Michael Marks.