Page 2 of 12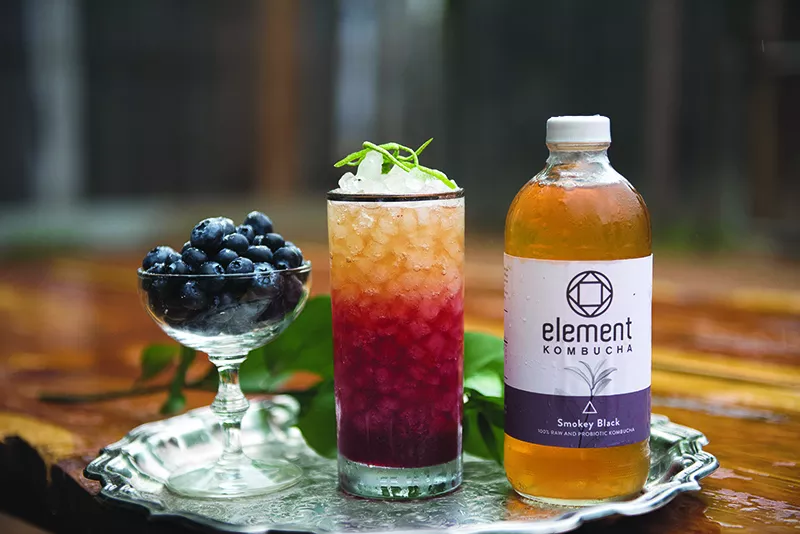 Courtesy
Kombucha and veg-friendly dishes are a must.
2. Alchemy Kombucha & Culture
1123 N. Flores St., (210) 320-1168, alchemysanantonio.com
What do you get when you combine fermented tea, cocktails, food, a communal patio and occasional live music? Usually, a total mess, but at Alchemy Kombucha & Culture the array of ingredients seems to work.
Let's break it down for you. On one end, owners Kevin Rayhons and Tim Trofimenkov are brewing fizzy and potent Element Kombucha using Trofimenkov's mother's recipes. Get a flight and sample all four out of square shot glasses and dive into the fizzy flavors all sourced from China. We're partial to the earthy green tea, and peachy milk oolong. Those looking to find a sweeter version can lean toward the rosy-tinged jasmine hibiscus, or head in the opposite direction and try the Smokey Black.
Not ready to make the pungent plunge into the fermented stuff? Try the cocktails made by Joseph Hernandez, Javier Gutierrez, Cisco Garcia and Justin Cruz of Milan & Turin. Find light and fizzy turns like the fruity Fixed Element with cucumber, Pimm's No. 1, jasmine-hibiscus kombucha and raspberries, or the Sherry-forward Devil Makes Three with blueberry jam, lime, bay leaf gomme and Smokey Black.
You'll need something to soak up all the booze (remember kombucha has the slightest hint of alcohol already in it), and that's where Brandon McKelvey and Mark "Wildcat" Garcia's fare comes to the rescue. Vegans, vegetarians and omnivores can all coexist here, as the produce-driven fare shines and animal proteins are handled with care.
Already a hangout for service industry folks looking for a fun spot to eat on a Monday, Alchemy's aiming to please for lunch and late night.