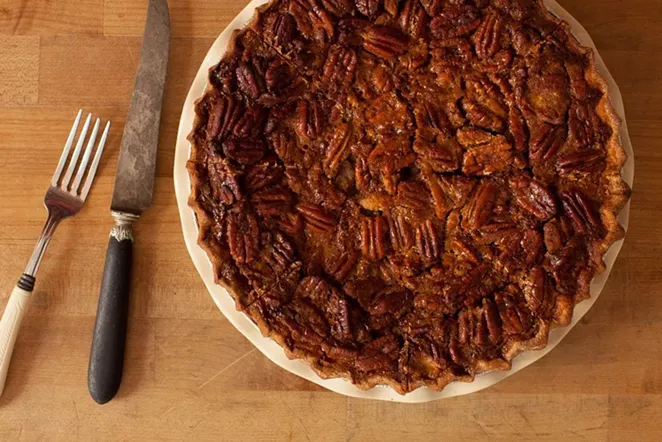 Courtesy
Liberty Bar's pecan pie.
Everyone knows the best part of Thanksgiving is the pie. If you're making your own, well, props to you, but for the rest of us who simply don't have the time, there are plenty of places around San Antonio to place your Thanksgiving pie orders. Here's a round-up of your options, so you can make sure the isn't a mutiny at the dinner table due to a lack of pecan pie.
Liberty Bar
(1111 S. Alamo St., 210-227-1187) Liberty Bar is now taking Thanksgiving pie orders. Options include Mrs. Appleyard's apple with currants, pecan (pictured above), buttermilk and fresh lime chess. Call or email |
libertybar@mac.com
.
Bill Miller's
(Multiple locations, 210-225-4461) pies have been a part of
every
San Antonio family's Thanksgiving dinner at some point. You can order their 9-inch apple, pumpkin, pecan, and lemon meringue pies online. Prices range from $6.49 to $9.49. All orders must be placed by the Monday, November 23 and picked up by 5 p.m. on Wednesday, November 25.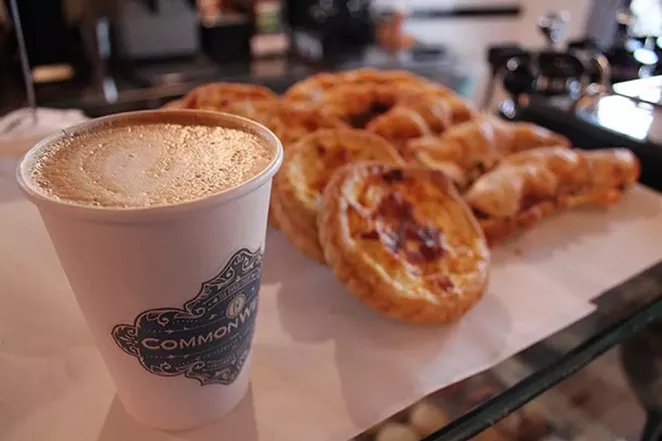 CommonWealth Coffeehouse and Bakery
(118 Davis Ct., 210-560-2955) is accepting orders for pumpkin pies ($12.99 each) and pecan pies ($24.99 each) until Tuesday, November 24.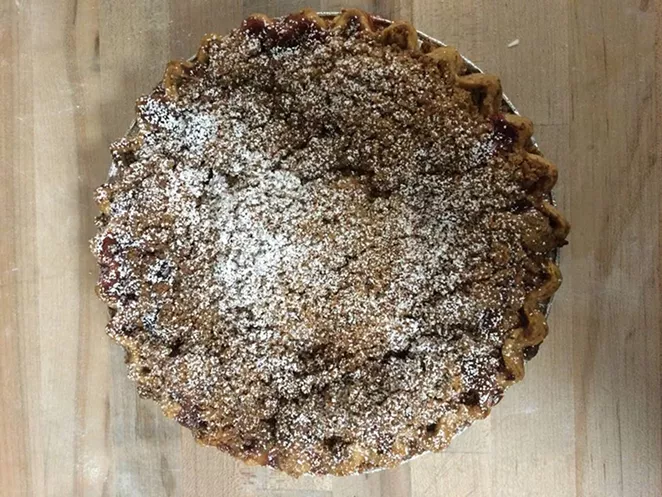 Bakery Lorraine
(306 Pearl Pkwy., 210-862-5582) has a number of pies ready to go for Thanksgiving, including pumpkin, pecan, Dutch apple and pumpkin cheesecake. Pre-orders must be submitted no later than Monday, November 23 and picked up Wednesday, November 25.
Blue Star Provisions/Facebook

Blue Star Provisions
(1414 S. Alamo St., 210-858-0329) had a pie tasting earlier this week, saddening all who missed it. But not to worry, you can still order a pie to pick up for Thanksgiving. You can choose from pecan, chocolate pecan, sweet potato, pumpkin and coconut cream with prices ranging from $20 to $26.99.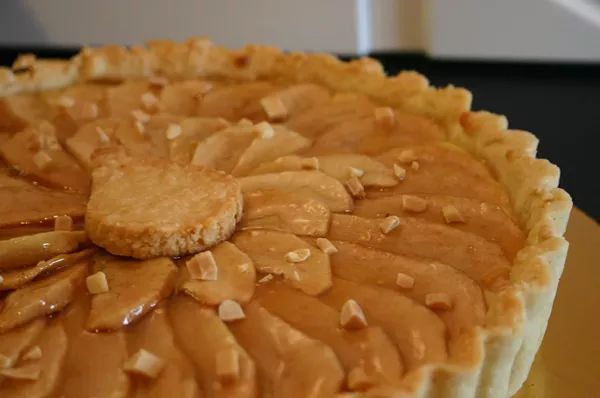 Délice Chocolatier & Patisserie/Facebook
Délice Chocolatier & Patisserie
(946 N. Loop 1604 W., 210-545-2200) has a number of pies for the people of Stone Oak who don't want to fight the traffic to get one. They offer bourbon pecan, apple, cinnamon apple Streusel, roasted pumpkin, pumpkin cheesecake, banana cream, and a chocolate caramel sea salt tart. Call for prices.