13 San Antonio Dogs That Are in the Market for a New Home
The Animal Defense League of Texas, a no-kill shelter located 11300 Nacogdoches Road, has several dogs that are currently looking for a forever home. Check out the dogs that are currently available and just try saying no to adopting one of these cuties. It's basically impossible. All photos are courtesy of the
Animal Defense League of Texas
.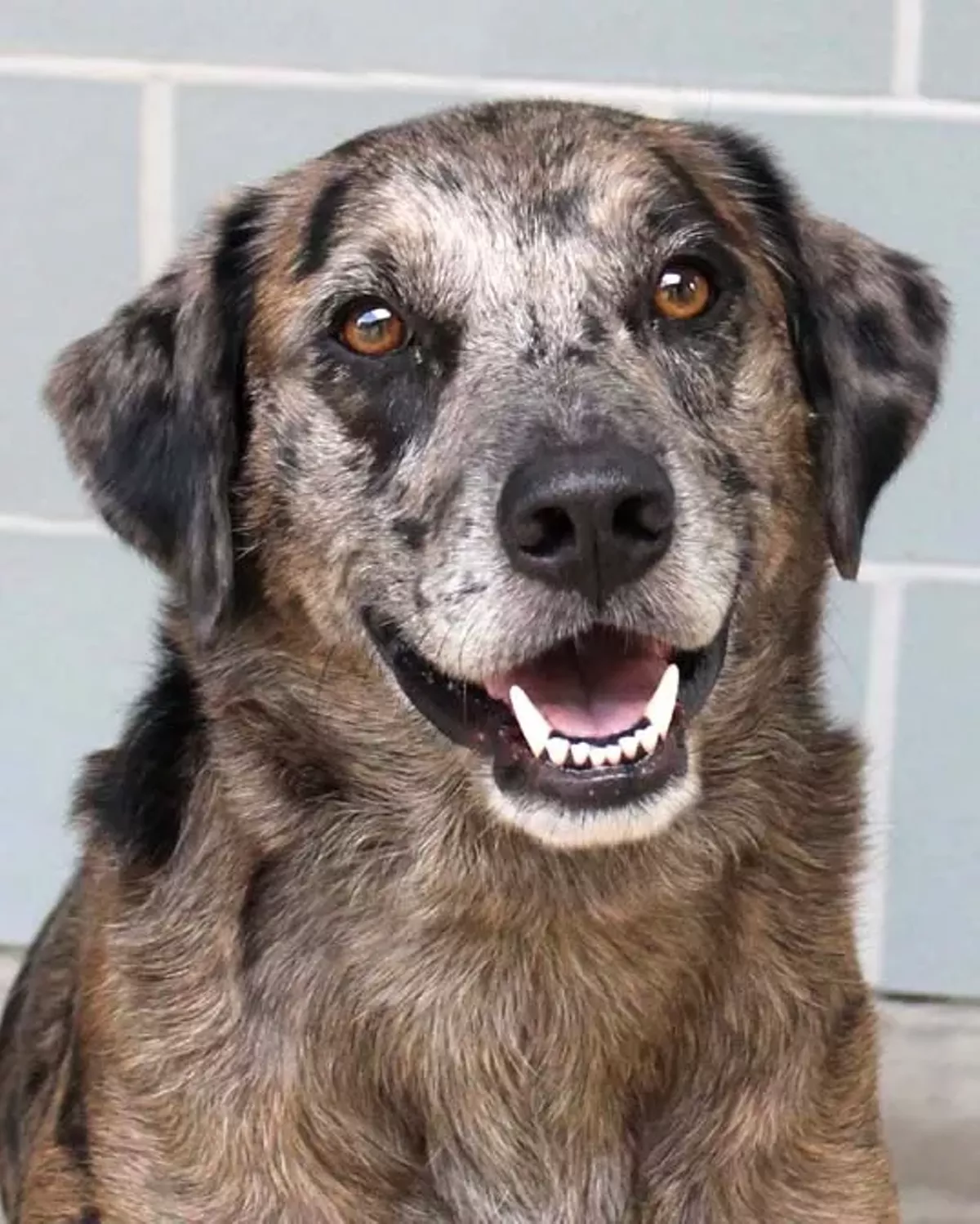 Jerry
"You can't see my striking markings very well from my photo, so I invite you to come see me in person – or rather, in dog – to admire me. As a Catahoula leopard dog mix, I have a grayish coat with black patches, and it's both unusual and quite handsome, in my humble opinion. I love when people admire me, play with me, or pay attention to me in any way. In fact, I have kind of a reputation as a big crybaby because I get upset when people ignore me. That's because I love people so much and I want a forever home where someone is around a lot to be with me. I'm well-behaved and don't cause any trouble. Well, except for the fact that I'm so smart that I can open practically any door. Please come visit soon!"
Bruce
"Don't you want to hold my smooshy face in your hands and give it a big kiss? I would love that, and I'd give you a bunch of kisses right back. I'm a very lovable boy. I'm also full of energy, bouncing all over the place and ready for fun. I suppose I need some training so I don't jump on people, but I just can't contain my excitement and I only want to show you how much I adore you. But if you take me home I promise I'll be a good boy and learn whatever you teach me and be your best friend forever."
Toberlone
"If you think about it, I am kind of the color of a classic Toblerone bar, with its chocolate, nougat, almonds and honey. About as sweet, too. I've got lots of pep in my step, but I'm settled enough that I have learned the sit and stay commands. I like kids and other dogs, and what I'd really like is a forever home with people who love me and who I can love right back. I'm waiting right here for you."
Charlie
"I've had a pretty rough past and it hasn't been the easiest for me to adapt to a normal life. I'm a very shy poodle but the folks here at ADL have cracked my shell a bit. I enjoy spending time outside and rolling around in the grass. I know that I'm not the picture perfect young and energetic dog that most people look for, but I can be just as sweet as them! I'm a unique and handsome gentleman. I typically have my tongue hanging out due to me being toothless. Yes, I have no teeth. I'd like to think it just adds to my cuteness. I'm looking for a patient person willing to take me under their wing and provide me with tons of love, care, and cuddles for the rest of my life. Do you think you can be that person for me?"
Coco
"Don't let my expression fool you, I'm a friendly girl. I can sometimes be shy but I'm generally energetic and happy. Don't my floppy coco colored ears make me look cute? Just imagine these eyes waking you up with kisses and love! Come by and visit me today!"
Adela
"I'm a young and playful pup that's ready to start my life with a forever friend. I have long ears that sometimes transform into yoda-like ears, people think it's cute, I hope you'll think they're cute too! I'm a loving girl that likes cuddles and a comfy lap to lean on. I also give kisses, especially if you have yummy treats in hand! Please give sweet me a chance and visit me as soon as you can!"
Kerstin
"I didn't mean to look so sad, I'm just a very calm and laid-back type of dog. I have a scraggly haired coat and precious beady eyes that add to my cuteness. I'm friendly and gentle with people. I'll even let you hold me close to you if you want to cuddle. I like walks in the park and do very well on the leash. However, I do need to take it easy due to my heart murmur. All I really want is a comfy lap to set my head on and to be loved. I hope to find a home soon where I can do just that."
Hexel
"Everyone loves a golden retriever, but they're big dogs and not everyone wants a big dog. That's where I come in. I look just like a golden retriever – except that I have short legs, which make my size more like a basset hound. I'm as sweet as any golden too, though I am a bit shy at first. You can tell by the way I wag my feathery tail that I want to be friends, and within five minutes or so I'll be covering your face with kisses. Just be patient and soon enough you'll be loving your own little golden."
Caprice
"I didn't meant to look like a deer in the headlights in my photo, I was just curious about the strange contraption taking my photo. I'm a very sweet and gentle girl that doesn't mind being carried. If you put me down on the ground, I'll walk very well on the leash beside you. Please give little me a chance to win your heart over and maybe we can become forever best friends."
Crush
"You will have a crush on me when you meet me, because I am an adorable puppy who just wants to be loved. I'm big now and I'm going to get bigger, but you can get this big bundle of love for $20 as part of ADL's Big Dog Go promotion. You'll see how excited I am about it when you come by because I don't sit still like this very often. I guess you could call me "joyful" or "playful" or maybe even "a maniac," but I am definitely cute. I get along well with kids and other dogs and I am looking forward to starting my new life very soon."
Jenkins
"When you come to meet me, you'll almost expect me to say, "Hi! I'm Jenkins! What's your name?" That's how friendly and eager I am. I'm so excited to meet you, it's almost like I'm greeting a long-lost friend. I radiate happiness. I'm an affectionate boy who will lean against you to show you I care. I hope you find me irresistible, because I'd love to spend the rest of my life with you."
Mia
"I am every bit as sweet as I look. I'm even-tempered and gentle, and my favorite thing to do is just hanging out with people. I have a lot of greyhound in me, and that makes people think I want to run and be very active, but the truth is greyhounds are major couch potatoes. I love going for walks, but nothing beats just hanging out with my human or canine best friends. Can you be my best friend?"
Poppa
"Yes, I have two eyes! I'm just so scruffy that only one eye was able to peer out from beneath my furry eyebrow in this photo. I was also having difficulty looking directly at the camera because I'm so very camera shy. However, I'm not only just camera shy, I'm incredibly shy in general. For this reason, I'm going to need a patient and special person in my life who will love me for who I am. I need someone that can spend quality time with me and show me that everything will be okay. Do you think you can be that person for me?"