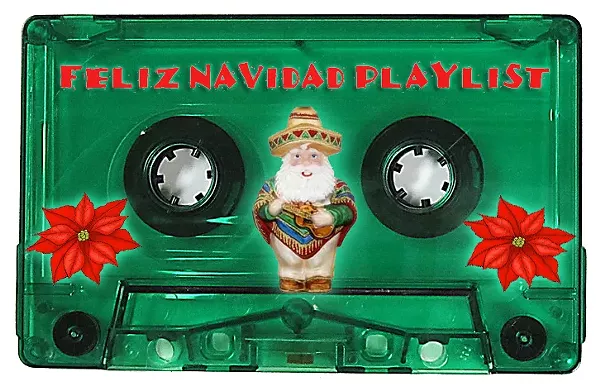 Bust out the buñuelos, tamales y regalos, porque es Navidad y Pancho Claus is on his way. Here's a caliente playlist to keep things hoppin' on Christmas.
Guster, "¿Dónde Está Santa Claus?"
Guster, perhaps best known as college rock favorite from the late 90's/early 2000's, play fantastic covers. (Their "Like a Prayer" cover is life-changing.) Their version of the novelty Spanglish staple is no different. You can listen to the original 1959 version of "¿Dónde Está Santa Claus?", sung by a then 12-year-old Augie Rios,
here
.
Willie Colón, "Aires de Navidad"
The socially active Nuyorican musician and composer is here with some salsa for your tamales.
Y La Bamba, "Señor Santa"

Luz Elena's sultry voice channel's Nico and transforms the chirpy 50's Christmas classic "
Mr. Santa
."
Céline Dion, "Feliz Navidad"
Yes, we put "Feliz Navidad" on our list of
holiday songs we never want to hear again
, but this Céline Dion rendition is
so insane
that everyone must have a listen.
Juanes, "El Burrito de Belen"
What's a Latin Christmas without a song about a donkey sung by a sexy, sexy man?
El Piporro, "Pancho Tamales"
And what's a Latino Christmas without a tune about tamales?
Los Lonely Boys,"I've Longed for Christmas"

The kings of Chicano rock get sentimental about the holidays.
Calexico, "Green Grows the Holly"
Indie rock band Calexico has a solemn song for this time of year.
The Krayolas, "Christmas Time"
Hector Saldaña of The Krayolas wrote a sweet holiday tune for his son Jason's first Christmas.
Lalo Guerrero, "Pancho Claus"
Why, oh, why is this Christmas classic from the Father of Chicano Music not on Spotify?
Flaco Jiménez and Freddy Fender, "Frosty the Snowman"
Also not on Spotify? Flaco Jiménez and Freddy Fender's Tejano-tinged version of "Frosty the Snowman." Someone over at the streaming music service should correct that before the next teardrop falls.
Piñata Protest, "12 Güeys of Christmas"
SA's Tejano rockers ditch the partridge in the pear tree.
Girl in a Coma, "Blue Christmas"
The Queens of SA's music scene channel The King.