Do San Antonio Restaurant Week right by visiting the Alamo City's star chefs,
finding the best menu items or scoring the best three-course savings. Here's a few we're dying to try.
Bliss
926 S. Presa St. • (210) 225-2547 •
foodisbliss.com
Definitely file this one under special night out. Chef Mark Bliss, a San Antonio staple, and his staff bring out restaurant favorites including the hamachi tostada and George's Bank sea scallops. Don't miss the flourless chocolate cake with sweet corn gelato.
Boiler House Texas Grill & Wine Garden
312 Pearl Pkwy., Building 3 • (210) 354-4644 • boilerhousesa.com
Whether you're going for lunch or dinner, chef Jeff White is likely going to wow you with what's on deck. The dinner menu features your choice of crispy pork risotto, catfish and grits or cracklin' chicken with corn cakes and sweet peaches.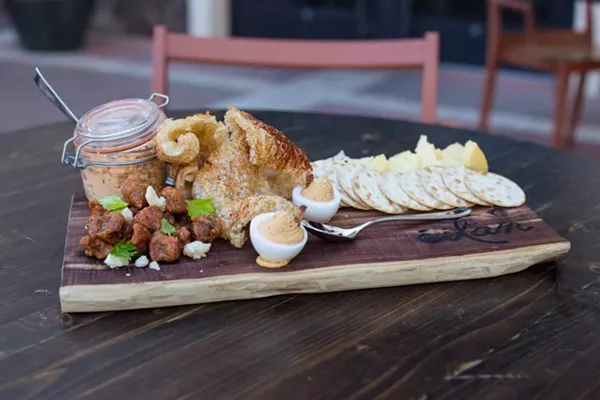 Photo Courtesy of Jacqueline Fierro
Sustenio
17103 La Cantera Pkwy. • (210) 598-2950 • eilanhotel.com
Loopland, there's something in here for you, too. Sustenio's modern Texan menu looks formidable and the Eilan as backdrop make this a fabulous dinner. Four words: Pimento cheese and chicharrones.
J-Prime Steakhouse
18838 Stone Oak Pkwy. • 210-764-1604 • jprimesteakhouse.com
An off-shoot of Chama Gaucha, this local steakhouse can be filed under the Total Steal category if you're planning to go during Restaurant Week. The menu includes lobster bisque, filet mignon and chocolate torte as options.
Kimura
152 E. Pecan S., Suite 102 • (210) 444-0702 • kimurasa.com
A regular visit to Kimura will usually set us back at least $20 and that's not counting parking. During these magical weeks, you can sneak in for lunch and order cucumber sunomono, charred edamame and spicy miso ramen with bok choy for $15. It's a metropolitan lunch on a budget. Don't miss the katsudon for dinner.