14 SA Bars Where You'll Always Run Into a Friend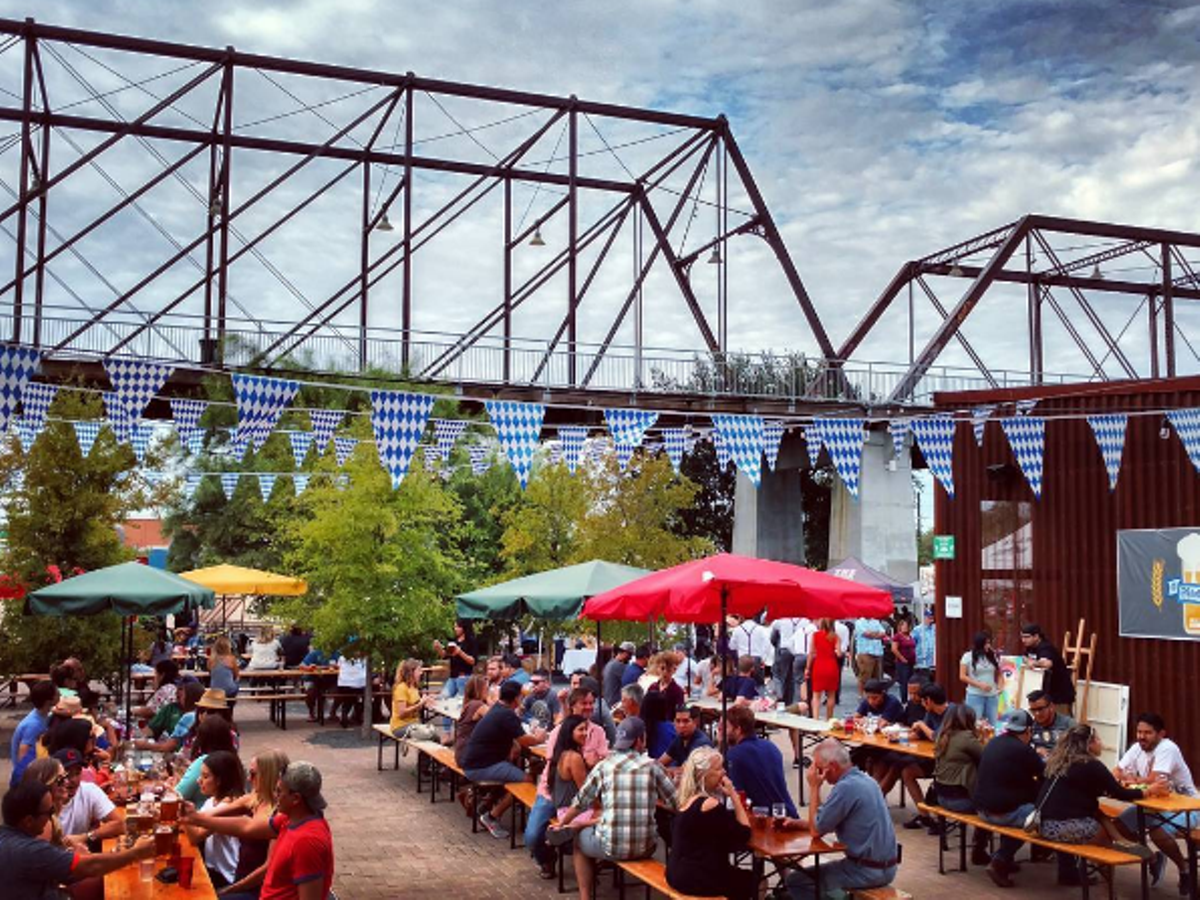 Alamo Beer Brewery
415 Burnet St., (210) 872-5589, alamobeer.com
Maybe San Anto loves a good patio? Maybe we love a sessionable beer? Maybe we just like being so close to the Hays Street Bridge? Regardless the reason, Alamo Beer Co. usually ends up being a hangout spot for families and kickball fans alike.
Photo via Instagram,
clint_tomerlin
Burleson Yard Beer Garden
430 Austin St., (210) 354-3001, facebook.com/BurlesonYard
Burleson Yard Beer Garden is the kind of place that appeals to the masses — a massive outdoor area, hammocks for keeping it chill and a pretty family-friendly spot — this place has everything you need, meaning people you can bet on someone you know being there with a margarita in hand.
Photo via Instagram,
dreaserros
The Friendly Spot
943 S. Alamo St., (210) 224-2337, thefriendlyspot.com

Consider this the hub of the Southtown neighborhood that could just as easily function as a community center. Whether you're taking in a family-friendly flick, or grabbing a cold one with your furry bestie, you're bound to run into someone from that tight-knit hood.
Photo via Instagram,
lindseydish
La Botanica
2726 N. St. Mary's St., (210) 716-0702, vivalabotanica.com
As one of the few places in town where you can get a delicious vegan meal and drinks with ingredients pulled from the bar's garden, La Botanica keeps it real and is always attracting a crowd with their weekly events.
Photo via Instagram,
wayneholtz_
The Luxury
103 E. Jones Ave., (210) 354-2274, facebook.com/The-Luxury
Young creatives love beer and delicious sandwiches. We also love eating outside. Wave to architects from Overland, neighbors from 1221 apartments and the rest of downtown's creative core from the swings.
Photo via Instagram,
hellojlo
Rumble
2420 N. St. Mary's St., facebook.com/rumblesatx
You know you're going to run into that former fukboi at Rumble for Drake night, but you'll also run into plenty of cocktail-loving pals. The industry-fave known for boozy drinks and a chill patio knows how to get people out with their themed nights. Take a shot for Drizzy with all your day ones.
Photo via Instagram,
bearded.music
Sancho's Cantina & Cocina
628 Jackson St., (210) 320-1840, sanchosmx.com
With a rooftop patio, tequila, cervezas and an excellent frozen margarita, it's no wonder that's Sancho's is packed every weekend night. It's a casual spot to grab a drink and a good spot to hit up if you're looking to bump into a friend.
Photo via Instagram,
rtrefethren
Hi-Tones
621 E. Dewey Place, (210) 785-8777, hitonessa.com

Pickle shots bring people together. Who hasn't made a friend by tossing back one of these babies and dancing the night away at Hi-Tones? Give it a shot next time.
Photo via Instagram,
jlmoore0213
The Well
5539 UTSA Blvd., (210) 877-9099, thewellsanantonio.com

You'll likely run into several classmates at this UTSA hang that combines dance hall with dog park, restaurant with cocktail bar.
Photo via Instagram,
muhkayluh_
Stay Golden Social House
401 Pearl Pkwy., facebook.com/staygoldensocialhouse
It's right across from the Pearl, so you already know that Stay Golden keeps it poppin' with a packed crowd. With delicious hand-crafted cocktails, a wide list of beers, Stay Golden and a large space for hanging out, Stay Golden is an ideal spot to meet up with friends, meaning you're bound to run into someone you know when ever you're there.
Photo via Instagram,
jacquelinemindyk
The Block SA
14530 Roadrunner Way, (210) 690-3333, theblocksa.com

Another place for UTSA students to run into everyone they know (and several people they're likely trying to avoid), The Block is one of the most thought-out food truck parks in the area. Stop by for Chela's tacos, pet a stranger's dog (with their permission, of course) and grab a table for all your bros.
Photo via Instagram,
marknicholas
The Cove
606 W. Cypress St., (210) 227-2683, thecove.us
How can you not run into someone at The Cove? Whether you're doing laundry, washing your car, grabbing a bite, or trying out all the taps from the Texas Bar, you're going to find a friend doing the exact same thing. Don't forget: The Cove is a place to unwind with your parent pals, be it those with actual progeny or the four-legged kind.
Photo via Instagram,
iloveneensa
The Flying Saucer
11255 Huebner Road, (210) 696-5080, beerknurd.com
It's no secret that San Antonians love beer, and what better place to hang out than the Draught Emporium? Doesn't matter if you're a beer snob or if you just got for the schnitzel, you'll pretty much always run into a friend sipping on a flight or checking out the specials for the day.
Photo via Instagram,
bkbird1973
Freetail
2000 S. Presa St., and 4035 North Loop 1604, freetailbrewing.com

Helmed by some of the most laidback beer makers in town, Freetail's an oasis for beer drinkers off South Presa. You're going to run into the dude you shared that vertical with that one time, and the cute girl that's into beer, and probably a handful of other folks that just want to get their hands on some Yo Soy Un Berliner from the freshest place they can find. These are your people.
Photo via Instagram,
jlmoore0213