Page 3 of 3
For the San Antonio Zoo: Take Meaningful Action for Lucky the Elephant
Lucky, the San Antonio Zoo's lone elephant, needs help. Critics of the zoo claim that Lucky's habitat is insufficient, and that keeping an elephant alone is inhumane. An elephant refuge in Tennessee offered to take Lucky in for free, but the zoo refused, claiming that the stress of the move could kill her. But the zoo should do something. Whether it's moving Lucky to an elephant sanctuary, finding her a companion elephant, improving her habitat or some other solution, Lucky needs a change so she can have a brighter future.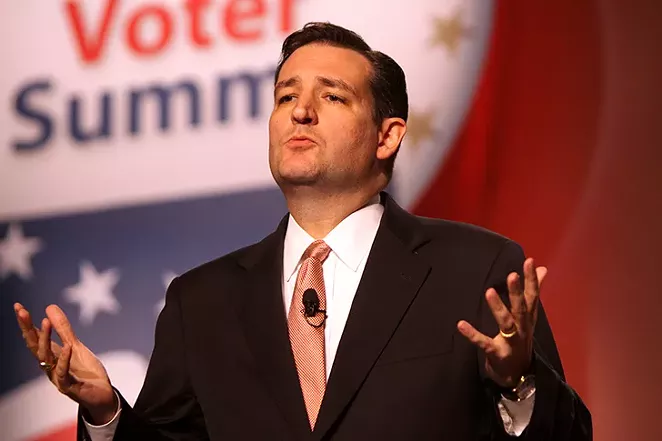 For Ted Cruz: Go Back to Canada
Just like our own lofty goals (dropping 15 pounds, learning to play the mandolin), this one probably won't happen. But what's the New Year for if not blind, stupid optimism? Texas' junior senator has taken the mantle from former Governor Rick Perry in embarrassing the state during a presidential run, making good-natured Iowans and Ohioans ask "How do Texans keep electing these people?" The best solution is for Cruz to return to his native Alberta, where perhaps he could take up a more innocuous vocation, like lumberjacking or igloo fabrication.
For the Alamo Historic District: Show Us Your Vision
We're in the infancy of a new era for the Shrine of Texas Liberty. The Alamo's footprint is set to grow, with the city and General Land Office partnering to expand and revamp the historic site, with the intent of accurately capturing its history and more effectively engaging visitors. The master plan for the Alamo Historic District will likely be unveiled in 2016. Previous similar efforts have failed — but this one, especially given its many deep-pocketed supporters — looks promising.
For the Obama Administration: Stop the Detention of Immigrant Families
Undocumented immigrants from Central and South America who have crossed the southern border fled from gangs, violence and other atrocities in their home countries. For many, particularly women and children, their welcome to the U.S. is imprisonment in a South Texas detention facility. Reports of poor medical treatment, development of mental illness and due process concerns have trickled out of the facilities, which congressional Democrats such as San Antonio Rep. Joaquin Castro have called to close. In 2016, the Obama administration should heed that demand.
For All Local Government Agencies: Give Us Greater Transparency in Local Government
An annual item on any civic watchdog's wish list. But it seems especially worthy now, after a 2015 in which the City of San Antonio slapped an $81,000 price tag on a public information request by the San Antonio Express-News, and rehired William McManus as SAPD chief after putting candidates to replace him through an open vetting process. Let's put a camera in every municipal conference room, and upload every public document to the cloud.