15 Thanksgiving Episodes You Can Stream Right Now
Whether you're looking to wind down with your Thanksgiving party peeps or need a distraction after a stressful holiday, escape to a funny or dramatic holiday from some of our favorite shows.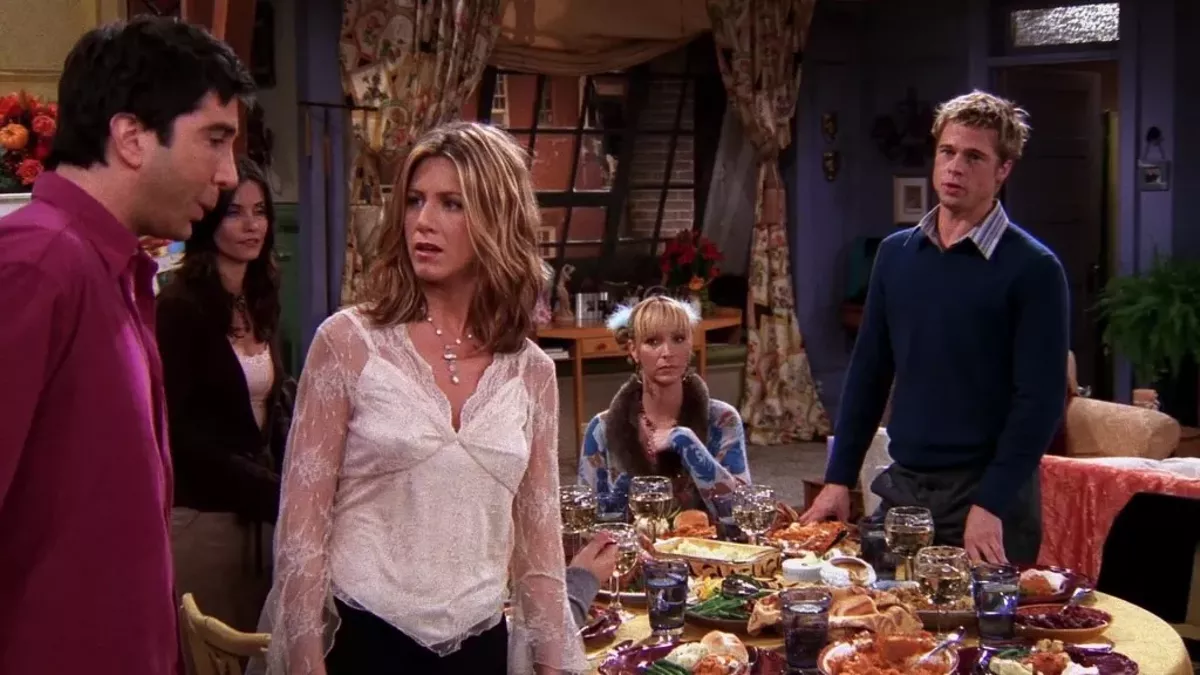 Friends: "The One with the Rumor"
Season 8, Episode 9
All the Friends Thanksgiving episodes are great, especially "The One With all the Thanksgivings," but if you had to pick one, you should go with "The One With The Rumor," otherwise known as the one with Brad Pitt. It's the episode where we find out Ross was a member of the "I Hate Rachel Club" and that everyone in high school believed Rachel had a hint of a penis. (Netflix)
Mad Men: "The Wheel"
Season 1, Episode 13
Mad Men's season one finale, set around Thanksgiving, is one of the series' best, culminating in Don Draper's memorable, heartfelt pitch to Kodak for its slide projector. (Netflix)
Gossip Girl: "The Treasure of Serena Madre"
Season 3, Episode 11
Let's face it, Gossip Girl was amazing, then it was bad, then it was amazingly bad. But it did have a couple of great Thanksgiving episodes, the better one being "Blair Waldorf Must Pie" from season 1. That's the one when we find out Blair has both a soul and an eating disorder. But "The Treasure of Serena Madre" which aired during Gossip Girl's amazingly bad period, has one of the best Thanksgiving table scenes ever. It's got Vanessa's obnoxious hippie mom being an obnoxious hippie, CeCe being CeCe, and little Eric earning his bitchy gay badge. "Your sweet potatoes are bland." Sick burn. Seriously, go watch it. (Netflix)
The West Wing: "Shibboleth"
Season 1, Episode 8
On the eve of Thanksgiving, President Bartlett must decide whether or not to allow Chinese refugees who claim religious persecution into the country, since doing so will anger the Chinese, but more importantly, CJ Cregg has to pick a turkey for the president to pardon, and it's hilarious. (Netflix)
How I Met Your Mother: "Slapsgiving"
Season 3, Episode 9
The one where Marshall intimidates Barney by building up the third slap from the slap bet, a gag that ran through most of the series. (Netflix)
Buffy the Vampire Slayer: "Pangs"
Season 4, Episode 8
It's a Thanksgiving episode, so Buffy has to deal with a vengeful Native American spirit. (Netflix)
Grey's Anatomy: "Thanks for the Memories"
Season 2, Episode 9
Back when the show was good and George O'Malley had yet to be hit by a bus, his dad and brothers force him to go hunting on Thanksgiving. (Netflix)
The New Girl: "Thanksgiving"
Season 1, Episode 6
It's the one where Jess dresses like a turkey and has a crush on Justin Long for a hot minute. (Netflix)
Orange is the New Black: "Fucksgiving"
Season 1, Episode 9
It's the one when Piper finally gets locked up in solitary because she is the worst. (Netflix)
Bob's Burgers: "An Indecent Thanksgiving Proposal"
Season 3, Episode 5
Bob pimps out his family to their landlord for a Thanksgiving dinner. It does not go well. (Netflix)
Rosanne: "We Gather Together"
Season 2, Episode 9
First, can we point out what a travesty it is that every season of Rosanne is not available to stream legally? The first two seasons are on Netflix, including the season 2 Thanksgiving episode that includes the loud, angry family dysfunction that's not too different from our own. (Netflix)
The O.C.: "The Homecoming"
Season 1, Episode 11
Finally, the O.C. is online. In the season one Thanksgiving episode, Seth really sucks at the dating both Anna and Summer thing, and Ryan goes back to Chino, which was boring. (CW The Seed)
Gilmore Girls: "A Deep-Fried Korean Thanksgiving"
Season 3, Episode 9
Having never seen an episode, all I know about Gilmore Girls is that there is someone named Lorelai; it's about a mother and daughter with very blurry mother-daughter boundaries, and that people like this Thanksgiving episode. (Netflix)
Seinfeld: "The Mom and Pop Store"
Season 6, Episode 8
On the Thanksgiving front, Jerry accidentally deflates the Woody Woodpecker balloon in the Macy's Thanksgiving Day Parade. (Hulu)
The Wonder Years: "The Ties That Bind"
Season 4, Episode 7
Watch the Thanksgiving episode from the show Baby Boomers watch to remind themselves how perfect life used to be.