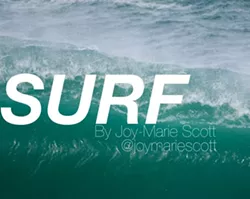 With nearly 150 awards, the Webbys have five types of entry: Web, online film and video, interactive advertising and media, mobile and apps, and social. The list of winners is filled with the predictable pats on the back. It's no surprise that Pinterest wins a Webby for Social Media, Netflix stands firm over Hulu and Spotify for Media Streaming, and multiple awards glitter Tumblr, TED, and Google each.
Skipping over obvious sites and applications that are embedded in our day-to-day, I'm highlighting five Webbys that exemplify the inspiration of this column.
THE CREATORS PROJECT — Web, Art
For artists, musicians, and filmmakers, the Creators Project is a shiny dream of generously funded synergy. Vice Media and Intel pitch their powerhouse project as "a global celebration of art and technology." It's based on a prolific YouTube channel showcasing artists, like OK Focus and Animal Collective, working with modern technologies. The Creators Project commissions and distributes spellbinding collaborations like the one featured here between biochemist-turned-photographer Linden Glenhill and electronic musician Jon Hopkins. Recently, the site has been running a series of videos documenting the collaborations leading to "Random Access Memories," the latest Daft Punk album. Fans of the Muppets or Paul Williams should check out "The Collaborators: Episode 8."
ESPN 30 FOR 30 SHORT FILM SHORT FILM SERIES — Online Film & Video, Documentary: Series
Click here to check out ESPN's 30 for 30 Shorts
Most sports documentaries are the equivalent of a chick flick. Formulaic and sentimental, most boil down to a story of love and triumph. ESPN's series "30 For 30" breaks the mold by enlisting the distinct visions of talented filmmakers to tell a story about sports. I'm not a sports fan, and I know little about the athletes and coaches featured in these shorts. Films like "Disdain for the Mundane" by Nelson George ("The Announcement") truly hit the sweet spot of crossover appeal.
DUMB WAYS TO DIE — Interactive Advertising & Media, Viral Marketing
Dumb Ways To Die is one of the most popular public service announcements in history. Be safe around trains! McCann, the international agency behind a number of Coca-Cola ads, created the brilliant and funny integrated media campaign for Melbourne Metro in Australia. It's a textbook case study on the ideal match of quirky humor and viral marketing.
THE SILENT HISTORY — Mobile & Apps, Experimental & Innovation
In this category for Experimental & Innovation, the People's Voice chose the iPad Table by Universal Mind. No doubt every social iPad owner is eager to try this. (If you have tested the iPad table, tell us about your experience in the comments section.) The Webby award goes to The Silent History, an interactive novel designed for the iPad and iPhone.With McSweeney's DNA, The Silent History tells a futuristic story about a generation of children who lack the ability to communicate with language but may have other surprising talents. It's ongoing, evolving, and the topic of an upcoming post.
 OUR FOOD. YOUR QUESTIONS. – Social, Customer Service
Webby Agency of the Year Tribal DDB Toronto set the new gold standard for FAQs with Canada's McDonald's. Companies will follow this fresh, transparent-yet-controlled engagement with consumers. And American's have further evidence of Canada's more progressive, unflappable culture. In this featured video, Canadians answer that falling down question: why doesn't my burger look as good as the ad?
What are the Webbys that stand out to you? Let us know in the Comments.
The 17th Annual Webby's Award Show is hosted by the adorable Patton Oswalt, and it will be available on demand May 22nd. The hallmark five-word acceptance speeches make it a show worth watching while folding laundry.