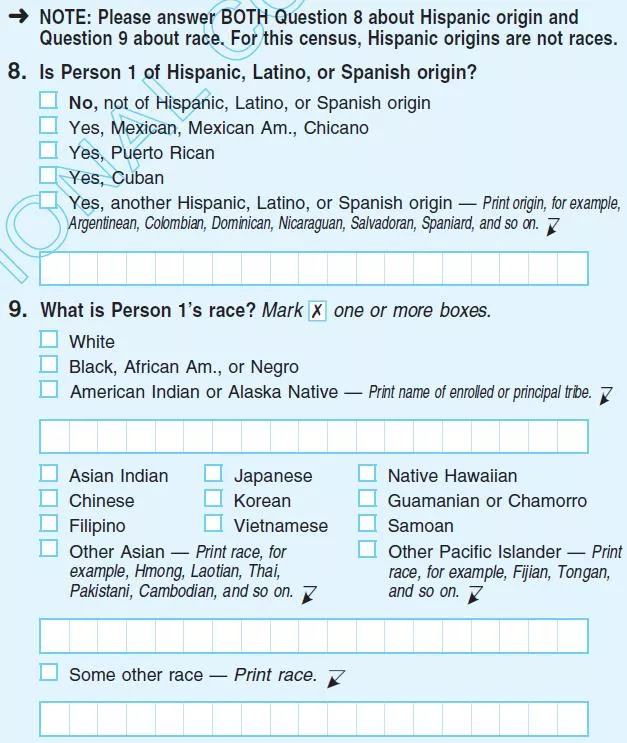 Reading through the
2010 Census data
was an interesting experience. And when I say interesting, I really mean confusing. I've never been very good with numbers, and I avoided math classes like the plague in college. But despite my snarly aversion to all things numerical, one fact became glaringly clear in my research: the Latino community is here to stay, and our presence is only getting stronger decade after decade. I'll boldly assume that that's not big news to most of us. After all, we were found to be the largest minority population back when the
2000 Census data
was published. The real news here is that we're growing at a rapid pace while our fellow non-Hispanic* American population is remaining just about stagnant. Before I go into just how telling it is that we're growing faster than any other minority in the country (save your reproduction jokes, please), there's one item to consider. If you'll take a look at the image above, you'll notice a line at the top that reads: "For this census, Hispanic origins are not races." Despite the rally cry of
La Raza Unida Party
, and the 1925 essay
La Raza Cósmica (The Cosmic Race)
, and the anger with which many Latinos
responded
to this statement, the United States government, or at least the folks at the Census Bureau, do not recognize the Latino population as a race in and of its own. So there are people of a specific "race," and then there are people of "Hispanic origin" (i.e. "a person of Cuban, Mexican, Puerto Rican, South or Central American, or other Spanish culture or origin regardless of race"). If we have to draw a line between race and nationality for these purposes, then okay, I'll do it. But in my mind, I am a part of the Latino race. And we are a race. Case closed. So what are the numbers? Here's a high-level breakdown:
More than half of the growth in the total population of the United States between 2000 and 2010 was due to the increase in the Hispanic population.
Between 2000 and 2010, the Hispanic population grew by 43 percent.
The non-Hispanic population grew relatively slower over the decade, about 5 percent.
The majority of Hispanics classified as Some Other Race reported only as one race (89 percent - which speaks to my earlier ramblings on race).
California had the largest minority population in 2010 (followed by Texas).
The report closes with the following statement: "The examination of racial and social group distribution nationally shows that while the non-Hispanic White alone population is still numerically and proportionally the largest major race and ethnic group in the United States, it is also growing at the slowest rate. During the past 10 years, it has been the Hispanic population and the Asian population that have grown considerably, in part due to relatively higher levels of immigration." In other words, we're growing in numbers while the non-Latinos aren't. If that's not enough for the opponents of immigration reform or anti-minority proponents (namely,
Glenn Beck
) to understand that their arguments are an effort in futility, I'm not sure what will be. Immigration and race relations are the hard-hitting issues that have been the subject of debate in newsrooms, classrooms, and living rooms across America for years. But what are we debating? The fact is that the influx of Latinos has never - and will never - cease. At some point, Latinos will either meet the non-Hispanic White population in equal numbers or we will surpass it. But I can only hope that lawmakers and the cronies who fund their campaigns try to do something to win us over again, be it by way of immigration reform or by at least acknowledging our vital presence in this country. Because before they know it, their biggest problem won't be a Black man in the White House - it'll be a Latino.  
*Not a big fan of the term "Hispanic" myself; I use the word here in alignment with the Census Bureau's terminology.