"Sin maiz, no hay pais", might well have been the foundation of the Culinary Institute of America's 6th annual symposium on Latin cuisines, recently held at the school's San Antonio campus—even if the sentiment expressed in "without corn there is no country" is uniquely Mexican. For every prediction about snacking being the future of food there were testimonials to tradition. For each demonstration touting new ways with flour tortillas (hint: add bacon fat), there was another suggesting that "one doesn't wake up every morning craving fish stuffed with huitlacoche and served with mango sauce."  Walk before you try to run, learn the basics before you attempt to riff on them
and then get out of the way as Millennials take charge of the way we will eat in the near future.
The much-mentioned Millennials are apparently the drivers of the snacking phenomenon—which was said to constitute 55 percent of all eating today. To cite another, possibly specious, statistic, 47 perception of consumers are looking for "unique" ingredients in said snacks—but unique doesn't necessarily mean new. Or bad for you--despite the appearance in Dallas, and elsewhere, of a 24-hour Sprinkles Cupcake ATM. Age-old methods of fermenting, pickling and curing are "trending" (Steven Mc Hugh's new restaurant, Cured, should hit the crest when it opens at Pearl in December), and  there's apparently a "stealth-health" component of many of today's snacks, due in part to the Millennials' embrace of global cuisine—even in kimchi taco mash-up form.
But if the new snacking culture knows few geographic bounds, there was one cuisine firmly rooted to place that was touted as currently having its fifteen minutes of fame—Peruvian. Peru, in the words of one presenter, has become "the France of Latin America" in terms of quality perception, thanks largely, or at least initially, to the ambitions of one chef, Gastón Acurio. Acurio first made his mark in Lima with restaurants that helped established the novoandino culinary movement, and his franchises have spread around the globe, taking more than ceviche with them in the process. Who knew that there was a Peruvian-style rotisseried chicken called pollo a la brasa? (OK, some folks do; you can find it here at Rocoto's on Culebra.)  Japanese influence is strong in Peru as well, and look for a sandwich franchise to open somewhere near you in the future; Peruvians are apparently big on sandwiches with offbeat ingredients such as sweet potato.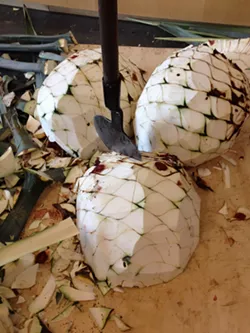 "Five hundred years of [natural] fusion" is how chef Diego Oka, himself Japanese-Peruvian, characterized his country's cuisine. Knowing all of it was what allowed him to legitimately play with his ceviche, incorporating such elements as a scallop "mayonnaise."  (Both contemporary and traditional Peruvian dishes can frequently be found on the menu at NAO, the CIA's pan-Latin restaurant.) Familiarity with the products of a particular region was what allowed Mexican chef Roberto Santibañez to present what at first appeared to be a renegade mole—one using hazelnuts and vanilla.
"This will taste like Mexico even though no Mexican has ever seen this recipe," said Santibañez as he whizzed together the nuts and vanilla that just happen to grow together in the area around Papantla in the Mexican state of Veracruz. "There is no evolution without tradition," he proclaimed, a statement that seemed tailor-made for chef Rick Lopez, the San Antonio native who is currently helming the kitchen at Austin's La Condesa. His contribution to the evolution of Mexican cuisine came in the form of a truffled aguachile of hamachi with calamansi lime juice and oak-grilled habanero peppers.
Chef Hugo Ortega of Hugo's in Houston brought things back down to earth—and back to maiz-- with his demonstration of tamales de elote, a humble recipe from his grandmother utilizing a "dough" of freshly ground corn.  As much as the Millenials may want their snacks and want them now, there's still nothing like a tamal straight from the milpa, or cornfield,  that has been steamed in a fresh corn husk. It's almost incidental that it could easily be eaten on the run.