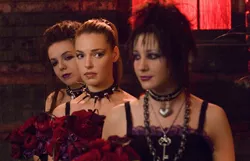 27 Dresses
Director:
Anne Fletcher
Screenwriter:
Anne Fletcher
Cast:
Katherine Heigl, James Marsden, Edward Burns, Judy Greer, Malin Akerman
Release Date:
2008-01-16
Website:
http://www.27dressesthemovie.com/
Rated:
PG-13
Genre:
Romantic Comedy
Lock me up, I did not hate 27 Dresses. (If you listen very closely, you can hear my editor snickering somewhere.) It is, admittedly, The Wedding Planner by way of Runaway Bride by way of Never Been Kissed, but — and this is assuming celluloid has some supernatural sentience — I think it knows it. How else can you explain Judy Greer's presence as the perpetual-bridesmaid protagonist's sidekick? It's as though 27's casting director is winking at all of us who accidentally watched Planner again on cable two weekends ago. (We had laundry.) There are other pretty direct lifts — the I've-fallen-and-I-can't-get-up meet-cute (but without that horse-calming-down noise Matthew McConaughey uses on his women: Ho-ho-ho), the compromising newspaper article published at just the wrong time — come to think of it, it's possible that this movie does suck, and I'm too dumb to notice.
Maybe it's that Katherine Heigl is so damn charismatic as Jane: like Meg Ryan meets Phoebe Buffay, decked out in Anthropologie duds (so what if we have the catalogues on file). Maybe it's that I really can't help but be sympathetic to her potential mate, James Marsden, who first played second fiddle to Wolverine, then to Superman, all courtesy of Bryan Singer. Maybe it's that the two of them, Heigl and Marsden, actually have more a believable chemistry than Meg & Tom, or at least a more extroverted one.
Or perhaps it's because the movie rides on one of womankinds's greatest fears: That "I think your sister's pretty" moment we all, whether we fess up to it or not, dread.
It could be because of what inevitably happens to me within 24 hours prior to reviewing a chick flick: I have a really bad day. Guess what? That's who they're making these movies for, women who've had really shitty days/weeks/years, and can find something in even the most horrid and prosaic top-40 song to grasp onto, ergo impassioned car sing-a-longs of: It's a damn, cold night/ trying to figure out this life; I'll spread my wings and I'll learn how to fly; Can we forget about the things I said when I was drunk?/ I didn't mean to call you that.
This is your cinematic candybar. Call it Amelie lite.