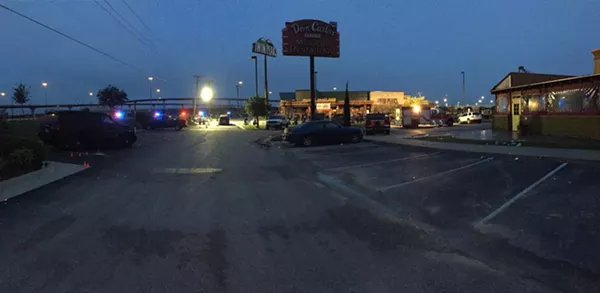 Waco Police Department
The morning after a massive biker brawl in Waco on Sunday that left nine dead and 18 injured.
More details of the men arrested after the now infamous fight between motorcycle clubs in Waco are coming to light.
The
Waco Tribune-Herald
obtained a list
of all the people arrested Sunday — 28 are from San Antonio.
A former San Antonio Police Department detective is among
those arrested
.
Initially, Waco police said approximately 1,000 weapons were collected from Twin Peaks Restaurant where the clubs were set to hold a meeting before violence broke out.
In a Facebook update yesterday, Waco police walked back the number saying that 318 weapons had been collected.
"We do expect the numbers to continue to rise. Please understand this is an extremely complex crime scene and they specifically took the time out to be able to give me a more accurate account late this afternoon," the department said Wednesday. "Those weapons include clubs, knifes, brass knuckles, firearms, and chains with padlocks attached to them intended and used as weapons."
According to police, 118 handguns, an AK-47, 157 knives and 43 "other" weapons were seized.
"The weapons appear to have been discarded as Officers arrived and some hastily hidden," Waco police say.
Apparently weapons were found in sacks of chips, stuffed between bags of flour, hidden in bench seating, shelves, trashcans, kitchen stoves and someone allegedly tried to flush a handgun down a toilet.
"An Ak-47 was found in a vehicle parked in the parking lot as well as body armor," police say.