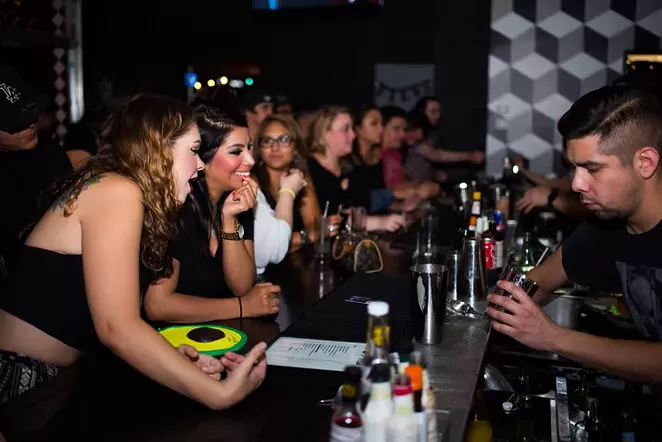 Last Thursday,
Rumble
(2410 N. St. Mary's St.) held one of the most successful themed nights in recent SA bar history and you can blame it all on Aubrey Drake Graham, but I like to call him Drizzy.
Anywhoo, based on the success of the night that kept a steady line of Drake fans clustered around the bar and waiting out the door to get in for A Shot For Me, or Worst Behavior cocktail, Rumble will do it again Thursday, June 30 starting at 9 p.m. with bonus The Weeknd and PARTYNEXTDOOR (because I guess
some people
aren't fans of Drake...)
I got a peek at the new menu, which resembles last week's variety of light patio pounders (you shouldn't drink and Drake anyway). Here it is below: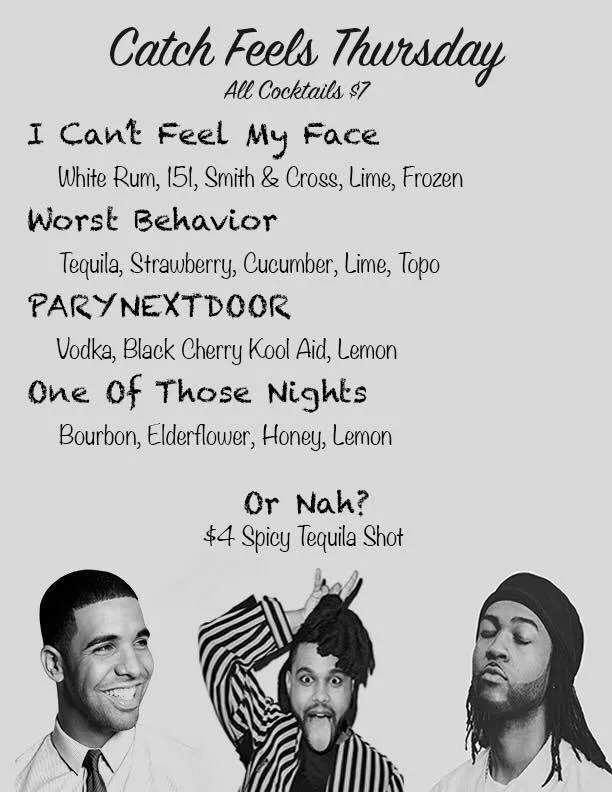 But it got me thinking, what other beverages should grace this menu?
A few suggestions for the bar staff at Rumble for the third iteration, which I'm sure they'll have.
1. Jungle:
Let's keep this one relatively easy. Whip up some variation of our favorite dorm-room beverage. Serve it in red Solo cups, obviously.
2. Lord Knows:
The Life of Pablo
is Ye's gospel album, but Drake's foray into using the praise hands emoji and keeping things 100 actually came first. What's more praise-worthy than red wine? Not a lot, but since Rick Ross (aka Ricky Rozay) was featured on this track, use a sweet rosé in a pre-batched sangria next time. Cut down those wait times so I can text my ex sooner.
3. Shameless:
Lest we forget The Weeknd, the staff at Rumble should whip up a Canadian Flag Fizz (get it, shameless), which combines maple syrup, cranberry and prosecco.