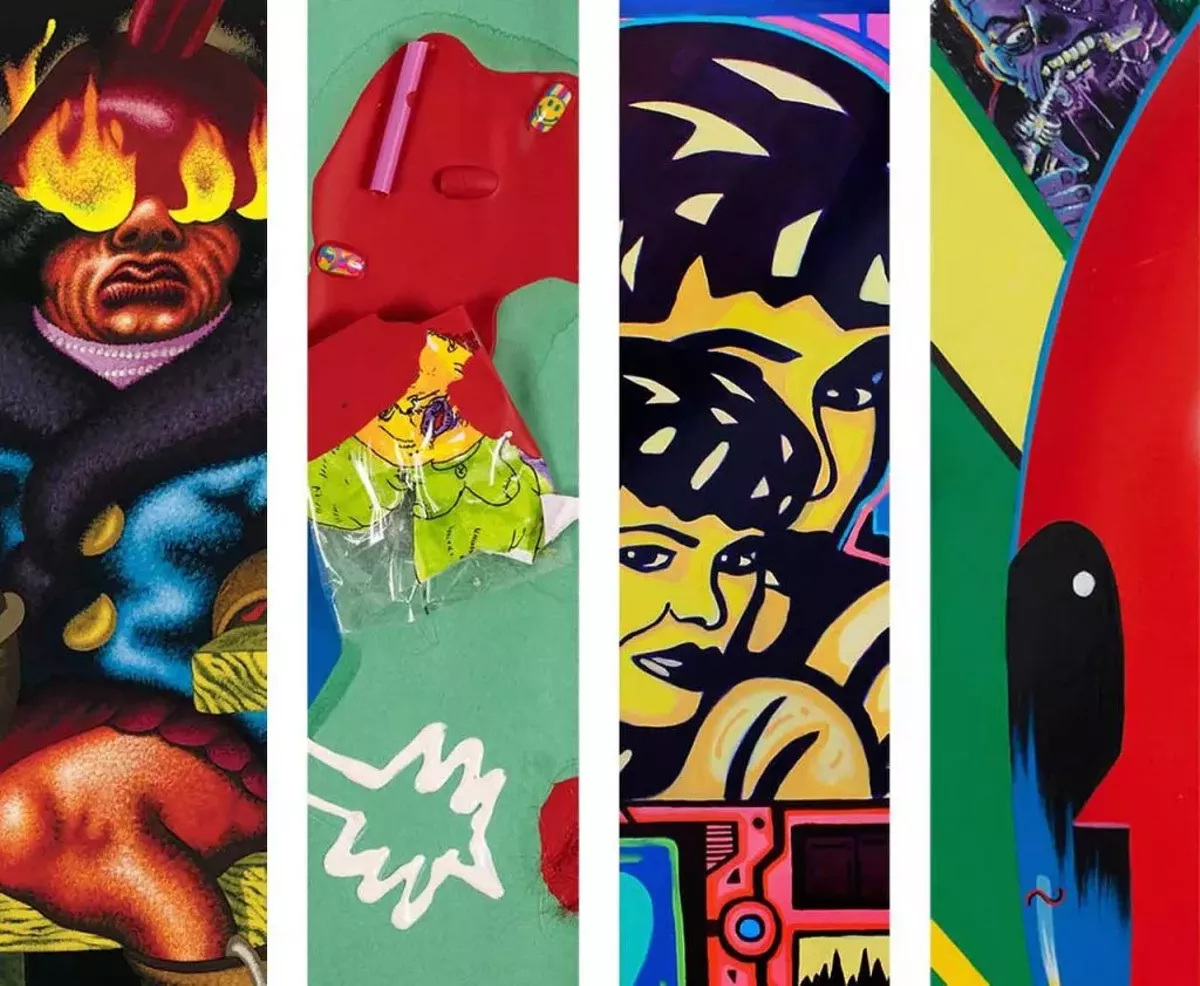 "Daydreams and Other Monsters"
Mondays-Fridays, 12-3 p.m. and Mon., July 17, 12 p.m. Continues through Aug. 4, UTSA Art Gallery - Main Campus, One UTSA Circle
The University of Texas at San Antonio's active and consistently excellent Art Department will present a special exhibit, beginning with a reception on June 7. The group exhibition, in something of a nod to Gabriel García Márquez's novel Of Love and Other Demons, is entitled "Daydreams and Other Monsters," and will feature works from four inter-generational artists, all of whom focus, in their own unique way, on "lowbrow imagery, critiques of popular culture, and conflicts with inner-self that are presented with brash colors and the unexpected." Curated by Alana Coates, the show features internationally acclaimed artist Peter Saul, whose work is characterized by "a strong counterculture aesthetic and a wild politically incorrect figurative practice," John Hernandez, a celebrated Texas artist who works with "lurid colors and eccentric sometimes outlandish subjects," Megan Solis, an inventive and boundary-pushing San Antonio artist with a style that's both saccharine and repulsive, and Louie Chavez, a young local artist who culls as much of his influence from meme culture as he does his study of artists like Saul. In many ways, this show is a unique opportunity to catch several generations of artists, the younger inspired, at least in part, by the older.
"El Vuelo y Su Semilla"
Mondays-Fridays, 9:30 a.m.-5:30 p.m. and Saturdays, Sundays, 10 a.m.-4 p.m. Continues through Aug. 27, Mexican Cultural Institute, 600 Hemisfair Plaza Way.
Born in Mexico City in 1963, globally exhibited artist Betsabeé Romero specializes in transforming everyday materials in powerful installations that comment on social, political and environmental issues. Based on their ability to attract "the greatest aesthetic attention among people of all ages and social classes," Romero often employs cars (and car parts) as artistic elements — referencing borders, migration and natural disasters while adorning vehicles with floral, tattoo and cloud patterns or, in the case of her 2007 photograph Exodus I, half-burying a colorful caravan of Volkswagen Beetles on a hillside. As The New York Times pointed out in 2011, Romero "treats the car like a human body, and excels at dissecting its anatomy — especially the tires." Taking rubber to unexpected heights while also emphasizing the importance of recycling, Romero has carved decorative patterns into tires (at times inking them up and using them as printmaking devices), embellished tires with inlays of gold leaf and velvet, and sculpted tires from pre-chewed gum — which stands out as another unexpected yet universal ingredient in her work. Previously exhibited at the Mexican Cultural Institute in Washington, D.C. as part of a program examining the importance of relations between the U.S. and Mexico in these troubled times, Romero's "El Vuelo y Su Semilla" reflects on "the identity and culture that Mexican immigrants carry with them on their journey to the United States." Bringing together an assortment of installation works, the solo exhibition opens in conjunction with our own Mexican Cultural Institute's multimedia series A World of Migrants: A Week to Understand Migration.
"Finding Dory"
Tue., July 11, 8:30 p.m. Travis Park, 301 E. Travis Slab Cinema presents a free outdoor screening of Disney's Finding Dory, a touching tale of an incredibly friendly and famously forgetful blue tang fish who suddenly experiences flashbacks of her family, lost long ago. Dory, Nemo, and Marlin head out on an adventure to find Dory's parents on the other side of the world. The journey turns into an amazing adventure as Dory meets new friends and gets re-reacquainted with old ones.
Photo via Youtube
"Interval"
Tuesdays-Saturdays, 11 a.m.-4 p.m. Continues through Sept. 2 , Ruiz-Healy Art, 201-A E. Olmos Dr.
Once a year, Ruiz-Healy Art invites a guest curator to organize a group exhibition — with the condition that several artists from the gallery's roster are included alongside selected guest artists. Citing the success of previous shows curated by Mexico City-based Octavio Avendaño Trujillo ("Why Is the Sky Blue?") and San Antonio's own Jesse Amado ("Dreamers and Realists"), gallery owner and director Patricia Ruiz-Healy explained, "I like to give total freedom to the curator as far as theme, hanging of the show, and artists … I strive to keep a fresh dialogue and I love when unexpected juxtapositions occur." Continuing in this tradition, RHA's summer show takes shape in "Interval," organized by artist, curator, musician and writer Hills Snyder. When reached for comment, Snyder described the exhibition as an "acknowledgment to the current chaos of the political climate as spewed by the White House and the concurrent reactionary spikes on social media." Snyder selected six artists — Carlos Amorales, Fernando Andrade, Sarah Fox, Pedro Friedeberg, Nicola?s Leiva and James Smolleck — he felt "were offering clearings in this messy fog." As for the title, "Interval" found its germinating seed in an installation by Los Angeles-based artist Poppy Coles (involving a time-lapse photograph of stars creating short dashes in the night sky) that explores "the action of waiting for something to happen. "Hopefully it will present scenarios that can be observed in silence and stillness," Snyder said — "a respite from social noise."
"MetaDada"
Mondays-Fridays, 8 a.m.-5 p.m. Continues through Aug. 4, Plaza de Armas, 115 Plaza de Armas
While its title may spark images of Big Brother listening in on your phone calls and squirreling away your emoji-filled texts for safe keeping, the City of San Antonio's Arts & Culture department's group show "MetaDada: High Art for the POPulace" is not about metadata (literally "data about data") but a fusion of concepts and practices associated with the Dada movement and Pop Art. While the hallmarks of Pop (appropriation, mass media imagery, repetition, loud colors) have never truly fallen out of fashion, Dada is less common in conversations about art and therefore remains somewhat misunderstood. Born in Zürich, Switzerland's Cabaret Voltaire in the middle of World War I, Dada took cues from abstraction, cubism and expressionism and spun them into anti-war, anti-establishment messages rendered in a wide array of media (performance, visual art, poetry and graphic design among them). Subversive, surreal and intentionally bizarre, the movement positioned itself alongside the radical left, abolished logic, broke the rules and commented on the meaninglessness of life circa 1916. Drawing lines between the two creative movements, "MetaDada" showcases 11 accomplished locals (Ana Hernández-Burwell, Jason Ibarra, Michael Menchaca, Kelly O'Connor and David "Shek" Vega to name a few) working in mixed media, mural painting, collage, printmaking and points in between.
"#Queergrito"
Mondays-Fridays, 11 a.m.-5 p.m. Continues through Aug. 31, Esperanza Peace & Justice Center, 922 San Pedro
The Esperanza Peace and Justice Center has a history of bringing together and celebrating diverse communities, be it through art, educational programs, or events. Their new "#Queergrito" exhibit is co-curated, or "queer-ated" by Penny Boyer, Gianna Rendon and Eliza Perez. The exhibit, officially titled "#Queergrito: Esperanza 3.0," is a "call for current cultural output by LGBTQIA+ artists/cultural workers in response to current sociopolitical crises." The exhibit will feature art in any medium, with digital media no longer than 20 minutes, and visual art no larger than 24 x 24 inches. As for the title of the exhibit, the Spanish word grito "means yell or shout or call. This yell can be one of celebration, anger, helplessness, etc.," says Rendon. "A grito also brings up political connotations, like the Grito de Dolores. In this current political situation, we were wondering, what does a queer grito look like?" The hashtag signifies the "conversation between the artists and society, the artists and people who see the exhibit, and the artists and each other," says Rendon. The inclusion of "Esperanza 3.0" in the title nods to the Esperanza's 30th anniversary while looking forward to the next 30 years. "The historical portion of the exhibit, one room, is being devoted largely to enlarged headlines from Esperanza's past 30 years of media representation of queer qulturas," says Penelope Boyer, co-curator of the show. "Also featured is some anticipated '80s- and '90s-era archival digitized VHS documentation of Esperanza exhibitions."
Frida Fest 2017
Sat., July 15, 12-9 p.m., Wonderland of the Americas, 4522 Fredericksburg
Que Retro Arts and Viva Vegeria host the second annual Frida Festival, a celebration of her life and works including over 50 artisan market vendors, an art gallery, a handmade mercado, music and performances.
Photo by Jaime Monzon
"Puente*Bridge"
Wednesdays-Sundays, 12-6 p.m. Continues through Aug. 13 at Cinnabar Art Gallery, 1420 South Alamo
A creative response to "a time when borders seem more like barriers," Cinnabar's "Puente*Bridge" marks a collaboration with San Antonio-based artist Ernesto Ibañez and his Arte International, an agency designed to connect Latin American artists with U.S. galleries and corporate buyers. Aiming to "build a bridge between the art community in Texas and Mexico," the group show brings together works by eight artists — including Ibañez, who's best known for animal sculptures covered with remarkably soft-looking layers rendered with thousands of nails. Beyond strong ties to the city of Guadalajara, "Puente*Bridge" finds a bit of common ground in the medium of painting — although genres and approaches vary wildly, ranging from from stylized realism (Patricia Sanchez Saiffe) and playful pop (Roberto Morleghem) to conceptual portraiture (Carlos Torres) and collage-inspired mashups (Cinthia Nuez).
Balcones Heights Jazz Festival
Fridays, 7:30 & 9 p.m. Continues through July 28, Wonderland of the Americas Amphitheatre, 4522 Fredericksburg Road
Friday kicks off the 24th annual Balcones Heights Jazz Festival (July 7, 14, 21 and 28), a free family-friendly event at the Wonderland of the Americas Amphitheater. In the past, the festival has hosted such internationally acclaimed artists as saxophonist Jeff Kashiwa, jazz/pop vocalist Slim Man, and fusion guitarist Peter White. David Munoz, host of Sunday Morning Jazz with Q101.9, will add another festival to his 23-year streak of emceeing the event. Bluesy Texas jazz guitarist Ruben V returns to the festival accompanied by local vocalist Melina. The festival lineup is full of newcomers, like Strunz & Farah from Costa Rica and Iran respectively, whose blended virtuosic style casts Allman Brothers-style twin leads and improvisation into flamenco rhythms. Paul Jackson, Jr., a sought-after sessions musician who's recorded with the likes of Michael Jackson and B.B. King will also take the stage at Wonderland for the first time, along with dentist by day and saxophonist by night Phillip "Doc" Martin, precocious rising saxophonist Chase Huna, smooth jazz keyboardist Oli Silk, instrumental jazz guitarist Steve Oliver and cutting-edge jazz trumpeter Rick Braun.
"The Odds" & "Plural Forms"
Mondays-Saturdays, 9 a.m.-5 p.m. and Sundays, 11 a.m.-4 p.m. Continues through July 16
Abstracted fields of color, otherworldly objects and imagined narratives converge in "The Odds" and "Plural Forms" — a unique pairing of solo shows organized by the Southwest School of Art. A Mexico City-based artist who favors both experimental and scientific processes, Victor Pérez-Rul employs sculpture and installation to "explore and exploit" intersections between "energy, matter and consciousness." For "The Odds," Pérez-Rul fuses traditional and technological elements in a sound-equipped environment informed by "science and futuristic thought." Born in Bishop, Texas, and based in San Antonio, UTSA alum Esteban Delgado plays with color, light and perspective in geometric paintings reminiscent of the minimalist aesthetics of Ad Reinhardt and Josef Albers. His "Plural Forms" takes shape in a series of large-scale paintings and a site specific installation referencing "tensions between various colors and forms" found within the South Texas landscape. Opening in tandem in the school's San Antonio Express-News Photography Gallery, "Atomic Color" sees local photographer Tom Turner altering and enhancing appropriated historical footage of nuclear test explosions.
Yoga With a View
Saturdays, 9-10 a.m. Continues through Sept. 2 , Hyatt Regency Hill Country Resort & Spa
Hyatt Regency Hill Country Resort and Spa will offer Yoga With a View at 9am every Saturday morning beginning Saturday, March 25 through Saturday, September 2, at the Luckenbach Pavilion. Yoga With a View is open to the public and resort guests, and is a complimentary event.
Egress
Sat., July 15, 6-9 p.m., Mantle Art Space, 714 Fredericksburg
Mantle is pleased to present "Egress" by Candace Hicks. "Egress" offers a mystery for gallery goers to solve. Based on the locked-room subgenre of the detective novel. In locked-room, the crime is sealed from the inside and it is seemingly impossible for the criminal to evade detection either entering or leaving the crime scene. The viewer takes on the role of detective, reader, and perhaps more sinister characters. "Egress" presents a conundrum that hinges on the history of the pursuit of perpetual motion.
Dj Jive Bomber
Sat., July 15, 10 p.m., Free, The Bang Bang Bar
DJ Jive Bomber spins at Bang Bang Bar.
Growing Up Trans
Mon., July 17, 6-7:30 p.m., Brook Hollow Branch Library, 500 Heimer Road
Growing Up Trans, a Frontline PBS documentary, educates viewers on the process, difficulty and overall happiness of eight families' experiences through the transitioning of the children, specifically. Rather than analyzing and addressing the way adults navigate their way through the transitioning process, the filmmakers go back farther into the formative years of a child's mind to compile an enriching look at how others perceive trans, or gender non-conforming experiences. Not only do they reflect on the way the friends, classmates, and superiors assess their gender fluidity, they address the parents' perspectives and feelings of "losing" the child they once knew. Screening in conjunction with the San Antonio Public Library's Pride Month program, Growing Up Trans explores the complex ways society shapes our gender, particularly the social roles and scripts associated with our sex assigned at birth.
Meek's Cutoff
Tue., July 18, 6:30-8:30 p.m., Briscoe Western Art Museum, 210 W. Market St.
Set in 1845, director Kelly Reichardt's 2010 film follows a group of settlers as they embark on a punishing journey along the Oregon Trail. When their guide leads them astray, the expedition is forced to contend with the unforgiving conditions on the high plain desert. Starring Michelle Williams, Bruce Greenwood and Paul Dano, the contemporary Western screens in conjunction with the Briscoe's Women of the West Film Series.
The Get Down with DJs Gibb & Techneek
Third Friday of every month, 10 p.m.-2 a.m., Southtown 101
THE GET DOWN is curated by Dj Gibb and Dj Techneek every first and third Friday 10pm-2am. Expect about 300+ people inside and out on the patio, add a few food trucks, and two full bars. Happy Hours 5 to 9pm. No cover all night.
Video Dungeon Theatre Presents: Weird Science
Thu., July 20, 9 p.m.-12 a.m., Oak Hills Tavern, 7920 Fredericksburg Road Video Dungeon Theatre presents a free screening of the John Hughes movie Weird Science starring Kelly Le Brock, Anthony Michael Hall, ILAN Mitchell-Smith and the late great Bill Paxton.
The Spins: Vinyl Me Please Listening Party
Thu., July 20, 8-11 p.m. La Botánica, 2911 N. St. Mary's St.,
Vinyl Me Please celebrates the July Record of the Month, Betty Davis's 1973 debut "Betty Davis" at The Spins. DJ sets by DJ Despeinada, DJ Chuco Garcia, DJ Cesar Wang, and DJ Plata. Including vendors, vinyl pop-up and raffles with a chance at winning a choice record every half hour.
2017 Summer Environmental Film Series
Sat., July 22, 1-5:30 p.m., Sat., July 29, 1-5:30 p.m., Mon., Aug. 7, 3-5 p.m., Tue., Sept. 5, 3-5 p.m., Mon., Oct. 2, 3:30-5 p.m., Mon., Nov. 6, 3:30-5 p.m. and Mon., Dec. 4, 3:30-5 p.m., University of the Incarnate Word, 4301 Broadway St.
The Incarnate Word Summer Film Extravaganza includes three films on environmental activism screened on July 22 and 29 at the Mabee Library Auditorium followed by more screenings in the followings months.
Family Film Series: Sing
Sat., July 22, 8:30 p.m. Mission Marquee Plaza
The City of San Antonio World Heritage Office welcomes the entire community out to this free screening of Sing. In a city of humanoid animals, a hustling theatre impresario's attempt to save his theatre with a singing competition becomes grander than he anticipates even as its finalists' find that their lives will never be the same. Food available for purchase. Pet friendly. The venue opens at 7:00pm and the movies will begin 15 min. after dusk.
"Augmented Reality" Panel Discussion
Wed., July 26, 6 p.m., Blue Star Contemporary
The panel discussion features artists Frank Benson, Susi Brister, Nancy deHoll, and Kris Peirce as they discuss their work in the exhibition "Augmented Reality."
Family Film Series: Zarafa
Fri., July 21, 8:30 p.m, Free, San Antonio Museum of Art, 200 W. Jones Ave. San Antonio collaborates with Slab Cinema for their summer series of family films to host a free outdoor screening of the 2012 French language animated film Zarafa, which follows an escaped slave boy's odyssey from Africa to Paris. Slab Cinema showings begin at dusk.
Activism & the Arts: A Life Journey
Wed., July 26, 7-9 p.m., Esperanza Peace & Justice Center
In his talk "Activism & the Arts: A Life Journey," Dan Guerrero, writer/performer of "¡Gaytino! Made in America," travels through decades of Mexican-American/Chicano and LGBTQ history from a personal point of view. The intersection of the social and political movements in both communities is illustrated through storytelling and historic photos in this powerful presentation. Through his own experiences, Guerrero speaks to the Chicano and contemporary LGBTQ movements and addresses the importance of solidarity across cultural currents. After his presentation, he will joined by a panel of local LGBTQ activists TBA.
Canciones: Songs of Texas
Last Friday of every month, 5:30-8:30 p.m. Continues through Aug. 26, Pearl Amphitheater
Cancione de Tejas is a three-part summer music series featuring the music of Texas with a South Texas and San Antonio Perspective. Canciones de Tejas will kick off June 30 with a Tex-Mex dance party from Amber Digby and Santiago Jimenez with Jason Saldana as DJ; July 28 with Canciones de San Antonio (Rosie Flores, Nina Diaz, and Tish Hinojosa) and August 25's talent will be announced later in the year.
"The Lakehouse"
Starts July 27. Mondays-Saturdays, 9 a.m.-5 p.m. and Sundays, 11 a.m.-4 p.m. Continues through Aug. 27, Southwest School of Art
The Southwest School of Art showcases the work of Blue Star Contemporary's Exhibitions and Programs Manager Jack McGilvray with "The Lakehouse." Following three generations of one family, McGilvray's solo show is an intimate discussion of family dynamics in times of high and low waters. The exhibition comprises photographs of (and domestic objects from) a 40-year-old lakehouse used for family gatherings. Suffering from lack of rainfall, the landscape begins to wither, gatherings become sparse, and soon the bonds of family are challenged. Documenting the changing landscape and the growing distance between family members, "The Lakehouse" is a bittersweet commemoration of a pivotal moment in one family's history, and its long-lasting natural and personal consequences.
Moving Arts Project
Last Friday of every month, 7-9 p.m., Ella Austin Community Center, 1023 N. Pine Moving Arts Project is the newest collaboration with Ella Austin Community Center, which focuses on presenting new choreographic and performance pieces being made in San Antonio for feedback for three local dance artists and choreographers. Collaboration and experimentation is encouraged, providing a safe space for local and regional dance artists to present and promote work. The event is open to all dance and movement based artists of any dance style.
Spanish Socio-historical Linguistics: Isolation and Contact
Mon., July 31, 9:30 a.m.-6 p.m., Hotel Contessa
The panel on Spanish Socio-historical Linguistics focuses on connections between Old and New World Spanish, and the special status of Spanish in the U.S.-Mexico borderlands, highlighting the crucial role of contact and isolation as determining factors in the history of Spanish worldwide. The panel will also explore innovations which began through contact or isolation in medieval Spanish and which still persist in particular varieties of present-day Spanish. Ultimately, this colloquium creates connections among distinct geographical zones, different cultures, and varied linguistic contexts, exploring the central role of Spanish as a world language through a socio-historical lens.
August First Friday
Fri., Aug. 4, 12-9 p.m., Blue Star Contemporary
First Friday allows visitors to view the current exhibit at Blue Star for free.
"Angel Baby"
Sat., Aug. 12, 7-10 p.m., AP Art Lab, 1906 S. Flores St.
Based around a feminist adaptation of the well-known South Texas folktale "El Camaroncito," this Lady Base Gallery collaboration sees artists Lisette Chávez and Audrya Flores challenging viewers to consider the manner in which folktales reinforce societal expectations of women and gender-related power.
African American Vernacular English & The Ecology of Language Evolution
Tue., Aug. 1, 9:30 a.m.-12 p.m., Hotel Contessa, 306 Market
This panel on African American Language and the Ecology of Language Evolution focuses on the role that sociohistorical, ecological, and evolutionary factors have played and are playing in enriching our understanding of the origins and development of African American Language from the Middle Passage, to the Americas, and to its existence, relationship, and impact in local and regional varieties in the United States.