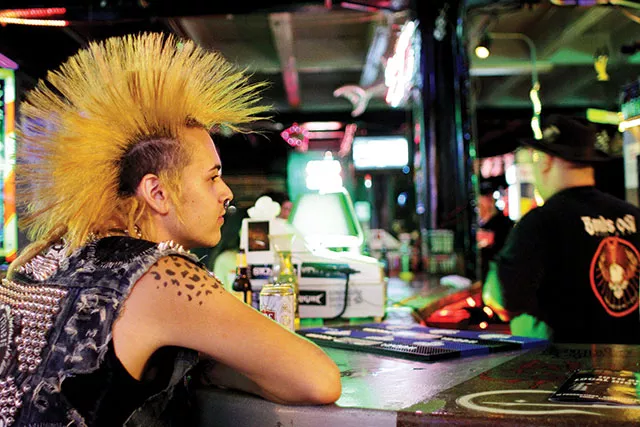 In the last few years, San Antonio has made great strides when it comes to its mixology doings. Many good (and some great!) cocktail bars have been springing up left and right all over Downtown.
But while our libation IQ is on the rise, we shouldn't forget the simple pleasures. Even Downtown, there's still plenty of no-frills bars to be found. Like old friends, they've been there all along and they accept us as we are—after work, after softball, whenever. But like your friends, there is always that crazy one your significant other doesn't like. The one you strongly consider de-friending on Facebook every once in a while. We're talking about the dive bar.
After all, where can you go when your best 1920s, prohibition-era outfit is at the cleaners? When you are in no mood for a toddy, a sling or a fizz? When you need to get a heavy buzz off of a single ten-spot?
You know who to call. So let's look through our phone here and see what the Alamo City has to offer…
Bond's 007 Rock Bar 450 Soledad
Bonds is a metal dive bar—that much is clear as soon as you walk in, as the main doors are basically two sheets of metal. Lest you forget the theme, the sink in the bathroom, constructed of metal grating, will remind you. Finally, the walls are adorned with posters of heavy metal gods. Outside of the vibe, Bond's has eight beers on tap and the usual assortment of liquor (Jäger, Jack, etc…) to keep metal-heads coming back.
Live music and shot specials every Friday and Saturday, daily happy hour till 10 p.m., a jukebox with honest-to-god CDs and credit card-ready registers are some of Bond's highlights. Just remember, you must love metal, both as an interior design choice and as the only music you'll hear in the bar, or else you'll probably be miserable.
Texas T Pub 121 Broadway
Upon walking into the Texas T Pub, you don't think dive bar.
No, the vibe is more along the lines of a Greyhound Bus station; aided no doubt by the smell of chemical cleaners that hits your nose as soon as you walk in. Still, at least it's a clean smell. Could be worse.
Twenty bucks will keep your butt on the stool most of the night, as drinks are nice and cheap ($2 domestics, $3 mixed drinks) and an on-site ATM (Texas T is cash-only, in classic dive bar tradition) ensures you don't need to leave the place to reload. But you might want to.
The clientele seemed nice enough, with off duty cooks and valets drinking it up with truckers and military veterans, but some of the regulars were already getting rowdy, even at an early hour. There is only so much of the bartender repeatedly yelling "JAMES! JAMES! Go sit down. You're fucked up.
JAMES! Leave them alone. I'm sorry, he is fucked up …" before you want to leave. Stupid James.
Still, if you decide to hang out, seven TVs, two pool tables, two dartboards and a TouchTunes jukebox (usually blaring country) provide decent diversions.
Cowabungas 420 E Travis
Part gay bar, part dance club, all dive, Cowabungas is a relatively spacious, clean and chill place to hang out. Good music, flashing lights and a packed dance floor help round out the club vibe. A decent selection of spirits and beer are available. The lack of many TVs (two total) and the presence of a proper dance floor clearly illustrate what Cowabungas is about. Rather than drinking your sorrows away on a bar stool, here you'll dance yourself to happiness aided by plentiful cheap drinks—ain't nothing wrong with that.
As a nice bonus, they accept credit cards (no minimum), and even provide "personal" protection in a large candy bowl. Yeah, that is not candy.
The Texan II 114 Jefferson
The Texan II was a fun joint that almost, ALMOST, didn't feel like a dive. Nice high ceilings, people bringing their bicycles in and patio-type furniture gave it an outdoor bar feel, like a bizarro Friendly Spot. But then you run into the 60 year-old woman who dresses like she is 22, with purple hair and poorly-chosen tattoos, screaming at everyone. Ah, yes, we are in a dive…
The bartender, Paul, was extremely nice. He made sure to introduce himself and just seemed really happy in general. Is this really a dive? Or was he just doing a bit? No, he was just a nice, attentive bartender! But then, yes, the vending machine: Funyons on one row, cookies and chicharrones on the next, then, in this order, condoms (extra thin, if you must know), Black & Milds and Cheetos on the third. Yep, still a dive…
But wait, these drinks, though still shockingly cheap, seem a little more involved. One made with cucumber-infused EFFEN vodka cost a mere $4.25, about $5 less than other places.
The ability to pay with credit, multiple TVs, an Internet-connected jukebox and daily drink specials (Whiskey Wednesday? Yes please! Balls Deep Tuesday? I'll pass) make this a very low-maintenance spot even high-maintenance drinkers might enjoy.