The Oscar's are this Sunday with Ellen Degeneres as host, and we'll need booze to make it through the usually boring affair. Here are four cocktails that remind us of the the four Best Original Song nominees.
"Happy," Pharrell Williams
(Courtesy)
Sip on this passion fruit cocktail via Dailyburn.com. A mix of St. Germaine, passion fruit juice  and Champagne this elixir looks identical to Despicable Me 2's prolific minions.
"Let It Go"-Idina Menzel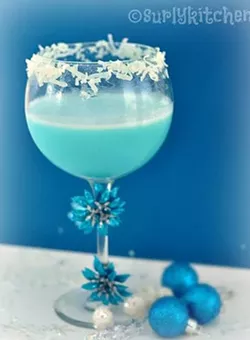 (Courtesy)
My personal favorite for the statue, Frozen's "Let It Go" is a great pump-up jam. I suggest pairing your Oscar's watch with this Coco Snowball via SurlyKitchen.com, a cerulean blue concoction that matches the film perfectly.
(Courtesy)
"Moon Song"- Karen O
I've not watched "Her" on principal (maybe I'm afraid my boyfriend will ditch me for his phone), but as a fan of the Oscar's I immediately recalled Henry Mancini's "Moon River" for Breakfast at Tiffany's. Try this Moon River drink via Serious Eats.
"Ordinary Love"-U2
(Courtesy)
This could go one of two ways. You could get your hands on an excellent viognier out of South Africa or you could take a few shots of Jameson Irish Whiskey during U2's performance. Up to you.