In anticipation of Friday night's Cocktail: the Event at the McNay Art Museum, the Current enlisted the expertise of a local fashion maven named after one of SA's most popular disco clubs in the 1970s: Burgundy Woods.
My name is Burgundy Woods. My parents named me that after falling in love at the San Antonio disco club that was very popular here in the '70s. Because of this, I've always had a love affair with this era and enjoy putting modern, high fashion spins on the original trends. Here are four of my personal favorite go-to items that come from observing my fabulous, disco dancing mother and studying this incredible decade in fashion at FIDM.
1. The Hair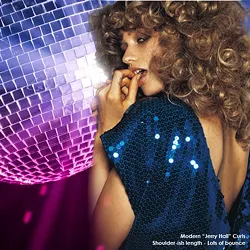 While my mother sported a Mia Farrow pixie cut (thank you Vidal Sassoon) and most people will refer to Farrah Faucet's signature wings, I personally love exaggerated voluminous curls à la Jerry Hall. For a modern spin, go for shoulder-ish lengths, bouncy layers and curls in multiple sizes. Don't forget to curl the bangs as well and tease your mane gently so as to create volume and big bounce. Oh yeah, and hair spray, lots of hair spray. There will be a lot of dancing going, on so you'll want to keep that hair, high and glamorous.
2. The Jumpsuit
Saturday Night Fever and Diane von Fürstenberg made the wrap dress synonymous with women's disco dress, but I personally loved the jumpsuits of this time— the shinier, the better. Think sequined fabrics or metallic lame. I know, I know: this sounds questionable, but if paired with all the correct elements, this finished look is quite amazing. For a modern spin, look for better quality fabrics. Textiles have come a long way since the 1970s, and modern fits will give your jumpsuit an incredibly fashion forward look. Runway styles showcased low v cuts and bloused waists. Legs are either slim-billowed or cropped harem hems.
3. The Eyes
As Shelly DeVoto (Jamie Lee Curtis) said in My Girl, "You can never wear enough blue eye shadow!" That's right: blue. From soft and metallic to bold and electric, when it came to make up, eyes were key, and this loud color was the "it" shade of the moment. I personally, like to keep it on the simple side, light and very metallic. Loose powder shadows on a damp eyelid work best, and to take your eyes one step further, go ahead and apply those false lashes. If you're feeling super '70s, use a red-orange high gloss on your lips. Apparently, the whole "emphasize one feature at a time" did not apply during this era.
4. The Shoes
Because disco was all about the music and dancing was the main attraction (among other rebellious things, I'm sure), plenty of disco ensembles were adaptations of professional dancewear. For women, the shoes were either professional salsa shoes or reminiscent of this style, meaning multiple straps for functional fit. My mother used to say, "Straps! Straps were my saving grace, especially around my ankle; otherwise, my heels would've fallen off. In fact, I remember still loosing a heel or two on the dance floor. The guys used to love to twirl you!"
For more inspiration, check out this episode of StyleLushTV on disco fashion.