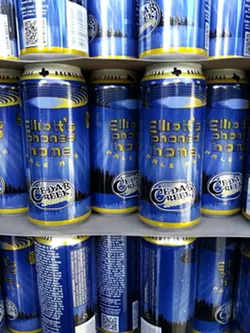 Try some of Cedar Creek Brewing's signature Elliot's Phoned Home at the Hangar Tavern. (Courtesy)
Wednesday, February 5: After making it through work on Wednesday, you probably feel like you deserve something special, so what the hell? Treat yo' self at Hangar Tavern every first Wednesday of the month with a sampling of several craft beers including Ranger Creek, Branchline Brewing, Five Stones Brewing, award-winning Cedar Creek Brewing, Austin's Hop and Grain and Houston's Southern Star Brewing Co. $5, 7-9pm, 14532 Brook Hollow, (210) 846-8810, facebook.com/TheHangarTavern.
Wednesday, February 5: Ever wondered how the bubbles get in the bottle? Twin Liquors Marketplace will lead participants through this Sparkling 101 class. Learn about Champagne, cava, asti and prosecco and what foods to pair with these bubbles. Free, 6:30-8:30pm, 12955 San Pedro, RSVP to store68@twinliquors.com, (210) 403-2322, twinliquors.com.
Thursday, February 6: Bitch beer is a thing of the past. San Antonio Girls' Pint Out, a new group that encourages "solidarity between beer drinkers of the fairer sex" will hold its first meet-and-greet of the year at Big Hops Growler Station with a lineup of Saint Arnold brews including a pink Fancy Lawnmower, Winter Stout and an Elissa IPA. Free admission, 6:30-10pm, 8313 Broadway, (210) 320-1995, facebook.com/SanAntonioGPO.
Thursday, February 6: Take your pooch or feline friend to the Grand Hyatt's Bar Rojo for this Must Love Pets Valentine's Happy Hour. The event includes drink specials, complimentary parking and sushi, treats for the pets and something called "tail trivia." Free admission, 5-7pm, 600 E Market, (210) 224-1234, barrojosa.com.
Got a surplus of pickled goods from last year's summer harvest? Check out the San Antonio Homemade & Homegrown Barter and Sell group. (Courtesy)
Saturday, February 8: The San Antonio Homemade & Homegrown Barter and Sell group will hosts a bartering event at the Olmos Park Terrace Triangle Park. Homesteaders, gardeners, artists, bakers and crafters are encouraged to bring goods and foods to trade. No cash allowed, 3pm, facebook.com/groups/SanAntonioHomemadeHomegrownBarter  
Saturday, February 8: Try your hand at Turkish eats with this class at the Raindrop Turkish House. Learn how to make a traditional guvec (a veggie-filled, cheese-topped casserole cooked in an clay dish), eggplant salad, rice and heart-shaped cookies. $10, 10:30am-1:30pm, 4337 Vance Jackson, (979) 422-9260, email rwasanantonio@turkishhouse.org to reserve a spot.
Sunday, February 9: Learn about chocolate making from of the best pastry chefs around. Jean Francois Bonnet, chef/owner of Tumbador Chocolates in Brooklyn will lead this Central Market class on making four French-style chocolate desserts including a soufflé, pot de crème and chocolate custard. $50, 1-3pm, 4821 Broadway, (210) 368-8617, centralmarket.com.
Monday, February 10: Want to impress your lover with a homemade Valentine's Day meal that won't go straight to their love handles? Don't worry, it can be done, according to the staff at Sur La Table and this healthy cooking course. The menu includes faro risotto with butternut squash and kale, wine-poached salmon with herbed quinoa, root vegetable and chickpea stew with pear and a lemon-barley pilaf with chicken and thyme. $69, 6:30-8:30pm, 15900 La Cantera Pkwy, Ste 19120, (210) 978-5586, surlatable.com. —Jessica Elizarraras
Send your food or drink event to flavor (at) sacurrent (dot) com.