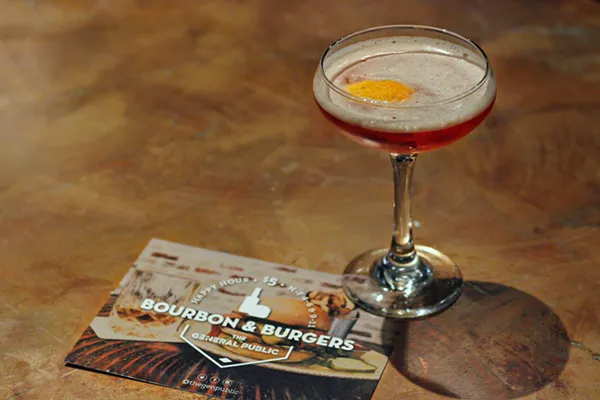 What can be better than Bourbon and burgers? Getting your bourbon and burgers for $10 is what.
At
General Public
they have a happy hour that sports a bourbon-forward menu that can be paired with one of the two burgers that are offered. For $5 you can get a 2-ounce pour of a bourbon of choice, or for the same price you can get that bourbon into a hand-crafted cocktail. Bourbon-wise you are looking at a selection that consists of Woodford, Maker's, Bulleit, Four Roses, and six others. The bourbon is served either neat or on rocks, or in an Old Fashioned (bourbon, bitters, maraschino), a Sazerac (bourbon, bitters, Demerera), a Boulevardier (bourbon, vermouth and Campari), or a Millionaire (bourbon, lemon, grenadine).
With every drink being so cheap, you can bet that
General Public
needs to have a burger to offset all the booze. While the burgers at General Public aren't going to replace your favorite, they are a huge bang for your buck. The burgers are cooked to your preference, are huge patties served on an egg bun and come with a side of fries, all for $5! You can choose between the bacon burger, featuring bacon, bacon aioli, cheddar, ketchup, lettuce and tomato, or the aristocrat, which comes with arugula, glazed shallots, and Muenster. It might be hard to make the decision between the classic bacon burger and the elevated aristocrat, so if you take a friend you can get both, splitting and having the best of both worlds.
The deal runs twice a day Monday through Friday, from 4 to 6 and from 9 to 11 p.m. If bourbon and burgers doesn't strike your fancy, maybe rosé and burgers does! You can head out to General Public before 5 p.m. and take advantage of their "Rose all day" deal, where you can choose between two different types of rose for $4, after day-drinking, a $5 burger might just hit the spot.
<!—————StartFragment—————>
17619 La Cantera Pkwy. Suite 102, (210) 920-1101.

<!————————————StartFragment————————————>Erin Winch writes about boozin' in the Alamo City on her blog Drinking In SA. Follow her on instagram at @drinking.in.sa for more.
<!—————EndFragment—————>