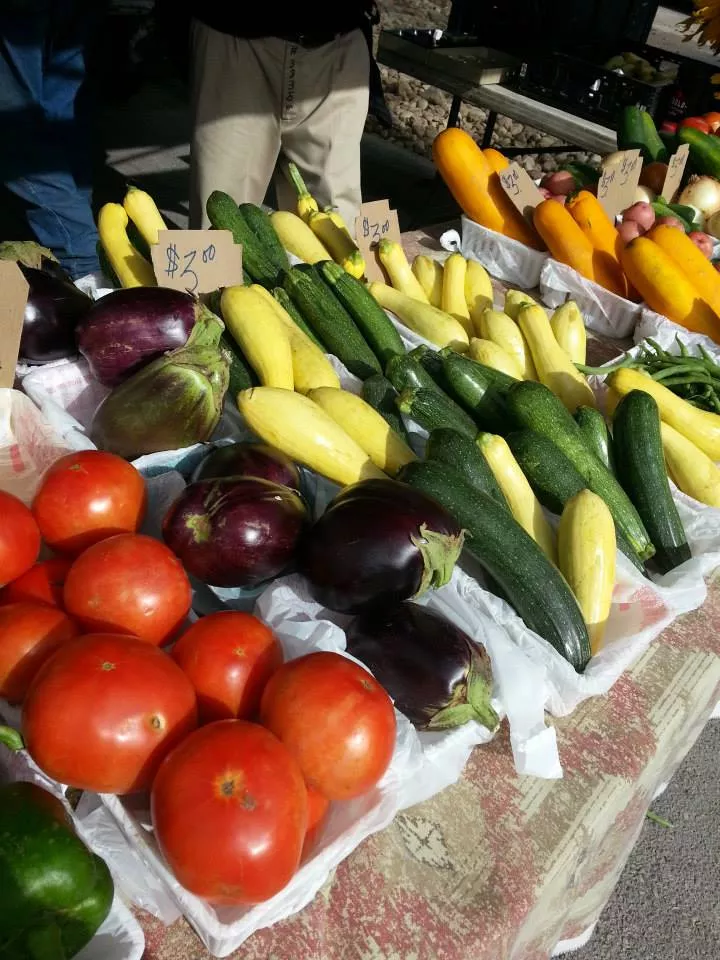 Summer squash from Southtown Farmers and Ranchers Market. (Courtesy photo)
For hardcore foodies, there are a few things more exciting than scoring first dibs of fresh produce at their local farmers market. Tangible produce, sans the bar code, sold by the very same person that harvested it – what's not to love? Here's a quick list of places where you can get your grubby little hands on real food this weekend.
Pearl Farmers Market: The Ol' Faithful of farmers markets around town, you're bound to find something tasty at the Pearl. Grab a crepe from Crepelandia, pick some peppers from Martinez Farms or sample whatever's cooking under the demo tent. Visit the website in advance and check out what's in season to assist with your menu planning. Pearl Brewery, 312 Pearl Parkway, 9 a.m.-1 p.m. Saturdays.
Koch Ranches Gourmet Country Store: Pick up humanely raised, grass-fed beef and locally grown vegetables in one central location. Animal Welfare Approved and a member of Go Texan, the store also supplies honey, coffee, teas, salsas, pickled vegetables and olive oil from Texan producers. 2114 Mannix, 210-858-9795, 9 a.m.-6 p.m. Monday-Friday; 9 a.m.-5 p.m Saturday. 
Southtown Farmers and Ranchers Market: Never leave Saytown again (kidding). The weeks old market is brought to you by the same folks that organize the Quarry Farmers and Ranchers Market (more on this later). Visit market favorites Bakery Lorraine for baked treats, Bikkurim Farms and Engel Farms for produce and pick up a vegetarian snack made fresh by Senor Veggie. Blue Star Arts Complex, 116 Blue Star, 9 a.m.-1 p.m. Saturdays.
Related: Southtown Farmers and Ranchers Market Opens at Blue Star
Quarry Farmers and Ranchers Market: Sleep is for babies. Wake up bright and early on Sundays and get to this market. Produce? Check. Homemade doggie treats from Katie's Jar? Check. Hot guacabolas (fried avocado balls) from Winner Winner Chicken Dinner food truck? Check. Basically, you're going to find just about everything you need to make real meals and then some. Vendors include Revolucion Coffee + Juice, Humble House Foods, Ming's Thing, Patty's Petal's, and Sam's Salmon. 255 E. Basse Road, next to Whole Foods, 9 a.m.-1 p.m. Sundays. 
My Father's Farm: If you enjoy the element of surprise, consider joining a Community-Supported Agriculture group. Most, like my Father's Farm based in Seguin, offer pick up and drop off locations at various local farmers markets. Memberships vary by multiple-week bundles and can fill up fast. Members receive a fresh box of produce weekly based on whatever is in season. Find other CSAs to support at www.localharvest.org.