Courtesy
Culinaria Restaurant Week begins August 15
Get your stretchy pants ready. Culinaria Restaurant Week, San Antonio's annual restaurant showcase, begins August 15. Despite the name, the celebration of the city's culinary scene lasts for two weeks, through August 29. Participating restaurants offer special three-course, prix-fixe, lunch and dinner menus that are too tempting to pass up.
Restaurant Week offers two price levels. Tier 1 restaurants offer $15 lunch and $35 dinner menus. The more price-conscious Tier 2 menus feature $10 lunches and $25 dinners. Reservations aren't required, but they are recommended, so give the restaurant a call ahead to make sure you can get a table.
With over 70 participating restaurants, diners have an abundance of special menu choices. So here is a selection of Restaurant Week menus that got our stomach growling. Get familiar with all the Restaurant Week menus at
culinariasa.org
.

La Botánica

2911 N St. Mary's,(619) 886-2594 vivalabotanica.com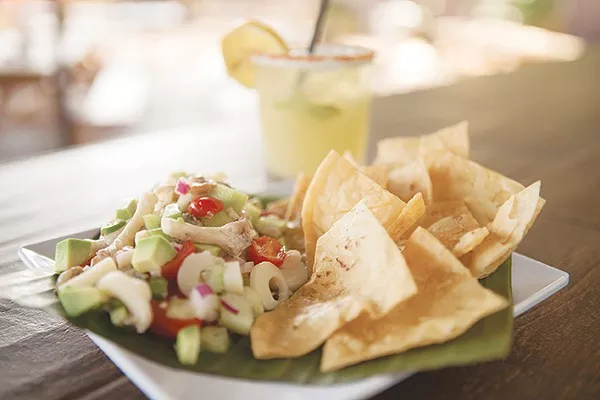 Dan Payton
La Botánica's ceviche Huehuecoyotl
The recently opened, vegetarian-friendly eatery from Danny Delgado and Rebel Mariposa is offering a dinner-only sampling of some of their stand-outs, including their must-have ceviche Huehuecoyotl, which
we highlighted in our review last week
. The vegan-friendly ceviche features lime-infused oyster and clam mushrooms.
(Tier 2, $25)
1st course (pick one)
Ceviche Huehuecoyotl
or

Ms. Bella's red beans and rice balls
or

Delicious Salad #1


2nd course ​(pick one)
Empanada plate
or

Nothin Fishy about These Fish Tacos
or

Mollete


3rd course ​(pick one)
SugarBombs
or
Mexican chocolate tartlet

Biga on the Banks

203 S. St. Mary's St., Suite 100, (210) 225-0722, biga.com
Courtesy
Biga on the Banks
Deciding between the Kobe burger and the red snapper with crispy bacon on Biga's dinner-only menu will be a hard choice.
(Tier 1, $35)
1st course (pick one)
Chilled potato cilantro soup with chili cornbread
or
Grilled Texas beets, fresh ricotta and lemon arugula


2nd course ​(pick one)
Kobe beef burger on a caramelized onion bun

with heirloom tomatoes, lettuce, foie gras scented fries
Add gruyere and mushrooms $4 Add foie gras $15
or
Seared true American red snapper, pappardelle with dill,
crispy bacon, cucumber, carrot coulis


3rd course ​(pick one)
Lemon Custard Wedge with blueberry compote and coconut ice cream
or
Chocolate, raspberry mousse bar with orange marshmallow



The Granary 'Cue & Brew

302 Avenue A, (210) 228-0124, thegranarysa.com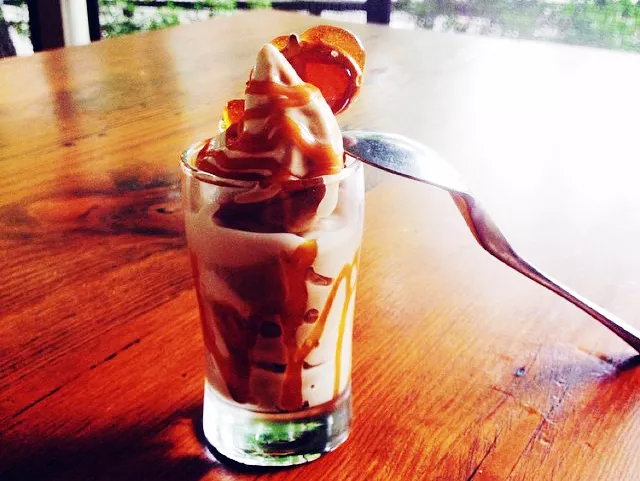 Granary 'Cue & Brew/Facebook
"Beer & Pretzel" soft serve
Go for the meat. Stay for Chef Tim Rattray's unconventional ice cream.
(Tier 1, $35)
1st course (pick one)
Fried green tomato with onion marmalade and ranch ice cream
or
Grilled lettuce with pistachio vinaigrette, smoked garlic and cured egg yolk
2nd course (pick one)
Beef clod with tomato caramel, pickled celery, coffee quinoa crunch, "corn bread"
or
Smoked chicken, carolina gold rice, tomato, marjoram, olive, bread crumb
3rd course (pick one)
Buttermilk chess pie, cane syrup, chantilly
or
"Beer & Pretzel" soft serve, ice cream swirl, mustard caramel, pretzel crunch
Ocho at Hotel Havana
1015 Navarro St., (210) 222-2008,
havanasanantonio.com


The antelope braised short ribs have our mouths watering, but hurry their dinner-only Restaurant Week menu only lasts until August 22.
(Tier 1, $35)
1st course (pick one)
Ocho tortilla soup (traditional tortilla soup with pull chipotle chicken, avocado, cilantro and tortilla chips)
or
Havana chop salad (mix arugala and heart of the romaine with cucumbers, cherry tomatoes, carrots, queso fresco and alfalfa sprouts

2nd course (pick one)
Antelope braised short ribs (coffee braised antelope short ribs with guajillo creamy polenta, natural jus and roasted corn relish)
or
Applewood smoked amberjack (mix vegetables hash with pineapple butter sauce)

3rd course (pick one)
Havana mini churros with sugar, cinnamon, lemon cur and cajeta
or
Shiner beer cake with fesh fruit, mix berries sauce and Texas honey crema fresca
Boiler House Texas Grill & Wine Garden
312 Pearl Pkwy, Building 3, (210) 354-4644,
boilerhousesa.com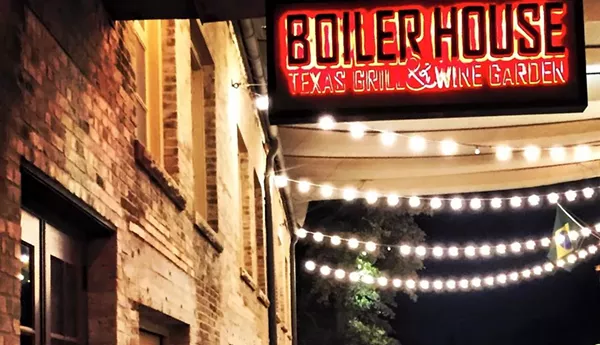 Boiler House's Restaurant Week lunch menu looks delicious, but it's the dinner menu with it's chicharron-dusted red trout or succulent prime rib that has us ready to make a reservation. (Tier 1, $35)


1st course (pick one)
Grilled Figs Prosciutto (house cured prosciutto, stilton cheese, smoked butter crouton, olive oil)
or
Oyster & Pimento Cheese Deviled Eggs (buttermilk fried oysters, pimento cheese, pickled vegetables, Old Bay mayo)
or
Hog Jowl Entomatada (hog jowls carnitas, green chili mole, queso quesadilla, cilantro lime cabbage slaw)
2nd course
BH Wedge Salad (candied malted bacon, tomato, cucumber, blue cheese, green goddess)
3rd course (pick one)
Braised Pork Shank (goat cheese country ham risotto, natural jus, salsa verde)
or
Cracklin' Ruby Red Trout (chicharone dusted, mascarpone mashers, charred black garlic green beans,smoked apple butter)
or
BH Prime Rib (popcorn grits, roast beef drippings, shoshito béarnaise, shredded horseradish)
Make Surf & Turf add Gulf crab salad ($9 supplement)


$6 Supplement (choose one item)
Lemon Olive Oil Cake with berry compote
or
Mr. Ed's Peanut Butter Bar