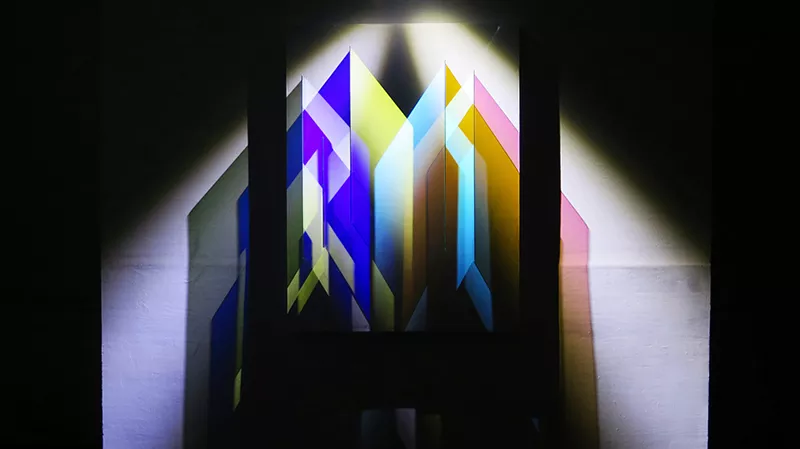 Courtesy
One of Cathy Cunningham-Little's works featured in Blue Star's "Back from Berlin."
Uniting San Antonio's creative community since 1986, Contemporary Art Month kicks off another jam-packed March with a celebration at its birthplace in the Blue Star Arts Complex (free, 6-9 p.m. Thu, 1420 S. Alamo St.). Bookended by the crowning of Miss CAM Antonio (the top honor in a virtual pageant that plays out on CAM's Facebook page) and the presentation of an array of CAMMIE Awards (determined by online voting at contemporaryartmonth.com), the month-long affair offers a steady flow of exhibitions and opening receptions but also ventures out of the box with studio tours, artist talks and pop-ups. Although we'll be covering CAM throughout March, its first weekend is one you won't want to miss.
'Back from Berlin'
Opening in tandem with CAM's official kick-off, the group show "Back from Berlin" brings together the first four San Antonio artists to take part in Blue Star Contemporary Art Museum's two-year-old Berlin Residency Program. Facilitated by a unique partnership between BSCAM, SA-based German curator/journalist Angelika Jansen and Berlin's Künstlerhaus Bethanien, the three-month residency provides each visiting artist with studio and living space, exhibition opportunities, access to workshops and studio visits with curators. Although local art scenesters are likely already familiar with the work of inaugural residents Vincent Valdez, Cathy Cunningham-Little, Ricky Armendariz and Karen Mahaffy, Jansen (who also acts as program liaison) notes: "All four artists came back raving about their experiences [and] how they are looking differently at creating art. For them there is a definite before and after Berlin." Free, 6-9pm, Blue Star Contemporary Art Museum, 116 Blue Star, 227-6960, bluestarart.org.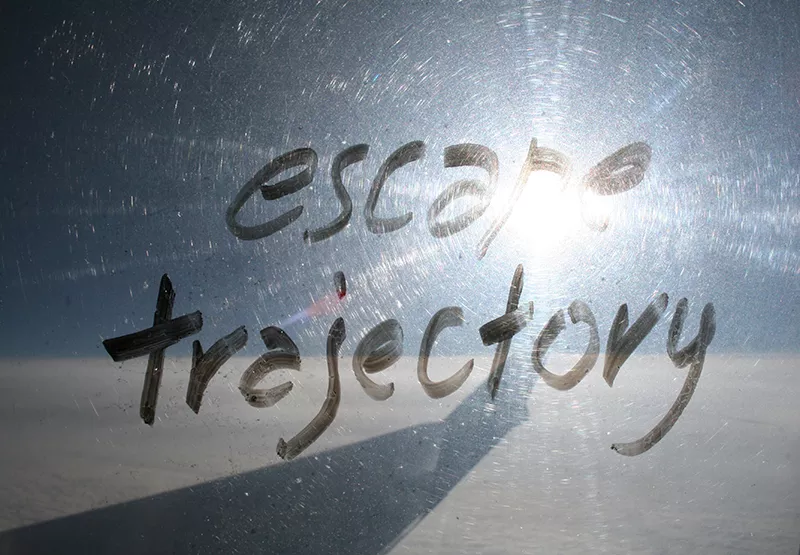 Courtesy
Chris Sauter, Escape Trajectory ('Runnin' Down the Road: UTSA Alumni Exhibition')


'Runnin' Down the Road: UTSA Alumni Exhibition'
The lineup for CAM's UTSA alumni exhibition comes as no surprise. But it's a satisfying group; UTSA has produced some of the finest artists working in the city today. And, for once, this agglomeration of artists cannot be put down to some sort of cliquey enterprise — they've got UTSA in common. Maybe it's a chicken-and-egg thing, and as far as that goes, an emblem of the grad school/art-world conundrum. But in any case, "Runnin' Down the Road" highlights a phalanx of the truly gifted, civic and dedicated practitioners and, usually, instructors who've gone on to inform the Alamo colleges. In addition to frequently exhibited mainstays like Nate Cassie, Michele Monseau and Leigh Anne Lester, the group show highlights accomplished yet lesser known artists, including James Smolleck, whose deft manipulation of buried mythology and mathematical exactitude evince classical Islamic art and graphic sci-fi universes. Free, 6-9pm, Terminal 136, 136 Blue Star, 458-4352, art.utsa.edu.
Courtesy
Ricky Armendariz, Ya Me Voy a Therapy ('More Than Words')
'More Than Words';
Not a visual tribute to Extreme's cheesy '90s rock ballad "More Than Words," Ruiz-Healy Art's CAM offering takes an intriguing look at text-based works created by nine artists from Texas, Mexico and Spain. As outlined in the exhibition notes, the use of text as a visual element connects masters ranging from Pablo Picasso and Georges Braque (who incorporated stenciled letters and newspaper clippings in early 20th-century paintings and collages) to Robert Indiana and Jasper Johns (who helped define the pop art era with paintings that borrowed concepts from signage and commercial lettering). With this undying trend as its open-ended theme, "More Than Words" showcases Ruiz-Healy's stellar roster while also spelling out a wild array of messages that run the gamut from "subversive social comment to rapturous meditation." Standing out among the highlights are late local legend Chuck Ramirez's irreverent photographs emblazoned with bold-face titles such as Queen, Libre and DF; El Paso native Ricky Armendariz's mystical wood-block prints scrawled with Spanglish phrases and song lyrics; revered Marfa artist Julie Speed's Dada-inspired boxes filled with mysterious scraps of paper, old engravings, drawings and found objects; and New York-based San Antonio native Alejandro Diaz's covetable neon works that turn simple word play (such as "Sold/Unsold" and "Siesta, I'm Wired!") into something that's both ironic and surprisingly deep. Free, 6-8pm, Ruiz-Healy Art, 201 E. Olmos Dr., 804-2219, ruizhealyart.com.

Courtesy
James Cobb, The Bridge ('Tooky Jelly')
'Tooky Jelly'
In his interview last year with the artist James Cobb, Current contributor Gary Sweeney summed up what many feel about the work of this most accomplished yet least self-promoting of all San Antonio artists: "extremely smart, complex, and under appreciated ... that rare and refreshing combination of intelligence and craftsmanship." Sweeney and Cobb first exhibited together at the old Wong Spot space on South Flores and Cevallos in the mid-'90s and Cobb was hot — critically and commercially. Since then, Cobb found himself "struck by a palpable distaste" of art-world shenanigans. He left the game. His practice then embraced digital media, and his patient application of vector graphics has revealed Cobb to be a deeper thinker and more integrated stylist that we knew. His show at Fl!ght Gallery last year stirred up awestruck enthusiasm and for good reason. He wrested from the expected career path his own, highly disciplined trajectory. His occupation of Sala Diaz may blow your mind synapse by synapse, not only in its grandeur, but in its elusive grasp on the heart. Check out his titling, too. In addition to his print The Bridge (left), Cobb's work can be seen on this week's cover. Free, 6:30-9:30pm, Sala Diaz, 517 Stieren St., (972) 900-0047, facebook.com/saladiazart.
Courtesy
Artwork by yesmissolga ("Seven Minutes in Heaven")
'Seven Minutes in Heaven'
Since its debut on the Contemporary Art Month calendar in 2012, the erotic pop-up "Seven Minutes in Heaven" has emerged as one of the season's most buzzed-about events. Named after a party game favored by horny teens, the one-night-only happening owes more than a little of its cachet to the promise of racy antics on display in a seedy location. Yet curator and Invisible Gallery founder Jessica Garcia consistently shakes things up with a rotating roster of local and visiting artists who also contribute to an erotic coloring book ($10) that both complements and helps fund the show. Featuring contributions from nine artists (Mat Kubo, Ed Saavedra and Ethel Shipton among them) the fourth incarnation takes over the Fox (rooms, courtyard and all) with uncensored expressions in video, installation, performance and puppetry, plus music by Pink Leche and El Fenix.
Free, 6-10pm, Fox Motel, 302 Newell Ave., contemporaryartmonth.com.