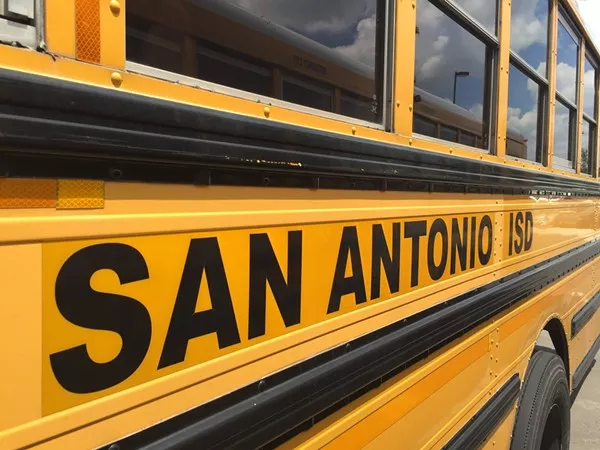 San Antonio ISD | Facebook
I've covered SAISD board meetings for five years, at times dozing off during the proceedings. OK, not really – but close.
The intensity in the boardroom these days is palpable. It sits on my keyboard like a scratchy wool sweater. In August. In Houston. With maple syrup on the sleeve.
So, for those who do not have the opportunity to watch SAISD's relationship with the Alliance (the teachers union) unravel in real time, here to catch you up are the five most uncomfortable moments from Monday night's board meeting:
The occasional snicker when Board President Patti Radle outlined the rules for conduct during citizens to be heard. Last night was not as loud as previous meetings have been. However, it has gotten to be so that whenever a board member or member of the administration mentions the words "respect," "trust," or indicates any sympathy with the teachers, a ripple of scoffing indignation runs through the room. Reactions range from little "hmph" noises to full-on mockery. There's no goodwill in Nottingham.
When laid-off teacher Trinidad Saldaña, the first speaker out of the gate
during
citizens to be heard, gripped the podium and had to have the mic wrestled from her hands after her time was up. She escalated her passionate appeal as Radle tried to proceed, and was eventually escorted away by SAISD police (though Saldaña and the officer smiled sympathetically at each other as they walked away). Saldaña is a P.E. teacher whose job was one of those eliminated in the Reduction in Force issued by the district to stem a $31 million budget shortfall next year.
When Alliance organizer Terri Byers asked board members to "put away their technology" as students in
class
are asked to do. Board members Debra Guerrero, James Howard and Ed Garza did not acquiesce and kept their laptops open for a full three-minute showdown with Byers while Alliance members in the back called out "elections are coming" and other jibes in response. Three minutes is LONG,
y'all
. Like,
real
long. It should also be noted that Howard is not usually one to openly defy the Alliance, but perhaps did not take kindly to being chastised. It may also have signaled that the Alliance's approach is galvanizing the board's conviction that they are acting in the best interest of students and families, politics be damned.
When community member Eddie Bravenec, husband of Alliance lead organizer Katy Bravenec, informed Superintendent Pedro Martinez that he was losing the support of the business community – which has been vocal in its support thus far. This was news to me, not that I have a lot of businessmen on speed dial. If I knew how to make one of those Twitter polls, I'd have done it on the spot.
When two RIF'd teachers alleged that Lanier High School Principal Laura Cooper had targeted teachers during the RIF, and rehashed previously filed grievances. Radle reminded them that it was against board policy to allow personally-directed accusations during citizens to be heard, but both continued, even as one was escorted from the podium and amid cheers from the Alliance—all of whom stood throughout citizens to be heard.
Don't pop your popcorn just yet, though. Summer vacation may bring a little relief from the heat of battle in this particular theater. Summer board meetings are notoriously snoozy. However, as noted in an article that will appear in the
Current
on Wednesday, the war is far from over, and no one is backing down so far.
This post has been changed to correct Katy Bravenec's Alliance title.
Stay on top of San Antonio news and views. Sign up for our Weekly Headlines Newsletter.