As the sound of nearby trains rolling by filled the air, folks from all over San Antonio gathered on Saturday morning at the future second location of San Antonio based brewery
Freetail Brewing Co.'s
wholesale production facility that has been codenamed 'Freetail2' by owner and founder Scott Metzger. Metzger waxed poetic about the history of brewing in San Antonio and how it all led up to today.
With State Senator Leticia Van de Putte and State Representative Mike Villarreal by his side, Metzger spoke at length about the hard work many in the industry did to change the laws so that we can enjoy more of the nectar of the gods.
Post by Jeremy Banas
Freetail staff serves handing out samples of Freetail's golden nectar to attendees; the original North side brewpub location will remain the face of Freetail.
"It's about 30,000 square feet on about two acres of land and will be our wholesale production facility allowing us to produce at lease 10,000 barrels a year," said Metzger. Metzger, above left, with writer Jeremy Banas, right.
Metzger and Blue Star Brewing owner, Joey Villarreal, honoring to the efforts of Senator Leticia Van de Putte and Representative Mike Villarreal. Summing up the feeling of the crowd today, Representative Villarreal said, "Texas stands for business and it stands for beer."
It's bare now, but Metzger plans on wasting no time with the restaurant supply warehouse's conversation to his 20 barrel brewery.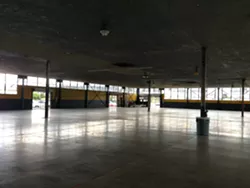 30,000 square feet of liquid courage possibilities.