Monday 11/24
The Justin Timberlake Sing-Along


Come sing a long to Justin TImberlake's biggest hits. Whether you're donning a classic suit and tie look, or a 90s era NSYNC ensemble, you're welcome to bring the sexy back.
$12, 7pm Monday, Alamo Drafthouse Park North, 618 NW Loop 410, (210) 677-8500, drafthouse.com
Tuesday 11/25
Movie Night at the Alamo:
The Searchers
In conjunction with the exhibit "Firearms of the Texas Frontier," the Alamo and Slab Cinema co-host an outdoor screening of John Ford's landmark Western starring John Wayne in the role of Ethan Edwards, a civil war veteran who spends years in pursuit of his niece Debbie (Natalie Wood), who was abducted as a child only to become the squaw of a Comanche chief.
Free, 6pm Tuesday, The Alamo, 300 Alamo Plaza
Wednesday 11/26
San Antonio Spurs vs. Indiana Pacers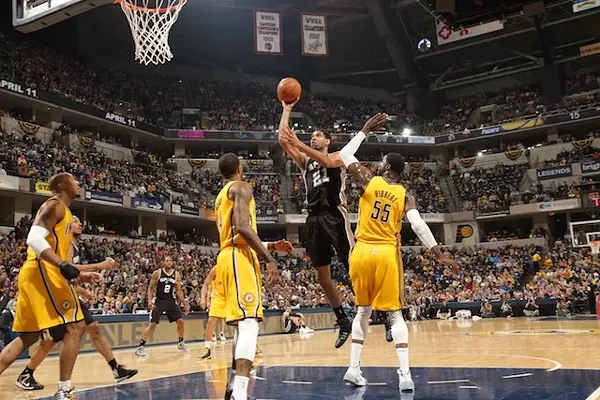 Ron Hoskins (NBAE/Getty Images)
In the offseason, star Pacers forward Paul George suffered one of those quease-inducing compound fractures in his leg, benching him for the season. Because of the unfortunate break, Paul George now fulfills the official role of PR intern and the Pacers struggle early, losing seven of their first 10. But don't count 'em out yet—Indiana runs a brisk, team-oriented offense, with five players averaging over 10 points per game. The most exciting matchup of the game will occur between offseason workout partners Roy Hibbert and Tim Duncan, who should provide a clinic in big man finesse.
$32-$1,666, 7:30pm, AT&T Center, One AT&T Center, (210) 444-5000, attcenter.com. —Matt Stieb
Friday 11/28 - Saturday 11/29
25th Annual International Peace Market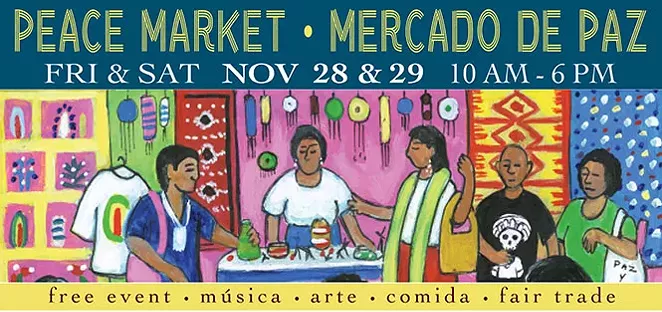 The International Peace Market (Mercado de Paz) celebrates 25 years of combining the arts with economic empowerment, international and cultural exchange, and social consciousness.
Free, 10am-6pm Friday and Saturday, Esperanza Peace and Justice Center, 922 San Pedro, (210) 228-0201, esperanzacenter.org
Friday 11/28 - Sunday 11/30

Las Nuevas Tamaleras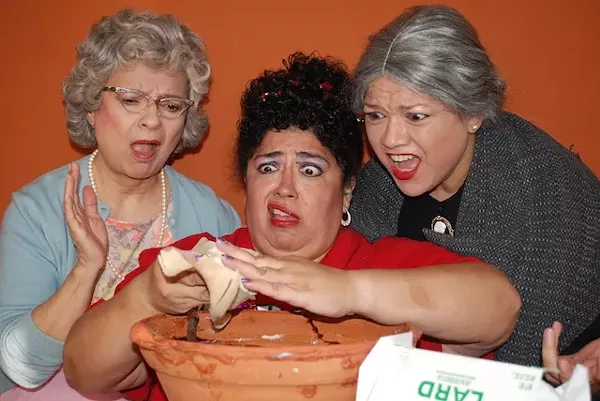 Like the tamale-making gatherings that inspired it,
Las Nuevas Tamaleras
is a colorful yuletide tradition seasoned with plenty of local flavor. Penned by Brownsville native Alicia Mena in 1990 and first presented in San Antonio in 1993, the one-act comedy paints a comical portrait of three Latinas struggling to make their first ever batch of tamales with assistance from the spirits of veteran tamaleras Doña Mercedes and Doña Juanita. A must for diehard fans, Saturday's Reception Night ($45) features dinner, drinks and live music by Conjunto Heritage Taller founder Rodolfo Lopez.
$12-$45, 8pm Fri-Sat, 3pm Sun, Guadalupe Theater, 1301 Guadalupe, (210) 223-2009, tamaleras.com.
—Bryan Rindfuss