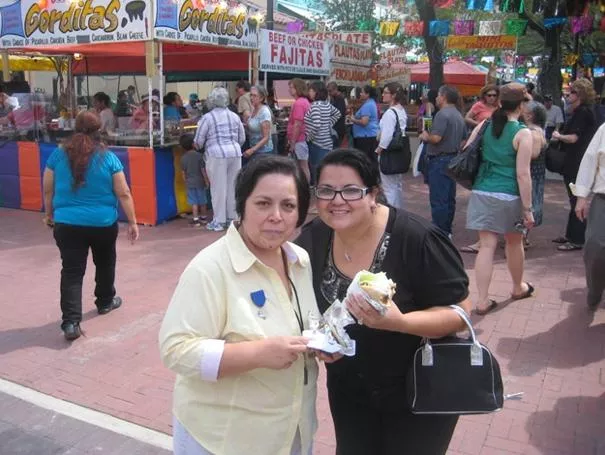 Venture into Market Square during Fiesta de los Reyes like these gals. (Courtesy)
Wednesday, April 23: Pick up lunch or dinner at Market Square through Sunday as the city's center celebrates Fiesta de los Reyes. The menu includes 30 booths of Mexican cuisine, Cajun shrimp, burgers, aguas frescas, funnel cakes and more. Free admission, hours vary, 514 W Commerce, reyfeoconsejo.org.
Wednesday, April 23: Dogfish Head Founder and President Sam Calagione will visit the Friendly Spot and party with King Anchovy XLIX. The bar will tap "outrageous" brews from Dogfish Head Beer out of  Milton, Del. Prices vary, 4:30pm, 943 S Alamo, (210) 224-2337, facebook.com/TheFriendlySpot.
Thursday, April 24: The Barley Blacksmith out of Kenedy, TX joins Branchline Brewing Co. for a Homebrew Happy Hour with Pakistani eats via Rickshaw Stop. From 6-8 p.m. $10 will get you unlimited pours via both breweries, which will be unleashing two small batch collaborations including a black lager and a black ale. Free admission, 6-10pm, 3633 Metro Pkwy, (210) 403-2097, facebook.com/BranchlineBrewing.
Friday, April 25: Before Central Market kicks off its Italian Passport, the cooking school will host "Make Friends in the Kitchen: Argentina," with hands-on techniques for making beef tenderloin wrapped in bacon and sage, salt-crusted potatoes with marjoram, stacked ratatouille and dulce de lenche crepes. $70, 6:30-9pm, 4821 Broadway, (210) 368-8617, centralmarket.com.
Saturday, April 26: The Raindrop Foundation is back with more culinary classes. This week's course will feature recipes for yaglama, which layers leavened dough with minced meat, a noodle soup with ground beef, a red cabbage salad and a pumpkin dessert with pudding. $10, 10:30am-1pm, 4337 Vance Jackson, reserve a spot at rwsanantonio@turkishhouse.org.