Wed 10/1 San Antonio Spurs Open Scrimmage
The San Antonio Spurs return to the court ahead of the upcoming 2014-15 NBA season to face each other in an intra-squad scrimmage, hosted by Sean Elliott with appearances by The Coyote and The Silver Dancers. See this year's Spurs team in action before the first home preseason game against the Miami Heat on October 18. Seats are available on a first-come, first served basis.
Free, doors open 5:30pm, scrimmage begins 6pm Wednesday, AT&T Center, 1 AT&T Center Parkway, (210) 444-5000, spurs.com
Thu 10/2 Tommy Gregory: "Loading..." Opening Reception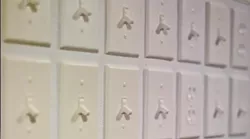 Blue Star hosts an opening reception for Houston-based artist Tommy Gregory, whose sculptural and photographic installation deals with technology, communication and patience. Free, 6-8pm Thursday, 6-9pm Friday, Blue Star Contemporary Art Museum, 116 Blue Star, San Antonio, (210) 227-6960, bluestarart.org
Thu 10/2 Rosemary's Baby
Have you ever had one of those days when it seems that everyone around you, from your cheerful, meddling neighbor to your ambitious actor husband, is part of a Satanic cult determined to protect the son of Lucifer who just so happens to be gestating in your womb? Rosemary Woodhouse sure has. Hail Satan! Free, 7pm Thursday, Santikos Cinema Bistro, 4522 Fredericksburg, (210) 734-4552, santikos.com 
Thu 10/2 Urban Backyard BBQ at Q Kitchen | Bar
Q Kitchen|Bar in the Hyatt Regency will host the annual Urban Backyard BBQ and it's open to the public. The River Walk restaurant/bar will hold a raffle at the event and donate proceeds from ticket sales to the Texas Burn Survivor Society. Prizes include a bottle of Q's 1972 Ridgemont Reserve Bourbon, lunch for four at the pasta buffet, tickets to a beer or bourbon dinner, and a one-night stay at the hotel, complete with breakfast. Q Kitchen|Bar will also donate five percent of proceeds from all dinners throughout the month of October to the Texas Burn Survivor Society.
Free, 6-8pm Thursday, 123 Losoya, (210) 222-1234, qriverwalk.com –Jessica Elizarraras
Sat 10/4
Solar Fest
The Alamo City's only "100 percent renewably powered festival" kicks off a new chapter at San Antonio College's William R. Sinkin EcoCentro, a recently dedicated building honoring Solar San Antonio's late founder via solar panels, a water catchment tank, xeriscaping and an electric vehicle charging station. One of 80 events included in American Solar Energy Society's national tour, the 13th annual Solar Fest offers live music on a solar-powered stage, tree giveaways and a kids' zone while connecting guests with environmental organizations, solar installers and green building professionals.
Free, 10am-3pm, San Antonio College, 1802 N Main, (210) 354-0236, solarsanantonio.org –Bryan Rindfuss
Sat 10/4
Parallax
While still studying at the National College of Arts in Lahore, Pakistani-born Shahzia Sikander won the Haji Sharif award for The Scroll (1989-90), a five-foot work that infused personal narratives and modern concepts into the tradition-steeped realm of Indo-Persian miniature painting. While her muralesque thesis and following works helped spark a new wave of artists reclaiming and remixing a rigid cultural tradition, Sikander continually surprises with projects that run the gamut from lifelike drawings to text-based compositions and videos fusing abstract and figurative elements. Working with animation since her 2001 Artpace residency, Sikander drew inspiration from "the history of maritime trade and colonial occupation in the Strait of Hormuz" for her three-channel video Parallax. Layering drawing, painting, poetry, topographical maps, "singing spheres" and a soundtrack crafted by Chinese composer/performance artist Du Yun, Parallax makes it U.S. debut at the Linda Pace Foundation's SPACE gallery. Free, 6-9pm (artist talk with Sikander at 6:30pm), SPACE, 111 Camp, (210) 227-8400, lindapacefoundation.org —Bryan Rindfuss