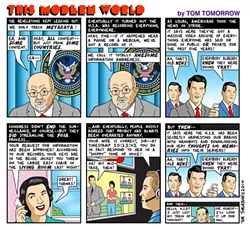 Recently, I've been digging into the NSA surveillance controversy, prompted in part by a panel I'll be moderating at
the San Antonio Book Festival next weekend 
. The panel features longtime U.S. intelligence expert Dr. John Prados, whose latest book (I
think
it's his latest, dude releases like five books a year)
The Family Jewels: The CIA, Secrecy, and Presidential Power
frames the current domestic surveillance controversies in a historical context, particularly in regards to the "Year of Intelligence" in 1975, when journalism hero Seymour Hersh shocked the nation with revelations of expansive and blatantly illegal surveillance of American citizens. Also on the panel is the equally impressive Heidi Boghosian, executive director of the National Lawyers Guild and surveillance watchdog. In addition to co-hosting the weekly radio show Law and Disorder, which concerns itself mainly with civil liberties and political dissent, Boghosian's book
Spying on Democracy: Government Surveillance, Corporate Power and Public Resistance
meticulously documents our current surveillance state with frightening clarity. Maybe the Obama Administration's
forthcoming legislation regarding bulk data collection
 will be a game-changer. Or maybe it will be like what Prados described when I asked him* whether he's noticed any changes in the ease or difficulty in obtaining government documents through the Freedom of Information Act: "The current administration has issued and executive order governing declassification, which is supposed to represent an improvement in so-called liberalization of the system. But, a lot of the government agencies seem to be behaving as if nothing has happened and it was business as usual." In either case, don't be like the dummies in this week's excellent This Modern World cartoon and pay attention to domestic surveillance and the Freedom of Information Act. Here's a list of some great online resources that will help you do just that: *look for the interview in the next issue of the 
Current
1) The Electronic Frontier Foundation
If you're just dipping your toe into learning about digital surveillance, there's hardly a better place to get familiar than the
Electronic Frontier Foundation's excellent resource
, which includes
a timeline
and an
online library of related primary source reporting
. Plus, if you remember staff writer Dave Maass from our hallowed pages of yore, this is where he ended up. 2) The National Security Archive Prados is a senior fellow at the National Security Archive (NOT to be confused with the other NSA), and said the group formed back in the early 1980s when a clutch of independent researchers realized they were all filing Freedom of Information Act requests about security and intelligence documents and decided to pool resources to aid in FOIA success and to give the reams and reams of documents a home. The whole operation is pretty impressive, and they make much of their findings, related musings and other articles of interest available on their blog
UNREDACTED
. 3) Law and Disorder
Boghosian hosts this weekly radio show (which you can access as a podcast here) along with human rights lawyers Michael Ratner and Michael Steven Smith. The topics covered are wide-ranging and skew progressive,  but several times per month, if not every show, government surveillance and related legal cases are discussed in great detail.
4) Threat Level
Though not its main bag, the national publication Wired has increasingly focused reporting on surveillance, spying and the internet. Their frequently updated Threat Level blog brings an insider's technological perspective.
5) Naked Security
Somewhat related to the Threat Level approach, Naked Security is appropriately interested in all kinds of potential digital security breakdowns and censorship, increasingly from government actors. Appropriately, because Naked Security is a company blog of Sophos, a major digital security company.
6) John Prados' Blog
Aside from being an eye-poppingly prolific author, Prados runs his own blog as well. Though the topics covered are as diverse as his interests, it's a wonderful way to get a historical context for current controversies regarding surveillance and intelligence. Two bonuses: Prados is also a well-respected strategy gamemaker (!) and he makes downloads of his work readily available for free or for a small fee.