In honor of National Ice Cream Month and for all those sweet lovers looking to indulge, here are some of our top picks for ice cream in the Alamo City. Whether you're searching for a funky flavor, a cheap find, or a vegetarian option, San Anto's got you covered.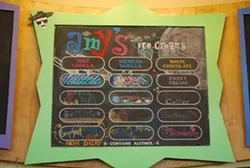 The board changes weekly; follow the store on Facebook for updates. (Courtesy)
Amy's Ice Cream (255 E. Basse Road)
Famous for their Mexican vanilla, Amy's Ice Cream is heaven for ice cream lovers. On the flavor board each week are seven standard flavors, which include sweet cream, white chocolate, Mexican vanilla, coffee, just vanilla, dark chocolate, and Belgian chocolate, and seven rotating flavors. The board for this week includes cinnamon, coconut, Rice Krispy Treat, strawberry, lemon basil, Tito's the Dude (includes alcohol) and Shiner (includes alcohol for a delicate hint of your favorite brew). Heads up for high flying ice cream, at Amy's the staff throws your ice cream high in the air and catches it with your cup.
Green Vegetarian Cuisine (200 E. Grayson St.)
Calling all vegetarians and vegans, Green offers vegetarian soft serve. Delicious and slightly nutritious, Green's soft serve flavor changes daily. Flavors include; vanilla, chocolate, snicker doodle, Mexican coke, and peanut butter. If you're looking for ice cream without completely breaking your diet, check out Green's 100 percent vegetarian ice cream.
Pair this soft serve with a house beer.
The Granary 'Cue and Brew (602 Avenue A)
Chef Tim Rattray concocts stellar ice cream combinations perfect for thrill-seeking foodies. The soft serve changes seasonally, and the beer and pretzel variety is back for the summer. Give it a go after dinner and pair it with one of the restaurant's brews.
Justin's Ice Cream Company (254 E. Commerce)
Located on the River Walk, Justin's is a San Antonio staple. The flavor selection is quite impressive, so good luck trying to choose a flavor. Justin's serves gelato, ice cream, sorbet, and frozen yogurt. Just close your eyes and pick and you won't be disappointed. For creamy, dreamy ice cream at only $4 for one scoop or $7 for two, this place is a must when you're looking for the crème de la crème. Remember to bring singles, this is a cash-only establishment.
Brindles Awesome Ice Creams (11255 Huebner Road, #210)
For those foodies looking for a variety of flavors, be sure to check out Brindles. Currently serving 46 different flavors including, butter pecan, cake, and amoretto, Brindles will satiate any sweet tooth. With more than 360 flavors changing constantly everyone is sure to find something they like. If funky flavors are what you're after, Brindles serves up some good ones; avocado orange, maple syrup and bacon, and the kick, which includes coconut, pineapple and hot peppers.
Burger King soft serve (Several locations)
For those ice cream lovers on a tight budget, or if you're just plain cheap, check out Burger King's soft serve. Your taste buds won't be blown away, but you'll be that much cooler. If you haven't got the commercial tune running through your head like I do, let me catch you up to speed. "50 cents, tell your friends, mmm, mmm, mmm, frozen treat, beat the heat, you're in luck, half a buck." There you have it, 50 cent soft serve. Need I say more?
Mary Caithn Scott