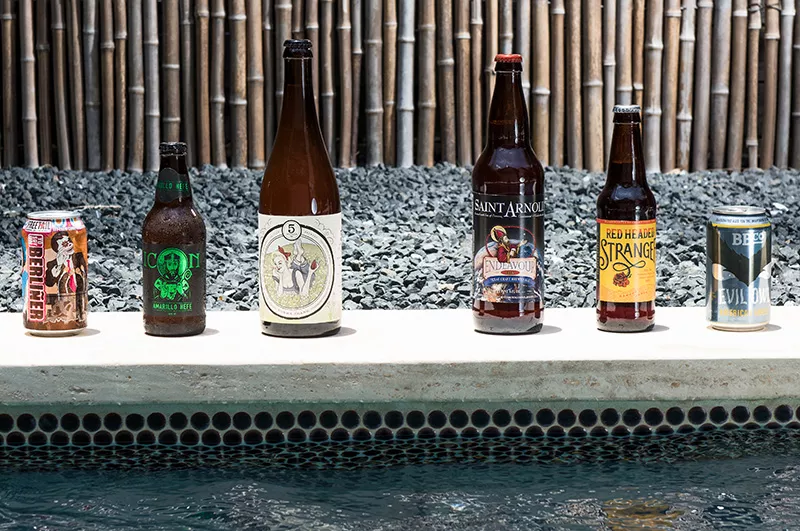 While beer is a year-round preoccupation for most of us, there's something to be said for drinking seasonally. I took a look at six of the brews most palatable for the typical scorching South Texas summer, keeping an eye on the ideal plates to accompany them. If by chance they're sold out (Spec's forbid!) or perhaps evaporated by August, we provide you with some worthy substitutes. Just don't spill any in the kiddie pool.
Branchline Evil Owl American Amber
Evil Owl carries more hops than your average amber, lending 'Murican bravado to a quintessentially laid-back style. An ideal brew when you need a few cans of something reliable to help wash down some spicy eats. Eat it with at least two jalapeño-and-cheddar-cheese-laden hot dogs at your tío's backyard cookout.Beer Buds: Saint Arnold's Amber, Ommegang Rare Vos.
Independence Redbud Berlinerweisse
Brewed in Austin by SA native son Brannon Radicke, Redbud is the most recent Texan take on the hometown beer of the German capital. High in carbonation and low in alcohol (4.5 percent ABV), it sports the wheaty, lactic-acid tang of a classic Berlinerweisse, overlaid with lemony zest and mild salt savor. Try it with a doggie-bag of Vert's kebaps and fries. Beer Buds: Freetail Yo So Un Berlinerweisse, Dogfish Head Festina Peche.
Ranger Creek Red Headed Stranger Red IPA
Named for Abbott's favorite native son, Ranger Creek's Willie Nelson tribute mirrors its ginger namesake in all the important ways: medium in body, sweet but complex in substance and really heavy on the green stuff. Try it with a bowl of Shotgun Willie Chili at the Labor Day picnic, listening to "Blue Eyes Cryin' in the Rain." Beer Buds: Green Flash Hop Head Red, Odell Runoff.
Saint Arnold's Endeavor IIPA
Boldly going where the Houston microbrewery had never gone before, Endeavour started out as the 11th entry in the venerable Divine Reserve series, proving so popular that it became a year-round offering. You could say this Imperial IPA's citrus-soaked, malt-forward boldness is out of this world (please don't)! Try it with space chips and cosmic queso. Beer Buds: Southern Star Valkyrie, Karbach Rodeo Clown.
Boulevard Hibiscus Gose
Kansas City brewery rides the sour beer wave this summer, taking on Leipzig's native sour style while adding a Midwestern twist. As its name implies, Hibiscus Gose reins in its lambic funk with coriander and the floral temper of hibiscus flowers. Try it with a long tray of Gulf oysters, iced down and raw. Beer Buds: DeStihl's Here Gose Nothin', Real Ale Gose.
5 Stones Norma Jeane American Blonde
Cibilo's favorite brewery always strives to be seasonal with their ingredients. With Norma Jeane, they pitched a few pounds of vanilla beans and Poteet strawberries with the boil. As alluring and complex as its honey-voiced namesake, the 750 milliliter bottle makes this one an ideal picnic share. Try it with mixed fruit and marscapone. Beer Buds: 5 Stones Lightning Bug, Jester King Commercial Suicide.