Dear San Antonio,
Y'all flexed hard and the world saw that shit.
From folks signing deals to Atlantic Records alongside Ed Sheeran, to locally-written songs that ended up being used in hit TV shows, Alamo City artists repped hard this year and we couldn't be more proud.
On top of cool shit like Spurs legend Matt Bonner gearing up to headline the City's official New Year's Eve celebration, we wanted locals to really see how much talent there is within the 300-year-old city.
Nothing More getting robbed at the Grammys
While the 60th Grammys were held to highlight outstanding music in 2017, the ceremony happened in 2018 so we're just gonna roll with it, especially since it featured San Antonio's own Nothing More in the mix. The active-rock heartthrobs secured three nominations including Best Rock Performance, Best Rock Song for "Go To War," and Best Rock Album for
The Stories We Tell Ourselves
. Though the band didn't leave with any awards, it's still a huge achievement and a testament to the decade they've put into grinding.
Ada Vox makes it to top 10 on American Idol

After 13 attempts to get on the show, Adam Sanders, better known as Ada Vox, made it through enough rounds of auditions to break through to the other side. With fierce looks to accompany her immaculate voice, the South San High School grad sang her way to the top ten while getting shoutouts from celebrities like RuPaul along the way.
House of Kenzo plays Unsound Music Festival in Poland

If you're unfamiliar with the experience that is House of Kenzo, then you're missing out on what is arguably one of the most intriguing live art/music/performance/installations/groups that calls San Antonio home. From landing official South By Southwest showcases several years in a row, to playing the last Day For Night music festival alongside folks like Nine Inch Nails and Cardi B, the group has been on the rise. This year, the collective found themselves in Poland for performances at Unsound Music Festival, a music and art gathering that encourages listeners to experience art from new angles as a means to exploring textures. Pretty weird stuff, but super cool.
Garrett T. Capps' "Born in San Antone" lands on Showtime's show Billions

Facebook, Garrett T. Capps'
After landing an official SXSW showcase, alt-country/experimental singer/songwriter musician Garrett T. Capps secured a of couple spots on an official SXSW/Spotify playlist. Long story short, an A&R professional heard the track, loved it and decided to use it on Showtime's show
Billions
. The song ended up showing up in the first minute and a half of the season premiere. And while it's a bit shy of your usual 15 minutes of fame, with nearly a million viewers watching the show, we're pretty sure Garrett is still stoked about it.
Karma Stylz appears in Ryan Murphy's Pose

An official member of the House of Kenzo before leaving for New York in 2014, Karma Stylz has been working hard to make a name for himself – and honey, it's working. If being a backup dancer for Lil Mama, landing in Alexander Wang X Adidas and Nike ads isn't enough, you can catch Stylz as a background dancer/extra in the first season of the new Ryan Murphy (
American Horror Story
,
Glee
) show
Pose
. Based on the dancer's track record, we'll continue to expect big things from this San Antonio dancer.
R&B singer Xavier Omar gets millions and millions of streams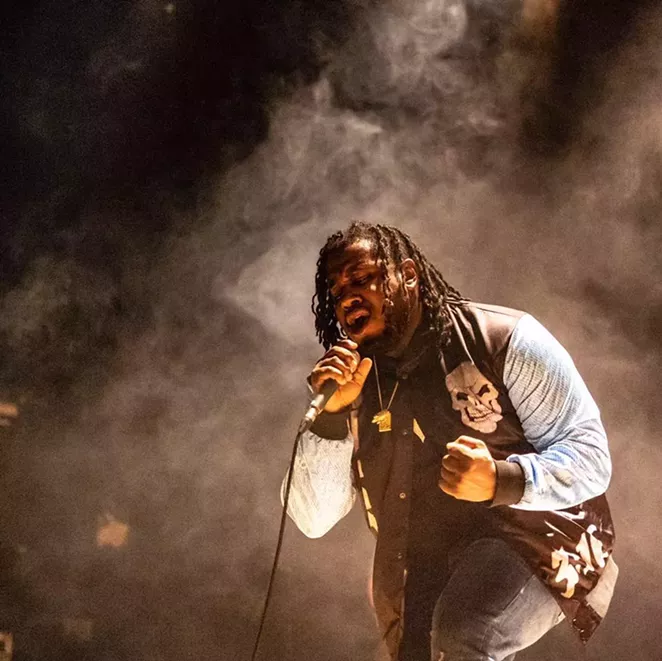 Claiming S.A. as a launch pad for his own music, Xavier Omär managed to make some big strides in the music industry in the last few years even though he left S.A. back in 2014 (his parents still live here and you can catch him kicking it at The Pearl sometimes). He secured reviews in music publications like Pitchfork, XXL and Vibe to name a few, and sold out his first headlining tour, the Pink Lightning Tour, at the end of 2017, which spanned 16 major cities like Chicago, New York, Los Angeles and Vancouver. He also headlined ASICS Tiger's Sound Mind Sound Body Sessions to launch their spring/summer 2018 line at The Hollywood Roosevelt in January. That same month, his hit "Blind Man" passed 20 million streams. On top of all this success, he's also featured on producer Sango's single "Sweet Holy Honey," which came out in January and is nearing a million streams. I mean, if that's not hustling, show us what is.
Rapper Blake signs to Atlantic records
Seemingly to come out of nowhere, Blake landed on some crazy streaming charts over the past few years, exceeding a million streams on his Spotify and Soundcloud pages. Beaumont-born and San Antonio raised, the trap/mumble rapper has continued to make exciting moves in the industry. This year, he signed a deal with Atlantic Records, rubbing elbows with the likes of Cardi B and Meek Mill to name a few.
Holy Knives garner national attention for their debut album Black Dog

Formerly known as Levees, The Holy Knives made some stellar moves this year, releasing their debut LP
Year of the Black Dog
. Landing in publications like Paste, the band have been working hard to amplify their presence on a national level. Introducing just the right amount of pop aesthetic and psychedelic textures to stay above the crest of this current wave of monotonous indie music, the Holy Knives are definitely carving out their space in the hallways of indie rock.
Stay on top of San Antonio news and views. Sign up for our Weekly Headlines Newsletter.