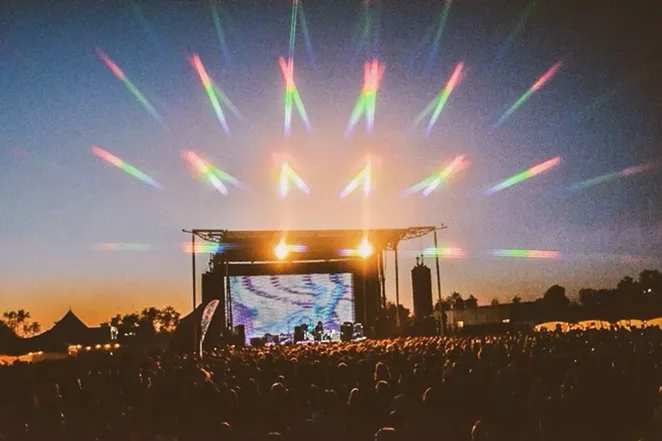 Cecilia Alejandra/Austin Psych Fest
This weekend, the groovy folks of
Austin Psych Fest
and The Reverberation Appreciation Society host the eighth annual Levitation psychedelic music festival. Held at the ruggedly beautiful Carson Creek Ranch in southeast Austin — one of the oldest existing ranches in Texas, established in 1851 — the three-day festival has become an important yearly destination for head-trippers of all stripes, bands and fans alike. This year's headliners are some of the best the fest has ever hosted, including white-hot Aussie prog-psych rockers Tame Impala (Friday), legendary British space rock outfit Spiritualized (Friday), noise-pop stalwarts The Jesus and Mary Chain (Saturday), odd-pop man of the moment Mac Demarco (Sunday), and ubiquitous Austin freak show The Flaming Lips. On Sunday night, there will also be a special 50th anniversary reunion set performed by psych-rock gods, and hometown heroes, The 13th Floor Elevators.
While we at the
San Antonio Current
are excited about all the headliners, and to be fair the whole festival should be rad as long as it doesn't rain too much (this ain't Woodstock), there are a few emerging/less-celebrated acts that are particularly crucial to catch. In honor of Levitation's eighth year, here are eight not-to-be-missed, non-headlining acts.
FRIDAY, MAY 8
The Holydrug Couple
Elevation Amphitheatre, 6:45 p.m.
Courtesy
The Holy Drug Couple
Hailing from Santiago, Chile, The Holydrug Couple is Ives Sepúlveda and Manuel Parra. The duo makes homespun psych-rock with a dreamy, stretched out, almost devotional, pop bent. Updating its sound ever-so-slightly on each new release, The Holydrug Couple holds true to the essential credo of psychedelia: endless exploration. The pair's latest release, the masterful
Moonlust
, which builds on the gentle kaleidoscopic majesty of 2013's beautiful
Noctuary
, is out May 12 on Sacred Bones.
Indian Jewelry
Levitation Tent, 8:30 p.m.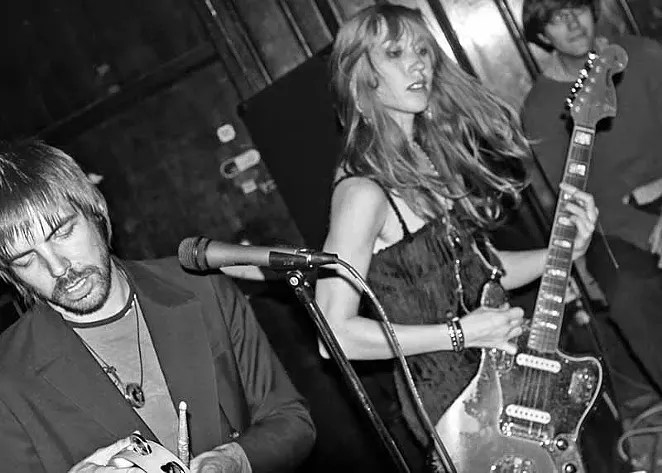 Courtesy
Indian Jewelry
Houston psych outfit Indian Jewelry consistently delivers the goods with unpredictable dub-rock that's laced with elements as diverse as mind-melting synths, distorted vocals, electronic percussion, and found sounds. One listen to the band's 2012 album
Peel It
, released by The Reverberation Appreciation Society itself, will leave you convinced of Indian Jewelry's schizophrenic brilliance.
White Fence
Elevation Amphitheatre, 9:30 p.m.


Even when he's in full on Beatles-aping mode, Tim Presley, who records as White Fence, makes for a delightful listen. His slightly folky, lo-fi take on the 1960's garage-pop sound frequently takes him to weird and wonderful sonic places—and we're just along for the ride. White Fence's most recent release,
For the Recently Found Innocent
, is Presley's most fully-realized and fleshed out effort to date. A naturally gifted songwriter, his knack for being catchy and trippy at the same time is uncanny.