Not all salads are created equal.
Yes, there are some sad bunches out there, but San Antonio has plenty of fresh greens, crisp fruits and vegetables, and unique dressings to offer. This list proves that salad can be the healthy, filling, flavorful meal you want.
Bakery Lorraine
306 Pearl Pkwy., Suite 110, (210) 862-5582, bakerylorraine.com
As if you needed another reason to eat more macarons and eclairs, Bakery Lorraine's ancient greens salad makes healthy taste good. Super grains like quinoa, farro and barley will help you power through the day, while the fresh cherry tomatoes, feta cheese, additional greens and simple shallot dressing make this a memorable (and filling) salad.
Liberty Bar
1111 S. Alamo St., (210) 227-1187, liberty-bar.com
Searching for the perfect wintertime salad? Stop by this iconic salmon-colored building for the Emiliano salad — a dish that is both delicious and hearty. The salad features mixed greens, a mess of red and black beans, chickpeas, arugula, sautéed onions and an olive oil dressing that complements the tangy feta cheese.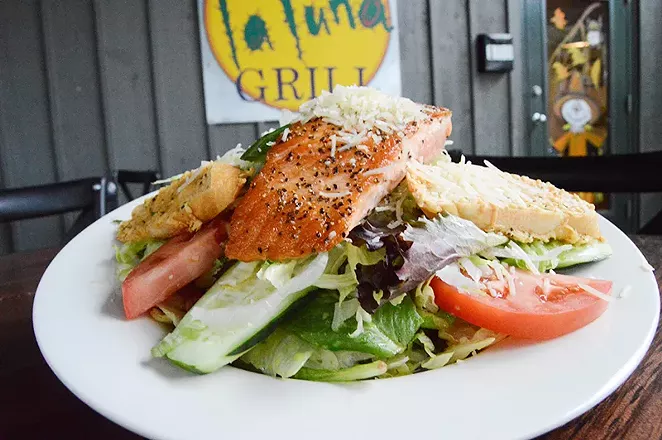 La Tuna
100 Probandt St., (210) 212-5727, latunagrill.com
La Tuna's seared salmon salad makes the perfect lunchtime catch (get it? … 'cause it's fish … ). The salad includes salmon perfectly cooked to your liking, freshly mixed salad greens, tomatoes and cucumbers topped with Asiago cheese. Add the house's generously sized hand-cut croutons, toss with a sweet onion vinaigrette and chomp away.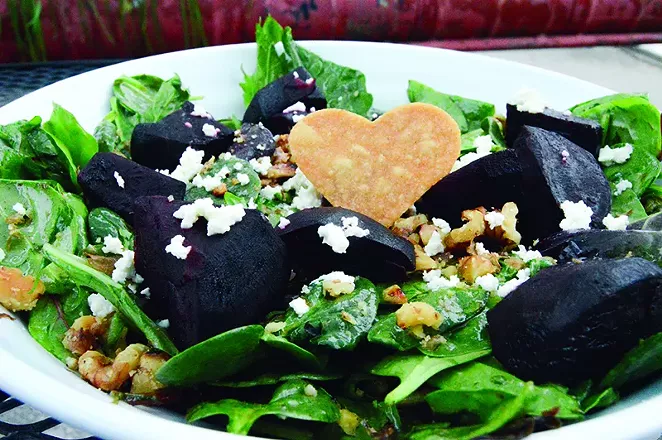 The Cove
606 W. Cypress St.,(210) 212-5727, thecove.us
You won't even miss meat when you've got The Cove's salads on your side. The warm goat cheese, beet and walnut salad's garden-fresh and organic spring mix, creamy goat cheese and simple but delicious vinaigrette makes you wish eating healthy always tasted so good. Bonus: It goes great with the Lisa's special.
Papouli's Greek Grill
Multiple locations, papoulis.com
The Mediterranean salad at Papouli's combines some of the best elements that Greek cuisine has to offer. Your choice of protein (say yes to the falafel) atop tossed green salad, crisp cucumbers, tomatoes with tzatziki sauce and warm pita bread is the perfect plate for lunch or dinner.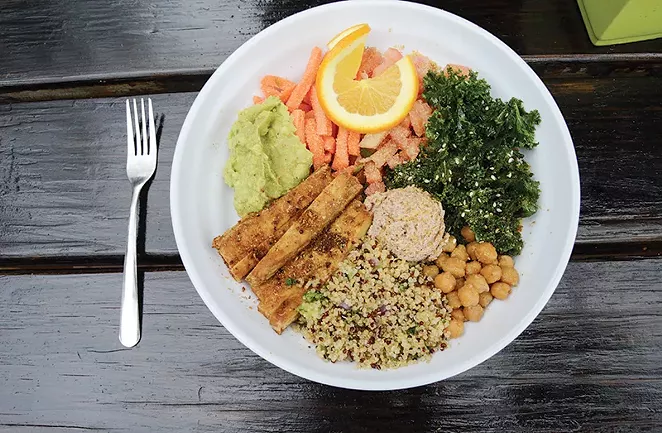 Green Vegetarian Cuisine
Multiple locations, eatatgreen.com
Green keeps their menu fresh for vegans and vegetarians, but their flavorful bowls and salads will appeal to even the pickiest of eaters. Their protein salad mixes up delicious sautéed tofu, dressed kale, fresh baby spinach, chickpeas, flaxseed, pecan hummus, carrots, tomatoes, avocado and a quinoa tabouli for a dish that's anything but boring.
Cappy's
5011 Broadway,(210) 828-9669, cappysrestaurant.com
Next door to Cappyccino's, you'll find executive chef Gabriel Ibarra serving up some of the best contemporary American dishes in the city. His Baja fish salad features a black drum fried to perfection and served on a mountain of fresh avocado, zucchini, corn and watermelon radish. Ibarra tops it off with a spicy orange guajillo pepper sauce. Make sure you put in a reservation before you head over: You can only order this salad during lunch, and the place can get packed. Those ladies who lunch don't play.
Josephine Street
400 E. Josephine St., (210) 224-6169, josephinestreet.com
This San Antonio institution is known for steak and whiskey, but thankfully you can enjoy both with a little less guilt when a salad is involved. The Josephine Street steak salad features a juicy marinated steak, roma tomatoes and a ton of crisp romaine. Whether you pair the salad with the signature creamy vinaigrette, ranch dressing or a shot of whiskey is up to you.