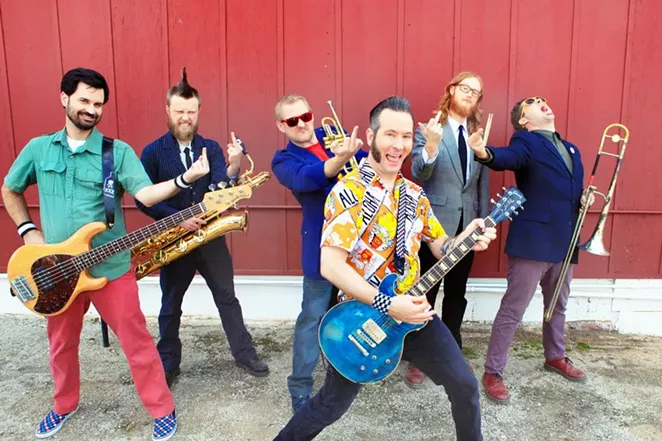 Courtesy of Reel Big Fish
Veteran ska-punk outfit Reel Big Fish made quite a splash (ahem) back in the 1990s, especially during the brief and — to some — regrettable period where ska, blended with rock and pop stylings, enjoyed a surge in popularity, owing at least in part to its sheer novelty in the era of grunge and alternative rock. The band, while still releasing music, has undergone myriad lineup changes over the years, with the one remaining constant being frontman Aaron Barrett.
Now, having released a new album back in December (who knew?), and probably having heard about our weird little city's obsession with all the most obnoxious bands of the 1990s, Reel Big Fish is stopping by the Aztec to take fans on a trip down memory lane and forcibly subject them to its new stuff — which may very well be great, but probably isn't. If you're already a fan of the band, you won't want to miss the chance to hear some of your old favorites and see what its latest incarnation is up to. If you aren't a fan, then you may want to go, like us, in search of sheer spectacle.
$22.50, Tue Jan. 29, 6:30pm, Aztec Theatre, 104 N. St. Mary's St., (210) 812-4355, theaztectheatre.com.

Get our top picks for the best events in San Antonio every Thursday morning. Sign up for our Events Newsletter.