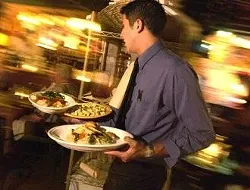 Waiter Remmy Castillo rushes out an order on a busy Thursday evening at Dolores del Rio.
Release Date:
2002-05-30
Don't let the name fool you; Dolores del Rio is not another faceless Mexican restaurant that lines our tourist-ridden River Walk. Instead, it serves San Antonio's second favorite cuisine, Italian, and does it the right way, with a few extras: unforgettable entertainment, hospitable service, and an interesting dining atmosphere.
While Dolores del Rio requires reservations on weekend nights, its class isn't obvious from the outside. Since there were no diners seated at the lovely patio area, we nearly passed it up on our first visit. Dolores is secluded, tucked in a dark room up a narrow flight of stairs, with no view of the river. The low ceilings, brick walls, and compressed seating give the restaurant a speakeasy feel, as if diners were hidden under a large stairwell or a secret room. Soon after being seated, we quickly forgot about our proximity to the roars of the buses and barges, the hubbub of downtown and its visitors.
It took me a while to realize the overhead music is not recorded, but live. The guy strumming the guitar on a small corner stage had a voice so soft and pleasant, it would have been inaudible if the volume were any lower. The decibel level was perfect for this tiny, secret space; if it were any louder, our cover might be blown. Wait, was that our bartender who just joined in on drums? The band played a medley of covers, all cool classics by artists like Van Morrison, Cat Stevens, Eric Clapton, Stevie Wonder, Elton John, the Beatles, and Bob Marley. They even give us a simple but beautiful rendition of the classic Mexican ballad "Sabor A Mi."
I tried to focus on the lovely tunes instead of the loud conversation at a nearby table. The elbow-to-elbow room makes for a nice romantic spot, where you only have to whisper to be heard by your lover, but it's an entirely different experience when a couple across the room forces a loud conversation upon you. I took advantage of the tight quarters and got a close view and whiff of all the plates the waiter delivered to other tables as they whizzed by my face. The sizzling shrimp are huge and smell delicious, as do the sautéed mushrooms. "I'll have what they're having," I wanted to tell the waiter as he delivered a colorful, overflowing spinach salad.
We ordered "family style" as well, and dug into a pile of fresh spinach leaves, hearty chunks of tomato and gorgonzola, thick rings of purple onion and red bell pepper, raw mushrooms, and juicy artichokes, all sautéed in olive oil and garlic. The salad went well with our warm pita bread, which whet our appetite while we waited for our slow-to-arrive menus. (Right off the bat, our kind waiter admitted he had been working there only two weeks.) We had questions about items on the menu, and our server handled them with grace and courtesy, darting off to ask the proper person when he didn't know the answer. We chose the mussels as a second starter; they arrived quickly, but without the great presentation and taste of their predecessors. They are supposedly sautéed in a white wine sauce, but the watery broth was not savory enough to kill that ocean flavor, and the mussel meat was a bit tough and chewy.
It took awhile to choose our entrées from the impressive, but pricey menu. We were too distracted by the music and the mismatched décor — strings of pink, yellow, and blue Christmas lights competing with candles in each corner, portraits on every wall — of a vagabond, a European aristocrat, a fierce-looking Spanish dame, and Jesus, to name a few — and Mardi Gras-like beads strung in colorful ropes that adorn the bar.
We dragged our attention back to the menu, to choose from offerings like escargot, baklava, and shrimp Napoleon, in addition to the Italian items. Many are rare finds in other Italian eateries, dishes such as roasted anchovies, pappardelle, and cioppino, a seafood soup.
I made a courageous choice in the polenta; I've had it only a few times, and the usually grainy-yet-soggy texture disgusts me. But I figure I had never tasted it prepared the right way, and my guess proved correct. This polenta was perfect, soaking up all the flavorful juices seeping from grilled Italian sausage, onion, and bell peppers. The sausage was also impressive, tasty but not powerfully overspiced. My companion's pappardelle pasta was also the perfect consistency, soaked in a delicious butter and sage sauce, and garnished with slices of portabella mushrooms, onions, and garlic.
In the middle of our meal, the band took a break and a belly dancer was introduced. She weaved in and out of the spaces with ease and grace — at one point even touching the ceiling for balance. Owner Stephania Baldesarelli trains all six of Delores del Rio's performers, and is a renowned professional dancer.
We also discovered that the musical duo — David Marquez and Carl O' Laughlin — are part of the waitstaff, as are many of the musical guests that bring their talents to the restaurant — an entertainment arrangement entirely appropriate for the quasi-speakeasy setting. We left feeling we had been treated to one of San Antonio's secret, intimate pleasures.