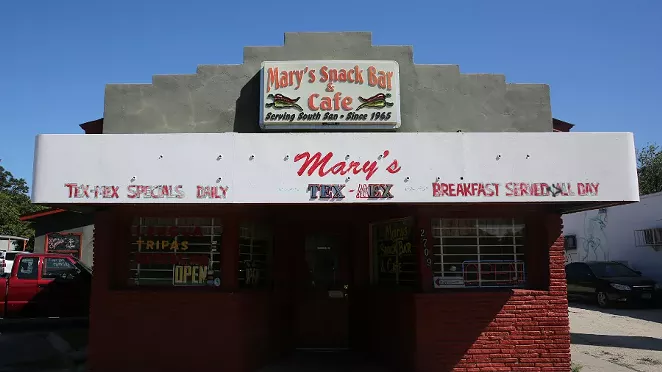 Here's a little gem on the southwest side that's nestled in what looks like the main drag of a small town.
However, most of the retail buildings along this stretch of Southcross Boulevard are shuttered. It's weird that this specter of a community is in the middle of the seventh largest city in the U.S. And, of course, there are taquerias.
Mary's Snack Bar & Cafe looks like a business left over from whatever past these buildings allude to. Like Tacoland, it doesn't resemble what its name says it is.
Mary's opened in 1965, when this strip was bustling with military personnel from nearby Kelly Air Force Base. The new owners took over the place years ago, but kept the name because it was well-known in the neighborhood, we learned after talking with some of the staff.
My buddy and I both agreed that the tacos were solid, especially the chicharron guisada with its chewy, well-seasoned pork skin in an excellent and consistent red pepper-flaked stew. Yeah. Heck, yeah.
The waitress recommended the carne guisada and it didn't disappoint with its good beefy flavor and tenderness. Other solid selections were the asada a la Mex; the bean and cheese; the country sausage guisada (it was a guisada fest); egg a la Mex and papa country — all pretty good with really good homemade tortillas.
The inside of Mary's looks like the 1960s. An older couple watched "The Price is Right" on a TV directly in front of them — as if they were at home — while eating tacos. An older gentlemen in the corner, clearly a regular, drank coffee and eyeballed us the entire time.
On a non-taco note, the waitresses wore T-shirts that said "Got Ribs?" on the back. So we asked. On Fridays, they serve beef short ribs during lunch. Now that sounds pretty good. . . . Rib-ist?
Mary's Snack Bar & Cafe, 2709 W. Southcross Blvd., (210) 921-2575.
Visit The Tacoist for more snapshots of San Antonio taquerias. Reposted with permission from The Tacoist.