Courtesy
Sioux & Fox: John Morgan, Noah Luna, Josiah Barrios, and Austin Burns
Although it can come across to the naked eye as wildly under appreciated, San Antonio music is also filled to the brim with an influx of young, acknowledged talent and persistent individuals whose goal is to make it to the top.
Delving deeper, I met with
Sioux & Fox
and asked them about their rush of accomplishments and what it is like to be a young band in the indie music industry. In my interrogation, Sioux & Fox (the love child of Young the Giant and Fleet Foxes) confessed that, while it may seem like a daunting task, making a name for themselves proved to be quite easy.
It's due in large part to the support of their peers, namely
Octahedron
, who has been "making music to make life better" for over two years and has gained a sizable following in the process.
"The overall arch would be serendipitous," Sioux & Fox's Josiah Barrios told the
San Antonio Current.
Their self drive is evident when analyzing the success that they've achieved without being backed by a big label or professional manager; successes like recording demos at KRTU studios or playing a gig with local powerhouse Lonely Horse.
Their love for each other has been greatly attributed to the magnitude of their success.
"Make music with people you love" said Noah Luna, son of San Anto rock 'n' roll lifer
Phil Luna
. Noah also stated he became involved with local music because of "his daddy."
"Once it feels like you're still in the practice room with your friends playing tight as fuck for a show the next day, that's the ultimate feeling you should get with your music and the people you're playing with" said keyboardist John Morgan.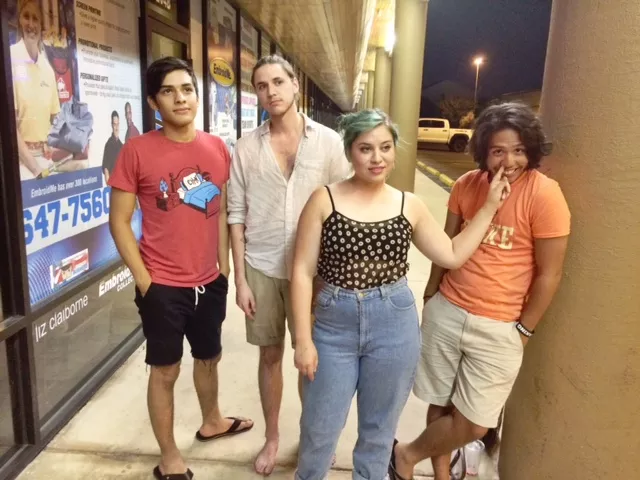 Courtesy
Octahedron (pictured from left to right: Daniel Puente, Ruben Lopez, Elena Lopez, and Austin Jimison)
This sentiment was also shared by Octahedron, a San Antonio Music Award-winning band whose melodic Two Door Cinema Club-inspired beats have reached the ears of thousands within the loop. Since the inception of this band, they have been pioneering a successful wave of nonstop shows for their cohorts to join in on. They have made a group called San Antonio Music Collaborative which is a small group of friends playing music together and acting as each other's hype men, assisting each other so one group's success can be distributed among the rest of the collaborative. They have helped bands like Ion, 16 Psyche, and Sioux & Fox take their own shape and have been beyond proud to see them grow.
As guitarist Austin Jimison puts it, "We try to be a catalyst for something that's better in the community."
That would explain Octahedron's frequent gigs for food banks and homeless shelters, taking their attention and putting it on something real to make a difference.
Octahedron has been gaining notoriety with haste — just recently, after playing a gig in Houston, they got an offer to record at Sugarhill Recording Studios where the likes of Willie Nelson, Beyonce, and The Rolling Stones have passed through and recorded.
When asked, both bands said that one of their favorite venues to play at is
Imagine Books & Records
for crowds and ambience. An intimate setting and relatively small venue, it's one of the few places in town that guarantees an all ages show (and provides free coffee and pastries).
Jack's Bar on Thousand Oaks is also a favorite for Octahedron, with Brick at Blue Star being an honorable mention for Sioux & Fox, "As far as atmosphere goes, "Brick is the best", said Sioux & Fox drummer Austin Burns. "There's, like, fancy chandeliers and shit."
Both bands have new projects in the works. Sioux & Fox will showcase new material at Josabi's on Saturday, August 22, where the theme is
Skies Out Thighs Out
.
When I asked Octahedron about their upcoming work, bassist Ruben Lopez stated: "We are building a birdhouse next week."