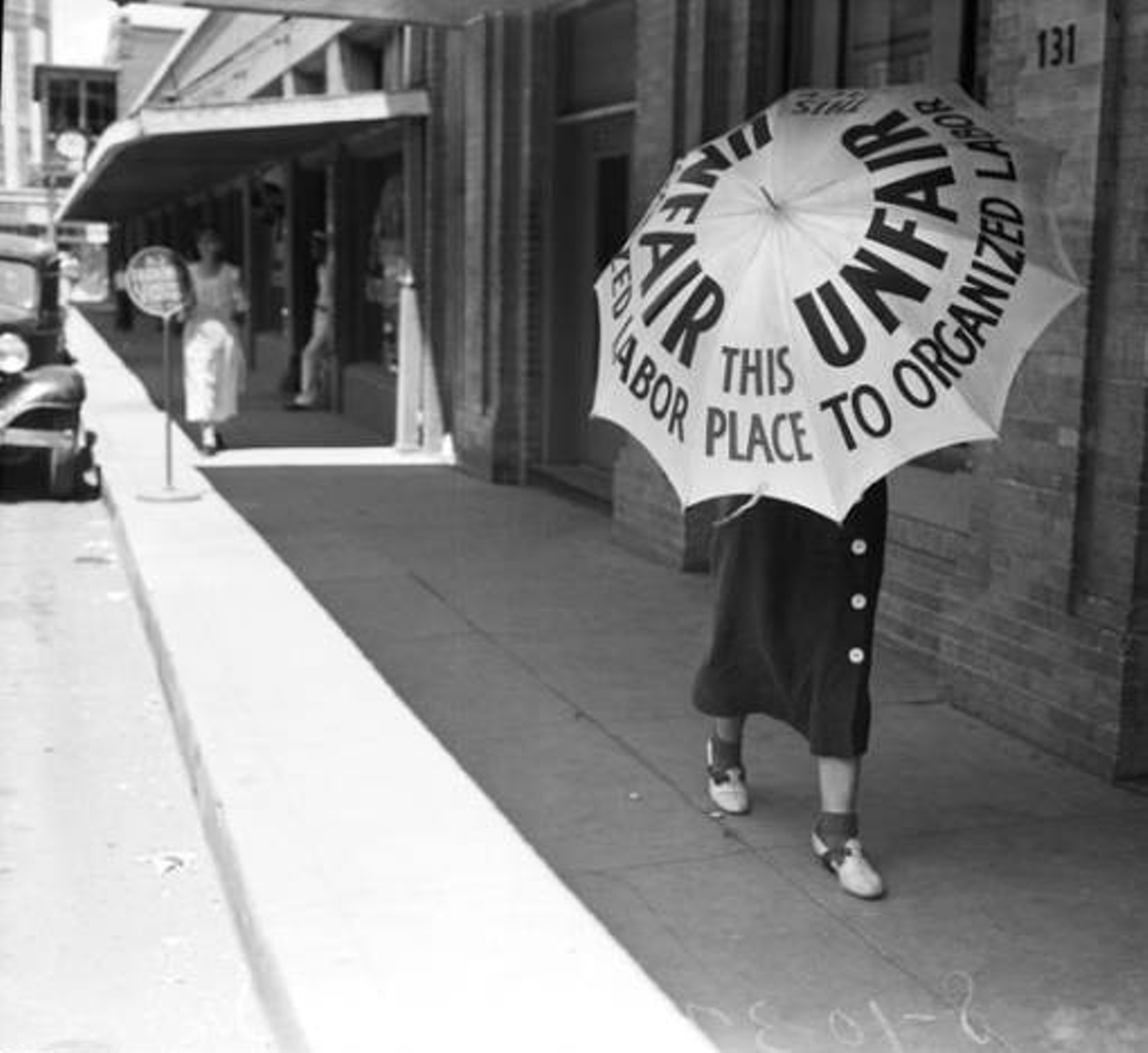 San Antonio Laundry Strike, 1937
Seventy-eight employees protested San Antonio Laundry with heavily-worded umbrellas calling for fair treatment.

San Antonio Laundry Strike, 1937
Police arrested Aurora Vallejo as the American Federation of Labor led a strike against San Antonio Laundry. Despite pressure from the laundry company and the police, women continued to protest unfair treatment and low wages.

Segregation Protest, 1955
An NAACP member protested segregation outside a Texas Theatre showing the film "Carmen Jones." Segregation continued to discriminate against African-Americans until 1964.

CWA Bell Telephone Company Strike, 1985
Cesar Chavez picketed with protesters in support of the Bell Telephone Company Strike. Chavez was an extremely influential labor leader and civil rights activist who still inspires today, so it's no surprise that he's on this list.

Shirlee Frocks Strike, 1937
Members of the International Ladies' Garment Worker's union took a break from picketing on Pecos Street. Their strike protested the dismissal of three union employee members and bargained for higher wages.

Picketing City Hall, 1963
Two NAACP members, including Larry Burns (left), picketed outside of San Antonio's City Hall to protest segregation.

Red Coach Lettuce Boycott, 1979
The United Farm Workers' Union, led by Cesar Chavez, protested Red Coach Lettuce's unfair wages. The boycotts, which ended in 1996, became one of the longest farm labor disputes in American history.

Works Progress Administration Protest, 1937
Emma Tenayuca, fist held high, speaks to a crowd outside of City Hall following a parade protesting a scarcity of jobs within the Works Progress Administration.

Emma Tenayuca in Bexar County Jail, 1937
In an event that sparked the Hispanic Workers' Movement, a young Mexican-American woman defended oppressed workers by fighting for better working conditions and higher wages. The woman, Emma Tenayuca, became known as "La Pasionaria" for her efforts.

Southern Pecan Shelling Company Strike, 1938
Led by Emma Tunayuca, pecan shellers protested low wages and poor working conditions. Many protesters were gassed, beaten and arrested by San Antonio police, causing the strike to become a city-wide uprising of San Antonio's poorest and most oppressed citizens.

Deterioration of San Antonio Junior College, 1939
Howard Spencer, a member of the executive council of San Antonio Junior College, dressed as a lifeguard and wore a sign that read, "Danger. No Swimming."
Workers Alliance Sit-In, 1937
The crowd chanted "we want jobs!" as more than 200 ex-WPA employees pressed into corridors on the seventh floor of the Gunter Building. The sit-in was in protest of job cuts at the San Antonio business.

COPS Protest, 1975
Rev. Albert Benavides spoke to a crowd at the City Water Board Headquarters on Market Street about a hike in water rates.

"Death to the small merchant," 1947
Lupe Enriquez and Jose Lopez protested new regulations set for the market: a $100 license fee and regulated hours.
Finck Cigar Factory Strike, 1933
Women wore banners pleading for better working conditions as they picketed their former employer. The strike against Finck Cigars took place on Buena Vista Street.

John F. Kennedy Visits San Antonio, 1963
NAACP members greeted President John F. Kennedy with signs protesting segregation during one of his Texas campaign stops. Kennedy was assasinated in Dallas two weeks later.

City Hall Protest, 1930
Unemployed workers gathered outside of City Hall to protest lack of jobs during the Great Depression.

Workers Alliance Demonstration, 1937
This bird's-eye view captured the city-wide parade protesting a scarcity of jobs in the area. The city was hit hard by the Great Depression, leading to an abundance of laid off workers.

MAYO Protest, 1968
Protesters gathered at Our Lady of the Lake University with signs to criticize Captain Allee of the Texas Rangers. Allee's tactics while dealing with previous protests were said to be biased, violent and brutal.

Picket of Merchants Transfer, 1938
A striking truck driver protested unfair treatment by his employer while another man sold ties next to him. During the Depression-era many workers found themselves without a livable wage.