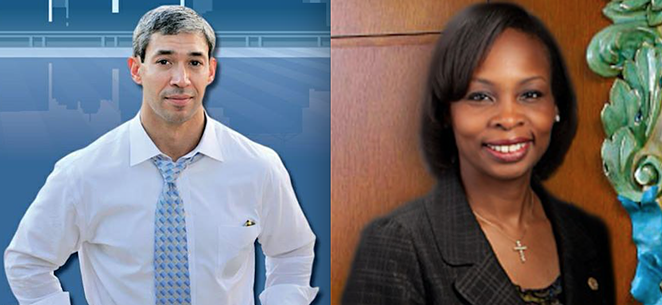 Nirenberg plans to run against Taylor in next year's municipal election.
This afternoon,
the Express-News declared
with certainty something that pretty much every politics-watcher in town has been expecting for months: District 8 Councilman Ron Nirenberg will run for mayor of San Antonio.
Nirenberg, who won his District 8 seat in 2013 after a hard-fought runoff election, has been one of two names circulating in local political circles as a potential challenger to Mayor Ivy Taylor, who announced her own re-election bid last month. In addition to Nirenberg, there's been speculation that District 4 Councilman Rey Saldaña might jump in, injecting some younger blood into next year's mayoral race. When council last year
took the strange step of absolving Taylor
of cut-and-dry ethics violations related to housing vouchers she and her husband scored through the San Antonio Housing Authority (to which Mayor Taylor appoints commissioners), Nirenberg and Saldaña cast the only down votes.
Nirenberg and Taylor seem to have distinctly opposing governing styles and policy priorities. Earlier this year,
when Taylor suggested cutting funds
to family violence prevention services in favor of more job training programs, it was Nirenberg who called foul. It's Nirenberg who most often raises questions about
sustainable growth and development
when discussing the city's long-term planning, while it seems Taylor would rather avoid any pro- and anti-development fight, even as the city grows at break-neck speed.
And while Nirenberg initially voted for the near-billion-dollar Vista Ridge pipeline, he's been sharply critical of how SAWS has handled the project ever since. In a meeting last month, he scolded SAWS for failing to update the council on basic details, like changes to the city's contract with Garney Construction, which took over the project after the first company SAWS tapped to build the pipeline
went bankrupt.
While Nirenberg warned that his confidence in the project was "waning very quickly," Taylor (who, as mayor, has a seat on the public water utility's board) has defended SAWS as transparent and above-board.
Taylor also clashed with Nirenberg and Saldaña over her negotiations with the police union that led to a new contract with the city earlier this year – one that didn't reform
glaring problems
with the San Antonio Police Department's disciplinary process
and
failed to really resolve the issue that landed the city and union in court in the first place.
During the police contract debate, Saldaña focused on the fact that the new agreement didn't fix disciplinary policies that effectively sweep some forms of officer misconduct under the rug after enough time has passed (some have gone so far as to call it government-sanctioned falsification of records). Meanwhile Nirenberg (who, with Saldaña, cast the only other no vote) focused on the contract's so-called "evergreen clause," a curious provision that basically extends the union's deal, even in the event of a years-long impasse with the city. The city sued the union over that evergreen clause, calling it unconstitutional.
Nirenberg explained in a statement following the contract's approval how little he thought the new Taylor-brokered deal had accomplished:

"... by the fourth year of this agreement, the proposed contract increases to more than 66 percent of the budget. By year five, according to city staff, we will be more than $20 million over budget. That's the rough equivalent of the entire delegate agency budget that funds organizations dealing with some of the most urgent issues in our city, from child abuse to literacy. That's not fiscally responsible.

The 10-year evergreen clause, which we took our police and fire unions to court over in 2015, citing unconstitutionality, was reduced by a mere two years. When this contract ends in 2021, that Council will not only be faced with a growing shortfall, it will be forced to deal with it during an evergreen period that we are actively reaffirming today. That's not fiscally responsible."
While Nirenberg hasn't publicly confirmed that he's running, this week he did drop a big hint, sending a message to supporters that he plans on making a "special announcement" next Saturday, December 10.
Seriously, what else could a flier like this possibly mean...