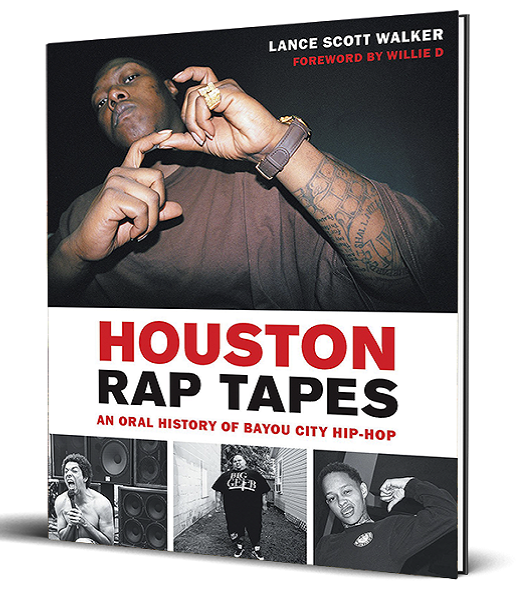 First released in 2014,
Houston Rap Tapes
is an insightful journey through the history — largely told by those who have been firsthand witnesses and/or important participants — of the vibrant and influential HTX hip-hop scene. It features oral histories and interviews with folks like Bun B., Willie D., Paul Wall, Z-Ro, Big Mike, DJ DMD, K-Rino, Salih Williams, Lil' Troy, and more.
Written by veteran music writer and hip-hop scholar Lance Scott Walker, the book is a kind of primary source companion to
Houston Rap
, a collaboration between Walker and photographer Peter Beste that focused primarily on Beste's phenomenal photographic documentation of the scene.
Maxwell Schiano
Lance Scott Walker
Rap Tapes
too benefits massively from Beste's contributions, though taking a more comprehensive approach to storytelling, featuring full interviews, anecdotes, and other tidbits woven throughout Walker's fine reporting work.
It's remarkable, really, how thorough and perceptive each of these guys is in their own right, and even more special how well each's work supplements the other's.
This month The University of Texas Press has released a definitive version of the book, entitled
Houston Rap Tapes: An Oral History of Bayou City Hip-Hop.
This edition, some 80 pages longer than the first, features even more of Walker's interview work — with the likes of <!———EndFragment———>Scarface, Slim Thug, Lez Moné, B L A C K I E, Lil' Keke, Sire Jukebox (of the original Ghetto Boys) and more — and new photographs from Beste to boot.
It is a Texas hip-hop nerd's best friend and, to my mind, one of the best scene-specific explorations of hip-hop you'll ever find.
To celebrate the release of the book, Walker will be stopping in to Friends of Sound next Saturday for a
book launch talk and Q&A session
.
"Houston Rap Tapes" Book Launch w/ Author Lance Scott Walker
Free, 6-9pm, Sat, Oct. 20, Friends of Sound Records, 700 Fredericksburg Rd., (210) 971-8044, friendsofsound.com.

Get our top picks for the best events in San Antonio every Thursday morning. Sign up for our Events Newsletter.