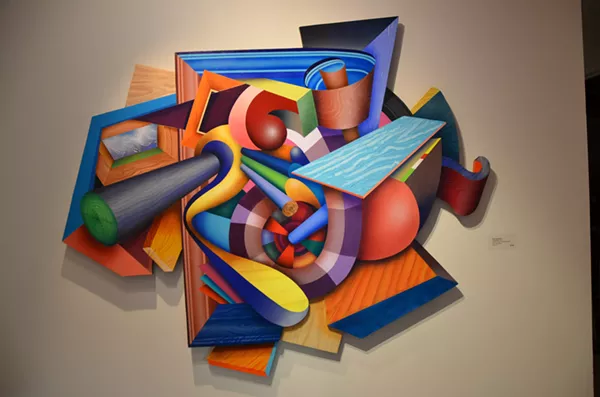 Although "pen on paper" might not conjure thrilling possibilities, local artist Mark Hogensen has emerged as a champion of this basic medium while producing densely layered drawings celebrating equally basic subjects — namely tables, chairs and lumber.
Born in Portland, Hogensen studied architecture at Oregon State University and later worked in "the building trades." Fed up with construction after 12 years in the field, he reached a decision to apply to graduate school and focus on visual art. After visiting several universities, he settled on UTSA, sold his contractor gear and relocated to San Antonio in 1987. While working toward his MFA in studio art, he found himself studying alongside a number of now-notable artists, including Ken Little and Jesse Amado. A similarly strong concentration of local talent now surrounds Hogensen at Palo Alto College, where he teaches drawing and art appreciation in the same department as Lloyd Walsh, Karen Mahaffy, Cakky Brawley, Alba De Leon, Sabra Booth and Jimmy James Canales. (As the husband of artist, personal trainer and running coach Kimberly Aubuchon, Hogensen is also half of one of San Antonio's art power couples.)
Slowly but surely, he replaced all those tools he offloaded in Oregon, and his background in architecture and construction has made a visible impact on his work. Previously known better for irregularly shaped paintings, Hogensen has won over fans with his drawings, which seem to fly off gallery walls with a regularity most artists don't often see in these parts. During a recent visit to Parchman Stremmel Galleries, Hogensen explained that a prominent local collector had purchased nearly all the drawings (priced between $1,600 and $3,000) in his new exhibition "Construction Sights" before the show even opened.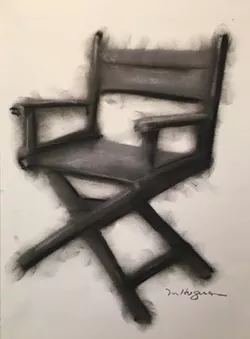 Described as an exploration of "our awareness of rigidity and perception of objects in space," this latest body of work exemplifies Hogensen's masterful use of perspective to both simulate and challenge reality. In essence still lifes drawn from the artist's imagination, the new drawings place figurative elements (intensely cross-hatched scraps of wood, deconstructed plaid fabric, Wainscot paneling, wooden shelving, lawn-chair webbing) in abstracted environments that suggest kinetic energy. In one particular example, a glimpse of a starry sky in the background gives the seemingly weightless wooden odds and ends in the foreground a sense of mysticism Hogensen likened to the visual hallmarks of Disney's Fantasia (picture Mickey Mouse conducting his magic in a woodshop). Save for one brightly colored painting that echoes the show's themes via layered objects and areas of simulated woodgrain, all the works in "Construction Sights" are rendered in Pilot G2, a decidedly lowbrow pen Hogensen "buys by the dozen" and favors for the blips, splotches and other imperfections they gift his pieces.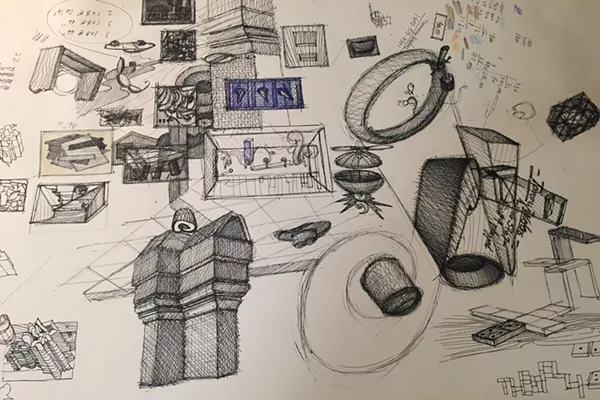 When I joined the Current in 2009, Hogensen was one of the very first artists I wrote about (previewing his Sala Diaz show "Town and Country"), which makes him a fitting first subject for this new column built around images culled from the sketchbooks of local artists. If you're a San Antonio artist who keeps a sketchbook, email a short bio and sample sketches to brindfuss@sacurrent.com.