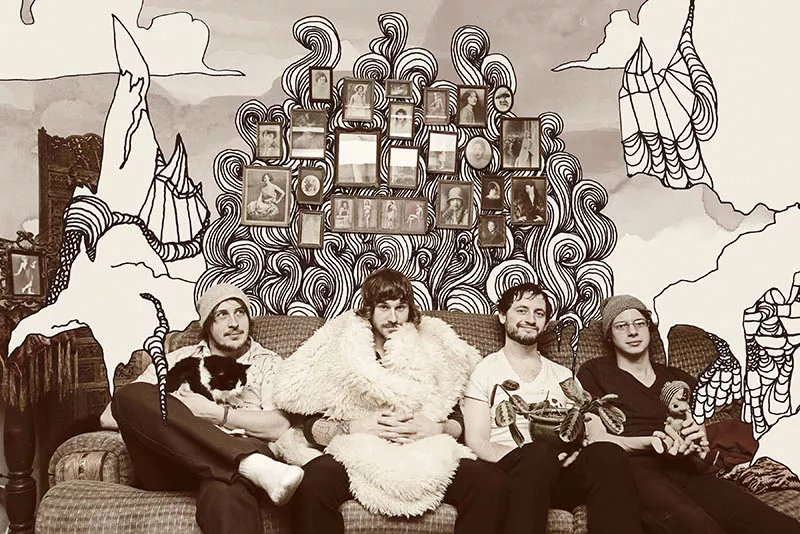 Courtesy
Portugal. The Man
Last year at La Villita, Maverick Music gave San Antonio its first real music festival as defined by the 21st Century behemoths cultivated in Austin, Tennessee and Southern California. Now in its third year, Maverick Music Festival returns to the historic though tourist-heavy spot, boasting a strong lineup of rock 'n' roll, hip-hop and everything in between.
Below, we've addressed each artist on the main stage – the big, booming podium set up in La Villita's main plaza. On the next page, we've scouted our favorite picks for the Juarez and Arneson River Theatre stages, pointing out a few of the 34 South Texas artists on tap for Friday and Saturday.
Friday, April 10
The Bolos / 5:15 p.m.
Named after the braided leather tie, this San Antonio quartet rocks the Southwestern essential with the posture of John Travolta in Pulp Fiction — slurring, fast-moving Elvis men in a world of vice and guitar distortion.
Heartless Bastards / 6 p.m.
Behind the androgynous hum of singer Erika Wennerstrom, Heartless Bastards are a perfect act for the twilight slot of outdoor festivals, gravitationally pulling listeners toward their showered-and-shaved garage rock.
Brownout Presents Brown Sabbath / 7:05 p.m.
It all started as a one-off. Having set up residency at Austin's premier hotdog themed venue Frank, Brownout were looking for ways to spice up their live set beyond their tried and true blend of latin funk.
When the band started kicking around possibilities for classic rock, someone pitched a Black Sabbath cover night. "We threw the idea around, didn't take it too seriously," bassist Greg Gonzales told the San Antonio Current. "But then soon enough, the gig was coming up, and we were just like 'Alright, I guess we've got to commit to it.' That show ended up being the biggest turnout of the month."
It has been almost a year since Brownout first transformed into Brown Sabbath, and they haven't looked back since. Their 2014 record of latin funk-infused Sabbath covers Brownout Presents Brown Sabbath was picked up by NPR as one of the top 50 releases of the year, going on to be the most high-profile release in the band's decade-deep catalog. Their subsequent tour, which took the band all across the country, further widened the Brown Sabbath appeal and gained momentum for further performances, including their slot on Maverick's main stage and at Bonnaroo later in the summer.
Beyond the approval of metal heads, the band also scored the biggest Sabbath endorsement of all: "Even Ozzy has chimed in and said he really likes what we're doing, which is wild," said Gonzalez. — J.D. Swerzenski
Toadies / 8:20 p.m.
Like horn-rimmed glasses in the 2010s or fondue in the 1970s, Fort Worth's Toadies struck a cultural nerve with their 1994 debut Rubberneck. Reaching platinum status within two years, the Texas band provided its own undercurrent to the massive wave of alt-rock washing over the nation. With an elliptical treatment of sexual violence and dark fantasy, Rubberneck is a record imagined by the narrator of Nirvana's "Polly," emerging from his basement, plugging in and winking at the horrid things of his past.
Portugal. The Man / 9:45 p.m.
John Baldwin Gourley and Zachary Carothers of Portugal. The Man began gigging together at Wasilla High School in Alaska (most famous alum: Sarah Palin) before heading south to Portland for a more career-friendly setting. In their 11 years in action, the band has also taken a great adventure in sound, shifting from guitar psych to big-dreaming keyboard pop.
Courtesy
Merrill Garbus of tUnE-YaRdS
Saturday, April 11
Last Nighters / 12:15 p.m.
Hearing Last Nighters' 2012 album Animal Room is like seeing a sunset from an airplane, witnessing a new density and spectrum to sunburst pop.
Quiet Company / 1:00 p.m.
Formed in '06 by singer Taylor Muse, Quiet Company has weathered transitions from being a Christian-centric indie rock group to dealing with lyrics about losing faith, all while having tight and powerful pop-rock jams. Muse's gentle voice can erupt into harsh screams at any given moment, as heard in one of their breakout songs, "You, Me & the Boatman," showing that Muse wears his passions on his sleeve. — Shannon Sweet
Son Lux / 1:45 p.m.
Producer Ryan Lott began his career designing soundtracks for TV and YouTube ads, transitioning from commerce into art under the name of Son Lux. By his second effort, 2013's Lanterns, Lox found his groove between electronic textures and live instruments, particularly on the arresting "Lost It To Trying."
If you need inspiration to skip brunch and hit La Villita early, "Lost It To Trying" is it. With digital horns, clacking drums and spacious production, it's electronic music at its most emotional, setting the stage for Lott's bewildered anthem. "What do we do now? We lost it to trying," he sings in a lush falsetto.
Sarah Jaffe / 2:30 p.m.
Among the best songs to come out of Denton — along with Norah Jones' "Come Away With Me" and Sly Stallone's "I Want to Take You Higher" — is Sarah Jaffe's "Clementine," a beautiful exercise in parallax. Recorded in a funeral parlor, Jaffe sings of "50 states, 50 lines, 50 crying all the times" and "all that time wasted," wishing to live as the title character, one of the most frequently visited names in pop. But in the wounded hush of her voice, Jaffe knows that this reset wouldn't solve any problems. The "crying all the times" would still be there, just through a new set of eyes.
Nina Diaz / 3:25 p.m.
NPR once gave SA songstress Nina Diaz some impressive cred as "one of the two or three most exciting, scary-good vocalists in rock today." The praise rings true if you cross-reference with Diaz's "Rebirth," one of the few tunes she has recorded in hi-fi since the hiatus from Girl in a Coma. As the band drops into orchestrated hits, Diaz sings of a former lover, her eyes wild with a frightening intensity and her voice scaling octaves with ease.
tUnE-YaRdS / 4:25 p.m.
On record, Merrill Garbus' music as tUnE-YaRdS relies on vital polyrhythm and vocal loops that come down like a welcome June rain. "It's empowering to make so much music by yourself," Garbus told the Current over the phone.
Onstage, the music comes alive in a different fashion, blurted from the mouths of a big, jubilant band. "There's nothing more satisfying than singing with other people," said Garbus. "To me, there's so much unspoken community and healing and connecting with other human beings. It's a basic thing to sing with other human beings."
Though the spirit of the music is exuberant, Garbus speaks to some heavy truths in the winding, sing-song melodies of her 2014 album Nikki Nack. As an Oakland native, "Water Fountain" brings attention to her state's looming, historic drought. "'Water Fountain' is about living in California, feeling that water in a water fountain is a privilege and one that is currently not available to a lot of people here ... It bothers me when people aren't talking about the elephant in the room. It's an American talent, to avoid problems until they're overwhelming."
Wavves / 5:30 p.m.
Even Nathan Williams must have been surprised when his Wavves project proved to be more than a fad. In 2009, with a pair of self-titled albums full of incredible songwriting and terrible guitar playing, the Californian rode a swell of internet buzz to immediate success. Nearly sidelined by an ecstasy/Valium/Xanax breakdown at Primavera Sound (and generally being really bad on his instrument), Williams learned from his mistakes. For recent tours, Wavves picked up a second guitar player and Williams turned down from 11 on the rock 'n' roll libational scale.
That knowledge of personal flaws has been Williams' songwriting drive since day one, so it's nice to see him execute it on a practical level. On 2013's "Demon to Lean On," Williams expresses his self-conflict in lucid pop-punk terms — "Holding a gun to my head, so send me an angel / Or bury me deeply instead, with demons to lean on."
Best Coast / 6:35 p.m.
California indie-pop duo Best Coast has carved a niche for itself somewhere between flippant grunge stonerdom and melodramatic teeny-pop stardom. What began in 2009 as a fuzzed out, shit-fi project wherein singer-songwriter Bethany Cosentino could explore her obsessions with cats, weed and boys, is now a widely popular act that has shown real musical and lyrical growth over the course of three albums and four EPs. The twosome (which also includes multi-instrumentalist Bobb Bruno) comes to Maverick as they prepare for the May 5 release of California Nights, their third album. Here's what Bruno told the Current about the new material:
"I think that there was just way less pressure with this record, like no pressure. Since we weren't on a label we didn't feel like we had to answer to anybody ... On California Nights we approached each song as its own thing and weren't afraid to add whatever kind of sounds we wanted. So there's more adventure and more layered guitar, keyboards and effects." — James Courtney
Cake / 8:05 p.m.
Emerging from the mid-'90s wave of indie rock, Cake was one of the sweetest offerings from the Sunshine State. With a voice that teeters between monotone spoken word and alt-rock approved singing, founder, lead singer and cake boss John McCrea mishmashes styles like hip-hop and funk into a unique delicacy of sound.— Shannon Sweet
Cypress Hill / 9:45 p.m.
Known best for its 1993 nasal affront "Insane in the Brain," Cypress Hill's dust jacket blurb should read as the crew that introduced Spanish to American hip-hop. Along with Cypress Hill expat Mellow Man Ace, the LA quartet was the first to try Spanglish in their flow, more accurately recreating the language of California, Texas and New York City. More than two decades later, the bilingual crossover is one of the most viable options in the playbook under the direction of Kendrick Lamar, A$AP Mob, Travis $cott and O.T. Genasis.
Courtesy
El Campo
Juarez and Arneson River Theatre Stages
Voodoo Boogaloo / Juarez Stage / Friday / 7:15 p.m.
"It will all be perfect for the night," sings Stephanie Cardona on the opener to Voodoo Boogaloo's Yawny. Yelly. Glowy. Floaty. She's quite right. Designed around the simple-as-sophisticated guitar, the duo from Alice is just mysterious enough to soundtrack an adventurous evening. Though the aesthetic works for a date night, Voodoo Boogaloo's R&B loops and eight-bit riffs would sound comfortable in SNES-era Zelda.
El Campo / Arneson River Theatre/ Saturday / 11:40 a.m.
Written by singer Jerid Morris, El Campo's alt-country debut Remember loosely chronicles disparate past events in the life of its weary and scorned narrator — from exquisitely rendered lamentations of love gone wrong to tall tales adopted from his grandfather; from childhood memories fused with bits of waking dream to poignant moments of solitude and reflection. — James Courtney
Sub.Culture / Juarez Stage / Saturday / 12 p.m. & 5:15 p.m.
A recent addition to San Antonio's electronic music community, Sub.Culture began in 2015 as a collective for forward-thinking electronic music. A play on the importance of subwoofer speakers in subculture dance music, the five-person collective ranges from minimal dance to house music filled with EDM décor, unvaryingly working with a heavy dose of bass.
Big Drag / Arneson River Theatre / Saturday / 7:40 p.m.
At the angst-filled crossroads of Blink-182 and Dinosaur Jr., San Antonio's Big Drag made a run in the mid-'90s performing high gain, high intensity rock 'n' roll. In 1995, the Tacoland favorites dropped a self-titled effort on Austin's Only Boy Records before calling it quits in 1998. After their quick, memorable run, guitarist Milton Robichaux and drummer Dylan Phillips went on to create The Dixie Hammers, while bassist Colin Jones became a founding member of Austin punk quintet The Riverboat Gamblers.
Violinda / Juarez Stage / Saturday / 9:45 p.m.
In the early 20th century, violinist Shinichi Suzuki paved a new way of thinking about serious musical training. Called the Suzuki method, its closest relative is probably cross-training in sports. Expose yourself to a wide variety of activity, perform often and the holistic journey will help inform the singular talent at hand.
San Marcos violinist Linda Lola, nom de plume Violinda, learned her instrument in the Suzuki style, a pedagogy that proves its worth on the 2014 EP Dichotomy. Lola plucks, bows, shakes and loops her instrument to incredible effect, culling every possible texture and rhythm from the instrument. From clouds of psychedelic noise to tightly compacted runs in the style of Steve Reich's minimalism, Lola commands her instrument with jaw-dropping precision.
Maverick Music Festival
$39-$149, 5pm-12am Fri, April 10, 11am-12am Sat, April 11, La Villita, 418 Villita, maverickmusicfestival.com