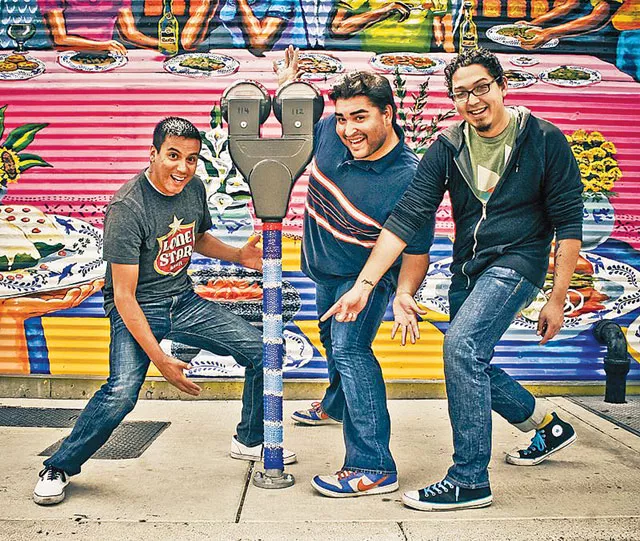 The Push Pens: Last Call for Truth
The barrio lives of three Chicano compas — a fierce gay R&B singer, a DJ, and a hip-hop MC under the pitch-perfect direction of Steve Bailey. Jump-Start's next generation of Latino, gay, and straight playwrights — Manuel "Cros" Esquivel, Dino Foxx, and Billy Muñoz — perform this engaging work, an early clue in a new direction. The late Sterling Houston must be proud of his theatrical siblings.
The History Boys and The Goat
Alan Bennett's The History Boys and Edward Albee's The Goat are set in the post-Stonewall era. Tim Hedgepeth directed both (Goat at Attic Rep and History at the Cellar) with a steady hand and with great sensitivity. Neither is a gay play, per se. In Goat, Billy, a well-adjusted gay teen, comes from a loving and supportive family. In History, coming out for Posner, the play's young narrator, isn't an issue. Surprisingly, some audiences found these plays profane. Bravo for Albee and Bennett! These gay elder theatrical statesmen still have their hand on the contemporary pulse.
Indie Queer Theater
Edgy, experimental, and often in your face, local queer playwrights and solo performers offered an invigorating alt-theatrical experience.
In Gloria Sanchez's two one-act plays Untitled (or whatever you call it) and Prozac and Cheez Doodles, a mother kicks her daughter out after learning she is gay. Another character is bullied at school for being different. In overcoming fear, both learn to love, live, and set themselves free. Sanchez is a consummate actor with a unique voice.
Anel Flores' Empanada is a bittersweet comedy narrated in poetry, song, y cuento by a young woman faced with an eating disorder. Flores' self-baptism as a lesbiana is riveting theater. Empanada is a gay Chicana eat, love, and pray testimonio.
Jade Esteban Estrada's Icons series celebrates the heretofore-secret history of unsung and legendary gay heroes from Freddie Mercury to valiant Stonewall activist Sylvia Rae Rivera. Each icon is finely etched. Estrada is a consummate performer of 1,000 faces. Icons I-IV not only informs its audience but also imbues it with GLBTQ pride.
Miss America: A Mexicanito Fairy's Tale
Jesús Alonzo's almost-epic tale of Chuy, the nine-year old son of working-class Mexican immigrants, is as beguiling as it is tender. With the help of family, la Virgen de Guadalupe, and a fierce fairy godmother, he discovers his gender, roots, and ultimately himself. It appeals to audiences from eight to 80. Playwright Alonzo is on the verge of a breakthrough. Adelante, Chuy!
The Boys in the Band
Mart Crowley's 1968 landmark gay play has been going in and out of style for over 40 years. SAC theater director Paula Rodriguez's staging updated the play with a timeline of the GLBTQ civil rights struggle and offered a glimpse into the future potential of creative gay theater in San Antonio.
This list is representative of the best LGBT work from our playwrights, directors, actors, and artists. Accurately charting SA gay theater in this still-nascent 21st century can be daunting. We invite you to share your favorites with us.