The discernible objects in Alain Park's precise, overlapping line drawings become troubling in the context of the exhibit, which explores our unarticulated insecurities and desires.

Three artists delve into our subconscious motivations for food, shelter, and comfort
The current show at the Bower Gallery combines artists of divergent personal histories, resulting in a compelling, even theatrical, outcome. Their messages or intentions take a bit of time to quantify since their art is largely conceptual. Meaning, for those unfamiliar with contemporary art, the work here is both confounding and thought-provoking.
Links between Jose Enrique Krapp, Ran Onuma, and Alain Park are largely seeded in their reactions to daily experiences. There is a minutiae of day-to-day information that tends to eat away at our thoughts more than it enriches our lives. For the most part, many of us are safe, yet we are never totally at ease. This fact of contemporary life is most apparent in the work of Brooklyn-based artist Jose Enrique Krapp, whose featured sculpture, "An Exercise in Muscle Failure/Quality Revenge at Last," is a study in modern anxiety. It points to how we live - especially since 9-11 - bombarded with a variety of warnings, of levels of alert that seem to change with the weather.
Coolers, flotation devices, water bottles, and nylon rope are among the materials Jose Enrique Krapp straps together to build sculptures that say, "Ready for any adversity."

We want to relax and kick back, but we can't because we are surrounded by a patchwork of "potential threats" that keep us off balance. Being in the midst of this anxiety and dread, this general state of preparedness colors our social and personal lives. Some of us may have started storing water, canned goods, flashlights, and batteries of all types just in case, as is alluded to in Krapp's sculpture with its "ready for any adversity" feel. Our toys, failsafes, and distractions tend to sedate us, and Krapp's art hits that reality dead on.
In "An Exercise in Muscle Failure/Quality Revenge at Last," Krapp attaches to three wooden ladders that are securely tied together, a flotation device, coolers, water bottles, nylon rope, extension cords, sporting balls, first aid kits, flashlights - all objects gathered from local hardware stores. This quasi-frenzied, curiously organized look mirrors what many of us have come to know in trying to maintain that old level of comfort.
There is a bit of whimsy in Krapp's art too - a fact made somewhat more clear in his simple line drawings, in which his innate, albeit obsessive, ability to pair the un-pairable is most clear. The drawings, which utilize some of the same objects seen in the sculpture here, share that "hurry up and wait for something to happen" tenor: a stark reality that is both suggestive and representative of our collective anxious mindset.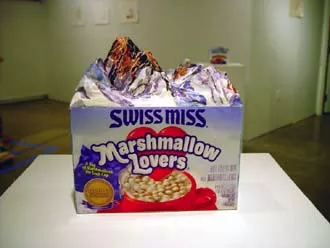 Tokyo artist Ran Onuma fabricates exceptional one-liners that poke fun at the subconscious promises of consumer products.

Ran Onuma, an artist from Tokyo, set her sights on Madison Avenue. Her three sculptures, which address brand names and how such labelings tend to sway our buying decisions, are exceptional, albeit one-liner, expressions.
To the top of boxes of cereal and chocolate milk mix bearing the names Swiss Miss and Alpen, Onuma adds picture-perfect mountain ranges constructed of torn paper and cardboard from the same or similar boxes. On the face of it, Onuma's work clearly pokes fun at the product name's suggestive applications - a communication link that is immediate and easily understood. What is exceptional about these works is the profoundly direct way in which they confront our thought processes. They are strange objects, even Pop Surreal. They truly outlast the normal life span of such blatantly simple connections one often encounters in galleries today - a testament to her focus and skills as a fabricator and an observer.
Onuma's "A manuscript paper," a grid of stitched squares on cloth, takes her visual, micro-metaphorical language to another level. It also reveals another strata of thought for Onuma, a layer of the contemplative, repetitive forms that gracefully elevates the meaning of the sculpted Swiss Miss boxes.
Jose Enrique Krapp,
Ran Onuma, Alain Park
By appointment
Through March 25
Free
The Bower
1114 S. St. Mary's
859-9068
Current
Choice
ζ
Chicago resident Alain Park also offers sculptures and drawings. His most compelling work, "Gallery of the Moons (Zocalo, Mexico City)," is a replication of a scene from a short story he authored, constructed of mashed paper from the actual book pages. This play on words, so to speak, shows the power of the printed word in a new light - while creating this curious duality that pits the artist's perception of his story against a reader's experience of the book.
Park's two drawings, "Machines of War" and "Maritime," may remind viewers of computer-rendered contour drawings - they are that precise. In each, the artist makes numerous layers of unflinching line drawings of narrative scenes. Stylistically they look something like middle school children's book illustrations from the mid-19th century. However, in the context of this exhibit, these otherwise tranquil drawings become a bit more troubling, even suspicious, while this entire show works its way into the subconscious of all who visit. •